Richard Trevithick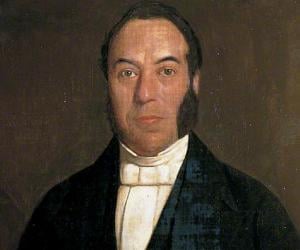 Quick Facts
Birthday: April 13, 1771
Nationality: British
Famous: Mining Engineers British Men
Died At Age: 62
Sun Sign: Aries
Born in: Tregajorran, Cornwall, England
Famous as: Pioneer of steam-powered road & rail transport
Height: 1.88 m
Family:
Spouse/Ex-: Jane Harvey (m. 1797–1833)
father: Richard Trevithick
mother: Ann Teague
children: Anne Ellis, Elizabeth Banfield, Francis Trevithick
Died on: April 22, 1833
place of death: Dartford, Kent, England
discoveries/inventions: Steam Locomotive
Continue Reading Below
Richard Trevithick was a British inventor and mining engineer from Cornwall who is best known as an early pioneer of steam-powered road and rail transport. He went on to develop the first high-pressure steam engine and the first full-scale working railway steam locomotive. He also successfully demonstrated the world's first locomotive-hauled railway journey along the tramway of the Penydarren Ironworks, in Merthyr Tydfil, Wales on February 21, 1804. Despite having a stiff competition and suffering financial crisis throughout his career, he did a number of research with his high-pressure steam engines, including boring brass for cannon manufacture, stone crushing, rolling mills, forge hammers, blast furnace blowers and traditional mining applications. He also worked on improvements to ships such as iron tanks, iron floating docks, iron ships, telescopic iron masts, and more. During his visit to South America, he worked as a mining consultant in Peru and later explored parts of Costa Rica.
Recommended Lists:
Recommended Lists:
Continue Reading Below
Childhood & Early Life
Richard Trevithick was born on April 13, 1771 in Tregajorran, Cornwall to mining captain Richard Trevithick and his wife Ann Teague, a miner's daughter. He was the fifth of six children and the only son of his parents.

He attended the village school at Camborne, but was more interested in sports than his studies, except for arithmetic, in which he was able to deduce correct answers by unconventional means.

Recommended Lists:

Recommended Lists:

Career

Despite his lack of interest in academics, Richard Trevithick surprised educated engineers with his extraordinary problem-solving skills and bagged his first job at the age of 19 at the East Stray Park Mine. With his enthusiasm, he was able to reach the rank of a consultant engineer at a young age.

He became interested in experimenting with high-pressure steam engines to replace the commonly used extremely large, low-pressure engines invented by Thomas Newcomen in 1712. In 1794, he requested a demonstration from William Murdoch, who had developed a model steam carriage a decade ago, and also lived next-door to him between 1797 and 1798.

After joining as an engineer at the Ding Dong Mine in 1797, he began developing high-pressure steam engines by building a modified version of the low-pressure engine to avoid paying royalties. Nevertheless, James Watt and Matthew Boulton, who had patented the model to improve its efficiency, served an injunction on him to disrupt his experiments.

In 1797, he created 30 full-scale, high-pressure engines for pulling ore from the Cornish mines. Popularly known as the "puffer whims", they were so compact that ordinary farm wagons were able to transport them to the mines.

He next focused on designing a high-pressure steam engine to power locomotives. He built the steam engine in 1801 and named it the 'Puffing Devil'. To demonstrate its capabilities, he took a short successful journey on Christmas Eve that year, carrying six passengers up Camborne Hill, which is widely recognized as the first demonstration of transportation powered by steam.

In 1802, to patent his high-pressure steam engine, he built a stationary engine at Coalbrookdale Company's workshop in Shropshire, which ran at forty piston strokes a minute, with an unprecedented boiler pressure of 145 psi. The company had reportedly built a rail locomotive for him, but not much is known about it.

the Puffing Devil engine that he built was unable to maintain sufficient steam pressure for long periods, therefore he built another steam-powered road vehicle, the London Steam Carriage, in 1803. The same year, one of his stationary engines at Greenwich exploded killing four men, which was fully exploited by his competitors Watt and Boulton, prompting him to incorporate an extra safety valve in future designs.

Continue Reading Below

Samuel Homfray, the proprietor at the Pen-y-Darren Ironworks in Merthyr Tydfil, for whom Trevithick had built a high-pressure steam engine, made a bet in 1803 that the locomotive can haul 10 ton iron for 10 miles. The engine successfully carried 10 tons of iron, 5 wagons and 70 men along the Merthyr Tydfil Tramroad from Penydarren to Abercynon on February 21, 1804, making world record.

In 1804, he was contacted by Christopher Blackett, proprietor of the Wylam colliery near Newcastle, for a locomotive design, but his machine proved too heavy for Blackett's wooden tramway rails. In 1808, to demonstrate faster rail travel, he built the 'Catch Me Who Can' on a circular track, providing rides to spectators for one shilling, but it also suffered from weak tracks.

Disappointed by limited public interest in his locomotive designs, he stopped building railway locomotives and shifted focus to other engineering projects. He was already working on a tunnel under the Thames river, for the Thames Archway Company, and while the project was abandoned after a flooding, his work was praised by two colliery engineers.

In 1808, entering into a partnership with Robert Dickinson, he built the Nautical Labourer, which however, failed to meet the dock's fire regulations. He also set up a small workshop at Limehouse to manufacture iron tanks, which were to replace wooden casks in ships for storage, and were later used to raise shipwrecks as well.

He designed the 'Cornish boiler' in 1812, which doubled production after being installed in the Boulton and Watt pumping engines at Dolcoath. The same year, he installed one of the most efficient 'high-pressure' experimental condensing steam engines at Wheal Prosper, followed by another non-condensing engine in a threshing machine on a farm at Probus, Cornwall.

One of his high-pressure engines was successfully used by Francisco Uville to drain water from the rich silver mines of Cerro de Pasco in Peru at an altitude of 4,330 meters in 1811. He later went to Peru, but was disgusted by Uville's attitude there and began working separately as a consultant on mining methods.

He was granted mining rights by the government, but due to lack of funds, was only able to develop a copper and silver mine at Caxatambo. He next ventured into Costa Rica in 1822 to develop mining facility and a steam-driven railway, but following a perilous journey, returned home with the help of Robert Stephenson.

Major Works

Richard Trevithick developed one of the first high-pressure steam engines and was the first person to build a full-scale working railway steam locomotive. He also successfully demonstrated the world's first locomotive-hauled railway journey on February 21, 1804, along the tramway of the Penydarren Ironworks, in Merthyr Tydfil, Wales.

Personal Life & Legacy

In 1797, Richard Trevithick married Jane Harvey, the daughter of famous blacksmith John Harvey. They had six children together: Richard, Anne, Elizabeth, John Harvey, Francis and Frederick Henry.

He died on April 22, 1833 at The Bull hotel, after suffering from pneumonia for week while working in Dartford, with no family member or relative at his deathbed. His body was buried in an unmarked grave in St Edmund's Burial Ground, East Hill, Dartford, with funeral expenses paid by his colleagues.

Trivia

Richard Trevithick, who had an unusual 6 feet 2 inches stature and an athletic build, became known as the 'Cornish Giant'.

His demonstration of the 'Puffing Devil' inspired the popular Cornish folk song 'Camborne Hill'.

Translate Wiki

to Spanish, French, Hindi, Portuguese

Article Title

- Richard Trevithick Biography

Author

- Editors, TheFamousPeople.com

Website

- TheFamousPeople.com

URL

-

https://www.thefamouspeople.com/profiles/richard-trevithick-9572.php

Last Updated

- April 24, 2018

---

---

---