Rachael Leigh Cook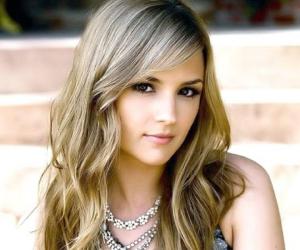 Quick Facts
Nationality: American
Age: 39 Years, 39 Year Old Females
Sun Sign: Libra
Born in: Minneapolis, Minnesota, United States
Famous as: Actress
Height: 1.57 m
Family:
Spouse/Ex-: Daniel Gillies (m. 2004)
father: Thomas H. Cook
mother: Joann
children: Charlotte Easton Gillies, Theodore Vigo Sullivan Gillies
U.S. State: Minnesota
Continue Reading Below
Rachael Leigh Cook is an American actress, producer, voice artist, and model. She is best known for her role in films like 'She's All That', 'Josie and the Pussycats', and TV series 'Into the West'. Cook began her career at the age of ten when she was seen on Milk-Bone dog biscuits' boxes and Target advertisements as a child model nationwide in the USA. She also appeared in an anti-drug TV campaign to raise awareness about the hazardous effects of heroin. Her first film was 'The Baby-Sitters Club' which released in 1995. A few years later, in 1999, she was seen opposite Freddie Prinze Jr. in the iconic movie 'She's All That'. She has also appeared in the TV series 'Into the West' for which she won an award. In 2000, she appeared in the US issue of FHM as the cover girl. In addition to this, she has also appeared in the 'Sexiest Women in the World' list. Apart from acting and modelling, she has also been actively involved in social service. In 2012, Cook started awarding scholarships to students to help them with their classes and fees.
Recommended Lists:
Recommended Lists:
Continue Reading Below
Childhood & Early Life
Rachael Leigh Cook was born on October 4, 1979 in Minneapolis, Minnesota. She is the daughter of Thomas H. Cook, a social worker and former stand-up comedian, and Joann, a cooking instructor and weaver.

At the age of seven, Cook was first seen in a public service announcement for foster care. Soon she started working as child print model and was seen nationwide in advertisements for Target and also appeared on the boxes of Milk-Bone dog biscuits.

She has attended Clara Barton Open School, Laurel Springs School, and Minneapolis South High School.

Recommended Lists:

Recommended Lists:

Career

Rachael Leigh Cook began auditioning for acting work when she was 14. Clearing the auditions, she made her debut in the 1995 film 'The Baby-Sitters Club'. The movie was based on Ann M. Martin's book series by same name.

Her next movie was 'Tom and Huck' where she played the role of Rebecca 'Becky' Thatcher. In 1996, she was seen in the short film '26 Summer Street'. The following year, Cook played the role of a 15-year-old rape victim who gets impregnated by her rapist in the film 'Country Justice'.

In 1998, she grabbed the attention of her entire country when she appeared in the famous 'This Is Your Brain on Drugs' PSA television advertisement. In the advertisement, she was seen destroying a kitchen with a frying pan as she spoke about the harmful effects of heroin on a person's life.

In 1999, Cook starred in the unforgettable romantic comedy film 'She's All That' which brought her recognition in the film industry. The movie is so far the most financially successful film in her career.

In 2000, she starred in 'The Bumblebee Flies Anyway' along with Elijah Wood. She was also seen in a lead role in 'Josie and the Pussycats', but the movie failed at box office.

After the box office failure, Cook decided to focus her attention only on independent films. Due to her decision, she was often nicknamed the next 'Indie Queen' after actress Parker Posey.

Apart from acting, Cook has also been a model and has appeared on the covers of many magazines. In 2000, she appeared in the US issue of FHM in the March/April issue. The same year, she starred in music videos for New Found Glory's single 'Dressed to Kill', and singer Daniel Powter's 'Love You Lately'.

Continue Reading Below

She provided her voice for Chelsea Cunningham in the animated series 'Batman Beyond' for the episode 'Last Resort', and also in another animated film 'Batman Beyond: Return of the Joker'. In 2005, she was featured in the television miniseries 'Into the West' which was produced by Steven Spielberg and Dreamworks.

In the video games 'Kingdom Hearts 2', 'Dirge of Cerberus: Final Fantasy 7', 'Dissidia 012 Final Fantasy', as well as CG movie 'Final Fantasy 7 Advent Children' Cook gave her voice as Tifa Lockhart. She has also done voice over for the video game 'Yakuza' in which she gave the voice of Reina.

She is also the owner of her own production company, Ben's Sister Productions which is in reference to her younger brother, Ben Cook.

In 2007, Cook was seen in the big screen adaptation of 'Nancy Drew'. She also played lead role in the independent sports drama 'The Final Season'. Also, she was seen playing a supporting role in 'Blonde Ambition' which starred Jessica Simpson and Luke Wilson.

In 2008, she featured in an episode of the TV series 'Psych' of USA Network as Abigail Lytar who is an old flame of Shawn Spencer. She returned as Abigail in the season finale of the show and then appeared in many more episodes the following season.

In 2010, she got the opportunity to sign for the female lead role in Fox TV's comedy pilot 'Nirvana'. In 2011, Cook provided her voice for the character of Jaesa Willsaam in the MMO game 'Star Wars: The Old Republic'.

In 2012, the TNT crime drama series 'Perception' saw her playing the female lead opposite Eric McCormack. Along with that, she also starred in the independent film 'Broken Kingdom' which her husband, Daniel Gillies, had directed. The movie was premiered on October 2, 2012.

Continue Reading Below

In 2017, she appeared in the TV movie 'Summer in the Vineyard.' Currently, the actress is working on the movie 'A Midsummer Night's Dream' which is in the post-production stage right now.

Recommended Lists:

Recommended Lists:

Major Works

Rachael Leigh Cook's career has covered several genres of the entertainment industry. She has appeared in movies, TV series, advertisements, video games, music videos, and has also done modelling. But the most popular movie of her career has to be 'She's All That' which was a teen romantic comedy movie. It was one of the most popular teen films of the 1990s, and had reached number one position at the box office in just one week of its release.

The film helped her gain fame and recognition. Also, it was considered to be her greatest commercial success. The movie got her nominated for many teen awards out of which she won a few.

Awards & Achievements

In 1999, Rachael Leigh Cook won YoungStar Award for Best Performance by a Young Actress in a Comedy Film for 'She's All That'.

In 2000, she won the Grand Jury Prize for Best Actress in 'Sally' and also a Moxie! Award for Best Actress in 'The Hi-Line'.

In 2001, she won the Young Hollywood Award for Superstar of Tomorrow – Female.

In 2006, she won the Western Heritage Awards' Bronze Wrangler award for television feature film for 'Into the West' which she shared with the cast of the film.

Personal Life

In August 2004, Rachael Leigh Cook married actor Daniel Gillies. Together they have two children: a daughter Charlotte Easton Gillies who was born in September 2013, and son Theodore Vigo Sullivan Gillies who was born in April 2015.

In 2011, the Obama administration selected her as a Champion of Change for Arts Education.

In 2012, she started to grant scholarships to students in the age group of 14-19 to help them pay for the career classes, school fees and mentoring programs.

Trivia

'Twilight' character Alice Cullen is inspired by Rachael Leigh Cook as stated by the author, Stephanie Meyer.

Her dream role is to play the character of Kate Nolan from the novel 'A Tree Grows in Brooklyn'.

Rachael Leigh Cook Movies

1. Star Wars: The Old Republic (2011)

(Action, Sci-Fi, Fantasy, Adventure)

2. 11:14 (2003)

(Drama, Crime, Comedy)

---

3. The House of Yes (1997)

(Comedy, Drama)

4. Strike! (1998)

(Comedy)

---

---

5. The Final Season (2007)

(Drama, Sport)

6. Living Out Loud (1998)

(Drama, Comedy, Romance)

---

---

---

7. The Bumblebee Flies Anyway (1999)

(Romance, Drama)

8. Blow Dry (2001)

(Romance, Comedy, Drama)

---

---

---

---

Translate Wiki

to Spanish, French, Hindi, Portuguese

Article Title

- Rachael Leigh Cook Biography

Author

- Editors, TheFamousPeople.com

Website

- TheFamousPeople.com

URL

-

https://www.thefamouspeople.com/profiles/rachael-leigh-cook-34561.php

Last Updated

- November 07, 2017

---

---

---