Philip K. Dick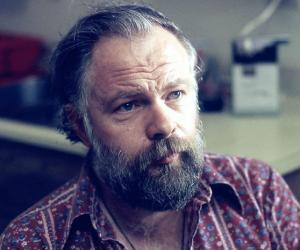 Quick Facts
Birthday: December 16, 1928
Nationality: American
Died At Age: 53
Sun Sign: Sagittarius
Also Known As: Philip Kindred Dick
Born in: Chicago, Illinois
Famous as: Novelist
Height: 1.78 m
Family:
father: Joseph Edgar Dick (1899–1985)
mother: Dorothy (1900–1978)
siblings: Jane Charlotte Dick
City: Chicago, Illinois
U.S. State: Illinois
Continue Reading Below
Philip Kindred Dick was an American novelist, short story writer, and essayist. Regarded as one of the greatest science fiction and fantasy authors of all time, Dick's extensive body of work dealt with philosophical, social, and political themes and explored his fascination with metaphysics and theology. The subjects of his stories were often monopolistic corporations, alternative universes, authoritarian governments, and altered states of consciousness. He was a master story-teller who relied upon his life experiences in addressing the nature of reality, identity, drug abuse, schizophrenia, and transcendental experiences. A native of Illinois, Dick spent the majority of his early life in either California or Washington, D.C. He did not finish college because of on-going anxiety problems and subsequently started working as a radio host. In the 1950s, Dick started publishing his writings. He sold his first story in 1951 and soon his works of speculative fiction were appearing in various magazines. He continued to write and publish novels and short stories through the 1960s and 1970s and earned the John W. Campbell Memorial Award for best novel for the 1974 book, 'Flow My Tears, the Policeman Said'. That year, he underwent a religious experience, which deeply affected his writing. Novels, such as 'A Scanner Darkly' and 'VALIS,' as well as numerous non-fictional works were inspired by this experience.
Recommended Lists:
Recommended Lists:
Continue Reading Below
Childhood & Early Life
Born on December 16, 1928, in Chicago, Illinois, Philip and his twin sister, Jane Charlotte, were the only children of Dorothy (née Kindred) and Joseph Edgar Dick. They were born six weeks prematurely and Jane died almost exactly six weeks later, on January 26, 1929.

The death of his twin would haunt Philip for the rest of his life and make its way to his writings as well, as a recurrent motif of "phantom twins".

Joseph was employed at the United States Department of Agriculture and was of Irish descent. Soon after his birth, Dick's family relocated to the San Francisco Bay Area. When he was five years old, his parents divorced after his father was transferred to Reno, Nevada and his mother did not want to go with him. A bitter custody battle followed and the court eventually ruled that Dick would stay with his mother.

His mother was a very independent woman and she resolved that she would raise her son on her own. Philip and Dorothy moved to Washington, D.C. and he subsequently began his education at John Eaton Elementary School. He also studied in Quaker schools. The mother and son duo came back to California in June 1938.

Dick enrolled at Berkeley High School in Berkeley, California. After graduating in 1947, he was accepted at the University of California, Berkeley, and studied there for a brief period before he was given an honourable dismissal on January 1, 1950.

Despite the limited time he spent at Berkeley, it had a drastic effect in shaping his early philosophy. He was reluctant to declare his major and instead, took classes in history, psychology, philosophy, and zoology. Furthermore, he came to recognize himself as an acosmic panentheist.

According to his third wife, Anne Williams Rubinstein's memoir, Philip quit school because of on-going anxiety problems. She also wrote that he had a definite dislike for the mandatory ROTC training.

Afterwards, he reportedly worked as a host for a classical music program on KSMO Radio in 1947. Between 1948 and 1952, he was employed at a record store named Art Music Company, which was located on Telegraph Avenue.

Recommended Lists:

Recommended Lists:

Career

Phillip K. Dick had been interested in writing ever since he came back to California with his mother all those years ago. His first story was published in 1951 and he began writing fulltime soon after.

A series of his works of speculative fiction was published in the July and September issues of 'Planet Stories' as well as in 'If and The Magazine of Fantasy and Science Fiction' in 1951.

By the year of composition, his first novel was 'Gather Yourself Together'. He finished writing it in 1950 but it was published posthumously in 1994. His first published novel was 'Solar Lottery', which was put out as one half of 'Ace Double #D-103' (the other being 'The Big Jump' by Leigh Brackett).

At this stage in his career, Dick was not earning much from his writing. The family seemed to always lack for the necessities. He was slowly gaining a reputation as a science fiction author but he desperately wanted to be a mainstream writer.

He wrote several non-genre, relatively conventional works of fiction in the 1950s. In 1960, he claimed that he was "willing to take twenty to thirty years to succeed as a literary writer". However, in January 1963, Scott Meredith Literary Agency sent back the manuscripts of all his mainstream novels. It served as a wake-up call for Philip and he decided to focus predominantly on science fiction.

'The Man in the High Castle' was released in 1963. Its success cemented his reputation as a genius in the science fiction world but the conventional literary world remained indifferent to him. In fact, his financial woes would continue throughout his life, as he put out his novels through the likes of Ace Books, which paid him astoundingly low fees.

In the 1960s, he became addicted to amphetamine, after failing to cope with a hectic writing regimen due to the financial constraints of his chosen genre. Soon, his house became a hub for other drug addicts.

Continue Reading Below

He published 21 novels in the 1960s and it rendered him completely drained out. He suffered an extended period of writer's block in the 1970s and would not release another novel until 1974.

In November 1970, Dick came back home one evening to find it burgled. The safe had been forced open with explosives and the culprits had taken his personal papers. Reaching out to the police proved to be ineffective. They even suspected Dick himself.

In February 1972, during his trip to Vancouver, Canada, for the Vancouver Science Fiction Convention, Dick's erratic behaviour made his mental condition public knowledge. He got on the stage at VCON 2 and declared his love for a woman named Janis, whom he had met at the convention earlier. He also stated that he would stay in the city for a while.

One of the attendees offered him lodging but a week later, requested him to leave due to his antics. Later, Janis broke up with him and left. Dick tried to commit suicide on March 23, 1972, by overdosing on the sedative potassium bromide.

After the failed suicide attempt, Dick realised that he needed help and joined a Canadian Synanon-type recovery program called X-Kalay. His 1977 novel 'A Scanner Darkly' was inspired by these events. He also recorded a factual account of his time with X-Kalay, which was published posthumously as part of ''The Dark Haired Girl' (1989).

In 1974, he had a series of what has been construed as paranormal experiences. Though he initially disregarded them, thinking they were stemming from his medication, he continued to experience various hallucinations throughout February and March.

At one point, he adamantly believed that he was being controlled by the spirit of the biblical prophet Elijah. The final novel that Dick wrote was 'The Transmigration of Timothy Archer', which was published a month after his death.

Recommended Lists:

Recommended Lists:

Major Works

Phillip K. Dick's novel 'The Man in the High Castle' is an alternative history novel with a heavy dosage of science fiction. The story develops on the premise that the Axis powers have won the World War II and taken over the world. The book has been adapted as a television series that premiered on Amazon Video on January 15, 2015. The show's third season is slated to be released in 2018.

His short story 'The Minority Report' was first published in 'Fantastic Universe' magazine in 1956. Director Steven Spielberg adapted the story for his 2002 film starring Tom Cruise, Colin Farrell, and Samantha Morton.

Dick's 1968 novel 'Do Androids Dream of Electric Sheep?' was set in post-apocalyptic San Francisco, after Earth has been irreversibly damaged by a nuclear war. This novel later inspired Ridley Scott's neo-noir science fiction film 'Blade Runner'.

The 1969 book 'Ubik' is one of the most acclaimed novels by Dick. In 2009, Time magazine listed it among the 100 greatest novels since 1923. The plot develops in a usual Philip K. Dick setting of relative future (in this case, 1999). The Ubik, which is essentially a canned product with miraculous properties, has been interpreted as a metaphor for God by many critics, including Dick's last wife Tessa Busby.

Recommended Lists:

Recommended Lists:

Awards

In 1963, Phillip K. Dick won the Hugo Award for Best Novel for 'The Man in the High Castle'.

For 'Flow My Tears, the Policeman Said', he received the John W. Campbell Memorial Award for best novel in 1975.

Dick was the recipient of the British Science Fiction Association Award for best novel for 'A Scanner Darkly' in 1979.

Continue Reading Below

He won the Germany based science fiction award Kurd-Laßwitz-Preis in 1985 for VALIS.

Dick was inducted into the Science Fiction Hall of Fame in 2005, 23 years after his death.

In 2007, he was listed in The Library of America Series, becoming the only science fiction writer to have the honour.

Personal Life

Phillip K. Dick had been married five times. His first wife was a woman named Jeanette Marlin. They were married in May 1948 and divorced in November the same year.

He married his second wife, Kleo Apostolides on June 14, 1950. Apostolides was a socialist and often partook in left-wing activities, and allegedly because of this, they were visited by the FBI. The couple later formed a brief friendship with an FBI agent. Dick and Apostolides parted ways in 1959.

His third wife was Anne Williams Rubinstein, whom he met in late 1958. They got married on April 1, 1959, and had one daughter, Laura Archer Dick, who was born on February 25, 1960. Anne was Philip's muse for several characters, including Juliana, the heroine of 'The Man in the High Castle'.

They had a normal, loving relationship until his paranoia kicked in. One day, they were in a car when, as Anne turned on the engine, he left the vehicle believing she was going to kill him. Their relationship gradually turned turbulent. He even persuaded a psychiatrist to commit her to a local psychiatric centre. The physical violence was often mutual. If he hit her, she hit back. They eventually separated in 1964.

Nancy Hackett was Dick's fourth wife, whom he married on July 6, 1966, and divorced in 1972. Their daughter, Isolde Freya (now Isa Dick Hackett) was born on March 15, 1967. His fifth and last wife was Leslie (Tessa) Busby. Their wedding took place on April 18, 1973. On July 25, 1973, she gave birth to Dick's only son, Christopher Kenneth Dick. The couple eventually divorced in 1977.

Dick suffered a series of back-to-back strokes in February 1982. The first one rendered him unconscious. He was discovered on 17 February at his home in Santa Ana, California. While he survived that attack, he suffered a second one on 25 February, which rendered him brain dead.

On March 2, 1982, his family decided to take him off the life support. He was cremated, and his father, who was still alive, took the ashes to Riverside Cemetery in Fort Morgan, Colorado, to bury them beside his twin sister, Jane's grave.

The Philip K. Dick Award was inaugurated in 1983, a year after Dick's death. The first winner of the award was Rudy Rucker for his 1982 novel 'Software'.

Translate Wiki

to Spanish, French, Hindi, Portuguese

Article Title

- Philip K. Dick Biography

Author

- Editors, TheFamousPeople.com

Website

- TheFamousPeople.com

URL

-

https://www.thefamouspeople.com/profiles/philip-k-dick-37025.php

Last Updated

- July 04, 2018

---

---

---