Mila Kunis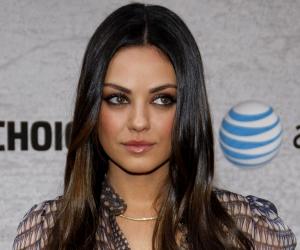 Quick Facts
Nationality: Ukrainian, American
Boyfriend: Macaulay Culkin (2002–2010)
Famous: Quotes By Mila Kunis Millionaires
Age: 35 Years, 35 Year Old Females
Sun Sign: Leo
Also Known As: Milena Markovna Mila Kunis
Born Country: Ukraine
Born in: Chernivtsi
Famous as: Actress
Height: 5'4" (163 cm), 5'4" Females
Family:
Spouse/Ex-: Ashton Kutcher (m. 2015),
father: Mark Kunis
mother: Elvira Kunis
siblings: Michael Kunis
children: Dimitri Portwood Kutcher, Wyatt Isabelle Kutcher
More Facts
education: Fairfax High School (2001), Loyola Marymount University, Rosewood Elementary School, Bancroft Middle School, University of California, Los Angeles
Continue Reading Below
Mila Kunis is an American actress, best-known for her role as 'Jackie', the boisterous, chirpy, self-centered rich girl in the American sit-com, 'That '70s Show'. Although, she has moved out of the 'That '70s show' zone and has delivered a number of hits, she is fondly remembered for annoying ways and her prolific comic timing. She has since then, appeared in a number of television series including the animated series, 'Family Guy' and played a minor role in the television drama series, '7th Heaven'. When she started off in films, most of her movies released a lot later than the promised release date. However, she remained undeterred and began to get noticed for her versatility in acting and her power-packed dialogues. 'Forgetting Sarah Marshall', 'Extract', 'The Book of Eli', 'Black Swan' and 'Friends with Benefits' earned her critical acclaim and she soon became Hollywood's favorite, with her girl-next-door charm and realistic chemistry with her co-stars. She has been romantically linked with a number of her co-stars including Macaulay Culkin, Justin Timberlake and her 'That '70s Show' co-star, Ashton Kutcher. Apart from her acting career, she is the face of Christian Dior and is ranked as one of the '100 most powerful celebrities around the world'.
Recommended Lists:
Recommended Lists:
Continue Reading Below
Childhood & Early Life
Milena Markovna Kunis was born on August 14, 1983 to Mark Kunis and Elvira in Chernivtsi, Ukraine. She has an elder brother. Her mother is employed as a physics teacher but runs a pharmacy as well, while her father is a mechanical engineer by profession, who doubles up by working as a cab driver. She is of Jewish descent.

The family relocated Los Angeles when she was seven. There, she attended Rosewood Elementary School.

When she was only 9-years-old, she began taking acting lessons. She auditioned for a few commercials and then made her debut in her first television role on 'Days of Our Lives', in 1994.

She starred in minor roles as a child actor in 'Honey, We Shrunk Ourselves', 'Santa with Muscles' and the Angelina Jolie's movie, 'Gia'. In 1998, she landed her first major role as 'Jackie Burkhart' in the hit sitcom, 'That '70s show'.

After rave reviews for her performance as 'Jackie', she lent her voice for the role of 'Meg Griffin', on the animated sitcom, 'Family Guy'.

She then enrolled to Hubert Howe Bancroft Middle School and Fairfax High School, from where she graduated in 2001. She also studied at UCLA and Loyola Marymount University for a brief period of time.

Recommended Lists:

Recommended Lists:

Career

Although her career kick-started as a junior actor, she began appearing in more mature and challenging roles from the year 2000. She was cast in 'Get Over It', alongside Kristen Dunst, in 2001 and the next year, she appeared in 'American Psycho 2' a horror film, which was released directly on DVD.

In 2004, she starred in 'Tony n Tina's Wedding', which released in theaters only three years later. Although her performance garnered mixed reviews, the film as a whole, did not do well at the box-office.

She appeared in 'Moving McAllister', in 2005, alongside Jon Heder, which once again released two years later. This movie also received poor reviews from both the critics and the audience.

In 2007, she appeared in a video for a website, 'Funny or Die', alongside James Franco, which was based on a MTV show. The video went viral and garnered over one million views from fans.

In 2008, she was cast in 'Forgetting Sarah Marshall', where she played the role of the siren receptionist, 'Rachel Jansen'. She was cast opposite well-known actors like Jason Segel and Russell Brand. The film was a critical and commercial hit and projected Kunis to a whole new level in Hollywood.

The same year, she also played the role of an assassin in the film, 'Max Payne'. For this role, she had to undergo training in boxing, martial arts and gun handling. The movie was relatively successful at the box-office, but was severely panned by critics.

In 2009, she starred in 'Extract' opposite Jason Bateman and Ben Affleck. The following year, she appeared alongside Denzel Washington in 'The Book of Eli', which received mixed reviews.

Continue Reading Below

She was cast as the dark, 'Lily' in the 'Black Swan', a psychological-thriller film, in 2010. Although the female lead was played by Natalie Portman, the film became one of Kunis' biggest hits, for which she was nominated for multifarious awards.

In 2011, she starred in the American rom-com 'Friends with Benefits' with actor/singer, Justin Timberlake. The film was a major blockbuster hit and was nominated for numerous awards. She is said to have played one of her best unconventional roles for the film.

She appeared in the movie 'Ted' along with Mark Wahlberg, in 2012. According to Kunis, it is a project that was close to her heart. The same year, she was signed on by Christian Dior to be the 'Face of the Spring Fashion Campaign'.

2013 saw Kunis in the role of 'Theodora' in 'Oz the Great and the Powerful'. The same year she also starred in 'Blood Ties'.

Kunis also appeared in the comedy 'The Angriest Man in Brooklyn', along with Robin Williams and Peter Dinklage but the film received poor reviews.

In 'Third Person', Kunis co-starred with Liam Neeson, Olivia Wilde and James Franco and the film premiered at the 2013 Toronto Film Festivaland had a limited release later in 2014. The film, however, received mostly negative reviews.

In 2015, she was seen along side Channing Tatum in the science fiction film 'Jupiter Ascending'. The film was a moderate success but mostly received negative reviews.

Continue Reading Below

In 2016, Mila Kunis starred in the comedy 'Bad Moms'. The film was a huge box office success and its success prompted a sequel, 'A Bad Moms Christmas', in 2017. It too was a big success.

In 2018, she starred in the comedy 'The Spy Who Dumped Me'. The movie was a box office success and received mixed reviews.

Recommended Lists:

Recommended Lists:

Major Works

Mila Kunis got her first breakthrough in the world of stardom as the intolerant, spoilt, bratty girl 'Jackie Burkhart' in 'That '70s Show', opposite Ashton Kutcher, Topher Grace, Danny Masterson, Wilmer Valderrama and Laura Prepon. One of the protagonists of the show, she stole hearts with her conceited, immature behavior and her numerous affairs with the lead male protagonists of the series. The show ran from August 23, 1998 to May 18, 2006 and became one of the highest watched sitcoms in the United States.

Her role as 'Lily' in the film, 'Black Swan', which released in 2010, proved her mettle as a versatile actress, who could don any role and pull it off with ease. Her rivalry with the lead character in the film and her stupendous ballet techniques for which she trained for four hours a day, seven days a week, not only garnered the appreciation of critics but the audience as well. The movie was nominated for a total of 5 Academy Awards and is slated as one of her biggest films yet, with a total collection of $329 million at the box-office.

Recommended Lists:

Recommended Lists:

Awards & Achievements

She won the Young Star Award for 'Best Performance by a Young Actress in a Comedy TV Series' for 'That '70s Show', in 1999.

In 2010, she won the Marcello Mastroianni Award for 'Best Young Actress' for 'Black Swan', at the Venice Film Festival.

Continue Reading Below

Esquire magazine rated her as one of 'Sexiest Women Alive', in 2012.

She was ranked #89 in the Forbes list of '100 Powerful Celebrities'.

Recommended Lists:

Recommended Lists:

Family & Personal Life

In 2002, Mila Kunis dated 'Home Alone' star, Macaulay Culkin, but the couple called it quits amicably after being together for 8 years. Soon, there were rumors that she was dating 'Friends with Benefits' co-star, Justin Timberlake, but Kunis shunned these reports.

In 2011, her cellphone and her email accounts were hacked by a certain Christopher Chaney, who pleaded guilty in court.

She began appearing with Ashton Kutcher in a number of events and it was confirmed in 2013, that the two were officially seeing each other. They got engaged in February 2014, and she gave birth to their daughter, Wyatt Isabelle, on October 1, 2014.

Mila Kunis and Ashton Kutcher got married in 2015. They were blessed with a son, Dimitri Portwood Kutcher, in 2016.

Trivia

This famous Hollywood actress of the 'Ted' fame initially suffered from a chronic eye condition, 'iritis', which caused blindness in one eye, however, it was later corrected. Her eyes also vary in color, where one eye is brown and the other is green. This is caused by a condition called 'Heterochromia iridum'.

1. Black Swan (2010)

(Thriller, Drama)

2. Friends with Benefits (2011)

(Romance, Comedy)

---

3. Forgetting Sarah Marshall (2008)

(Drama, Romance, Comedy)

4. Ted (2012)

(Fantasy, Comedy)

---

---

5. The Book of Eli (2010)

(Drama, Action, Thriller, Adventure)

6. Third Person (2013)

(Drama, Romance)

---

---

---

7. Blood Ties (2013)

(Thriller, Crime, Drama)

8. Bad Moms (2016)

(Comedy)

---

---

---

---

| | | |
| --- | --- | --- |
| 2014 | Best Villain | Oz the Great and Powerful (2013) |

Translate Wiki

to Spanish, French, Hindi, Portuguese

Article Title

- Mila Kunis Biography

Author

- Editors, TheFamousPeople.com

Website

- TheFamousPeople.com

URL

-

https://www.thefamouspeople.com/profiles/mila-kunis-4006.php

Last Updated

- April 22, 2019

---

---

---