Mike Farrell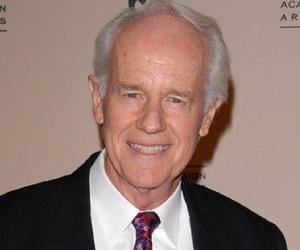 Quick Facts
Birthday: February 6, 1939
Nationality: American
Age: 80 Years, 80 Year Old Males
Sun Sign: Aquarius
Also Known As: Michael Joseph Farrell Jr.
Born in: Saint Paul, Minnesota
Famous as: Actor
Height: 1.9 m
Family:
Spouse/Ex-: Shelley Fabares (m. 1984), Judy Farrell (m. 1963–1983)
father: Michael Joseph Farrell Sr.
mother: Agnes Sarah Cosgrove
children: Erin Farrell, Michael Farrell
U.S. State: Minnesota
Continue Reading Below
Michael Farrell, popularly known as Mike Farrell, is an American actor and political activist. As an actor, he is best known for his role in the TV series 'M A S H.' His portrayal of 'Captain BJ Hunnicutt' in the series was his breakthrough performance. In his entire acting career, Mike has appeared in several TV movies, series, and films, apart from producing a few. He also co-founded a production company with his friend. Mike is also a political activist and a public speaker. He has been a prominent advocate of the abolishment of capital punishment in the US. He is an anti-war activist and has visited several refugee camps in his entire political career. He has also opposed animal cruelty on several occasions. Mike has received several honors for his peace-making endeavors.
Recommended Lists:
Recommended Lists:
Continue Reading Below
Childhood & Early Life
Mike was born Mike Joseph Farrell Jr., on February 6, 1939, in Saint Paul, Minnesota, to Agnes Sarah Cosgrove and Mike Joseph Farrell, Sr. His father was a movie-studio carpenter. He is one of the four children of his parents. Mike grew up in West Hollywood. He was acquainted with rock-and-roll star Ricky Nelson and actor Natalie Wood in his childhood. Mike is of Irish descent.

At the age of 2, Mike moved to Hollywood, California, with his family. There, he attended 'West Hollywood Grammar School' and later graduated from 'Hollywood High School.' Following his graduation, Mike began serving in the 'United States Marine Corps.' He was posted at 'Camp Hansen,' Okinawa.

After his stint with the 'Marine Corps,' Mike took up several odd jobs. He then began his career as an actor.

Recommended Lists:

Recommended Lists:

Career

In the initial days of his career, Mike did some commercials. His first acting project was the 1963 comedy film 'Captain Newman, M.D.' Unfortunately, Mike had a brief role in the movie and it was uncredited. He played 'Captain Kendall' in the 1966 government film 'The Year of 53 Weeks.' Mike did two more uncredited roles, in the films 'The Graduate' (1967) and 'Countdown' (1968).

Simultaneously, Mike was cast in guest roles in a few TV series. He appeared as a young 'USFS' ranger in the series 'Lassie' (February 1967), as 'Federal Agent Modell' in an episode of the 'NBC' series 'The Monkees' (1967), as astronaut 'Arland' in the fantasy sitcom 'I Dream of Jeannie,' and as an army doctor in 'ABC's' 'Combat!' Mike also acted in two TV movies, namely, 'Doomsday Machine' and 'The Longest Night.' Both of them were aired in 1972.

In 1968, Mike was cast as 'Scott Banning' in the 'NBC' soap opera 'Days of Our Lives.' The same year, he was seen as 'Dick Blaine' in the thriller flick 'Panic in the City' and as a naval officer in the crime film 'Dayton's Devils.' In 1970, Mike appeared in the 'CBS' primetime series 'The Interns,' and in 1971, he was seen as an assistant in 'ABC's 'The Man and the City.' Mike then signed a contract with 'Universal Studios,' under which he was cast in the 1974 science-fiction drama TV movie 'The Questor Tapes.' He then guest-starred in a few of 'Universal Studios' shows, such as 'Banacek,' 'Mannix,' 'Marcus Welby,' 'M.D.,' and 'The New Land.' During the same time, Mike appeared in two more TV movies, 'Live Again, Die Again' and 'She Cried Murder.'

In the first half of 1970, Mike appeared in a number of commercials. He campaigned for 'Maytag' dryers and 'Plymouth' automobiles.

In 1975, Mike appeared as 'BJ Hunnicutt' in the 'CBS' war comedy series 'M-A-S-H' (an acronym for 'Mobile Army Surgical Hospital'). He bagged the role after actor Wayne Rogers quit the show toward the end of its third season. The character 'BJ Hunnicutt' was freshly created for Mike. It was a dream role for Mike, as he was a huge fan of 'M-A-S-H.' He continued playing the character in the series for the next 8 years, till the end of the show. Mike has also written five episodes of 'M-A-S-H.' The series is also his directorial debut. He has directed four of its episodes.

Some of the notable TV series that have seen him in brief roles are the crime drama 'Murder, She Wrote;' the animated series 'Justice League;' and the mystery–comedy 'Desperate Housewives.' He and his wife, Shelley Fabares, voiced the 'Superman' characters 'Jonathan Kent' and 'Martha Kent,' respectively, in 1996.

Mike has hosted many 'National Geographic Presents' special episodes. He starred and co-produced the war drama TV movie 'Memorial Day.' In 1979, Mike was seen in two TV movies, 'Sex and the Single Parent' and 'Letters from Frank.' Some of his other TV movies are 'Prime Suspect' (1982), 'Choices of the Heart' (1983), 'Private Sessions' (1986), 'Vanishing Act' (1989), 'The Price of the Bride' (1990), 'The Whereabouts of Jenny' (1991), and 'Silent Motive' (1991). Mike has also acted in two one-person shows, namely, 'JFK, a One Man Show' (as John Fitzgerald Kennedy), and the David W Rintels play 'Clarence Darrow.'

Continue Reading Below

In 1985, Mike co-founded 'Farrell/Minoff Productions,' along with film and TV producer Marvin Minoff. Under the production house, they produced several TV movies. They also served as producers of two major feature films: the 1988 'Orion Pictures' film 'Dominick and Eugene' and the 1998 Robin Williams-starrer 'Patch Adams.' Mike continued his partnership with Marvin till the latter's death in November 2009.

In 1999, Mike appeared in the recurring role of veterinarian 'Jim Hansen' in the 'NBC' melodrama series 'Providence.' He played the character in 64 episodes of the series.

Recommended Lists:

Recommended Lists:

Political Credits

Mike is known for his protests against many violent issues. A peace-loving person, Mike heavily protested against the involvement of the US in the wars against Afghanistan and Iraq. He has also advocated for the abolition of capital punishment in the US. For more than 10 years, Mike has been the president of 'Death Penalty Focus,' a non-profit organization that works for the cause, and a member of the advisory board of the 'National Coalition to Abolish the Death Penalty.' He became the first person to win the 'Human Rights Award' of 'Death Penalty Focus,' and in 2006, the award was named after him.

Mike decided to take a leave from his duty as the president of 'Death Penalty Focus,' as he was working for the 'Proposition 62' campaign. He considers the death penalty a "barbaric process that inflicts damage on our society."

Mike works with 'Greenpeace,' a non-governmental environmental organization. He is also an animal activist and supports a vegetarian diet. In 2001, he was awarded 'PETA's 'Humanitarian Award.' He was also associated with a 'PETA' public-service campaign against animal abuse.

Mike served as the co-chair of the 'California Human Rights Watch' for 10 years. He was also on the board of advisors of the now-defunct organization 'Cult Awareness Network.' In 1978, he raised funds for union workers and protested against the ballot measure that would have prohibited gay teachers from working in California schools.

Mike has been serving as the spokesperson for 'CONCERN/America,' an international refugee aid and development organization, since 1979. During his tenure, Mike visited several refugee camps in Asia and Central America to promote the organization's work worldwide. He also visited El Salvador, Nicaragua, and the USSR for a peace delegation. Mike made his first international trip to a refugee camp on the Thailand–Cambodia border with 'CONCERN' in 1980. He shared his experiences of being at the refugee camps at a 'University of Oklahoma' event.

Continue Reading Below

In 1985, Mike visited Central America to meet refugees from the civil war in El Salvador. He also supervised the surgery of a guerrilla commander named Nidia Diaz.

For many years, Mike opposed the American trade embargo of Cuba. He also condemned Clinton's refusal to establish diplomatic relations with Cuba. In 1994, Mike visited Cuba, where he met and listened to people. However, in 1999, he had to support the Clinton administration's military intervention in Kosovo, against his conscience. In a 2000 interview, Mike revealed that he no longer practiced Catholicism.

For many years, Mike has served as a member of 'Actors and Artists United for the Freedom of the Cuban Five' (AAUFCF).

Mike is a founding board member of 'Peace Studies' and 'ATV,' an alternatives-to-violence program at the 'Augusta Correctional Center' in Virginia.

Additionally, Mike has been associated with and been vocal about causes such as alcoholism, arms control, caring for the environment, caring for children of divorced parents, child sexual abuse, and enriching the lives of the disabled.

Mike was elected as the first vice president of the 'Screen Actors Guild' in Los Angeles. He also serves on the advisory board of the 'Military Religious Freedom Foundation.'

Mike supported convicted cop-killer Mumia Abu-Jamal, as he was sentenced to capital punishment. For many years, he and actor Ossie Davis co-chaired the 'Committee to Save Mumia Abu-Jamal.' Mike firmly opposed the manner in which the US military had reacted to the 'al Qaeda' after the 9/11 attacks. He supported the statement "Justice not Vengeance."

Continue Reading Below

At a press conference in December 2002, Mike and actor Martin Sheen, along with others, announced the formation of the group 'Artists United to Win Without War.' The group filed a petition, rejecting the doctrine that allows the US to launch first-strike attacks.

In February 2003, Mike condemned the George W Bush administration, which was trying to get a foothold in the Middle East. In 2006, he appeared in the anti-Iraq war documentary 'Whose War?' Mike also served as a member of 'Human Rights Watch's Middle East Advisory Committee.'

On June 19, 2013, Mike co-sponsored the screening of the film 'Daniel' at the 'Communist Party's Los Angeles 'Workers' Center' to commemorate the 60th anniversary of the executions of atomic spies Julius and Ethel Rosenberg.

Mike's numerous social endeavors have been felicitated with honors such as the 'Civil Liberties Champion Award' from the 'American Civil Liberties Union' (ACLU) of San Diego, the 'Humanitarian Award' from the 'National Association of Criminal Defense Lawyers,' the 'Voices of Courage & Conscience Award' from the 'Muslim Public Affairs Council,' the 'Humanitarian Award' from 'People for the Ethical Treatment of Animals,' the 'Partner's Award' from 'Oxfam America,' and the 'Upton Sinclair Award' from the 'Liberty Hill Foundation.'

Mike has also raised funds for several 'Democratic' candidates, such as Barbara Boxer, Howard Dean, Russell Feingold, John Kerry, Tom Harkin, Ralph Nader, and Barack Obama.

Recommended Lists:

Recommended Lists:

Literary Works

Mike's autobiography, titled 'Just Call Me Mike: A Journey to Actor and Activist,' was published in 2007. His second book, 'Of Mule and Man,' chronicles his 5-week, 9,000-mile promotional drive around the US for his first book.

Mike has penned his anti-war sentiments in the 2002 book 'My America: What My Country Means to Me, by 150 Americans from All Walks of Life,' edited by Hugh Downs.

Recommended Lists:

Recommended Lists:

Family & Personal life

Mike married actor Judy Hayden in August 1963 and separated from her in 1980. Their divorce was finalized in 1983. They have two children, Michael and Erin. Mike and Judy co-starred in a few episodes of 'M-A-S-H.' On December 31, 1984, he married actor Shelley Fabares.

Mike Is an avid motorcyclist. Despite having a high IQ, he is terrible at the game of chess. He loves poetry and had a flair for writing at one point in time. Mike enjoys watching basketball but cannot play the sport. He never watches or attends football games, as he considers it a violent sport.

Mike hates firearms, although he has served in the 'Marines.'

Recommended Lists:

Recommended Lists:

Translate Wiki

to Spanish, French, Hindi, Portuguese

Article Title

- Mike Farrell Biography

Author

- Editors, TheFamousPeople.com

Website

- TheFamousPeople.com

URL

-

https://www.thefamouspeople.com/profiles/mike-farrell-43792.php

Last Updated

- February 23, 2019

---

---

---