Lou Ferrigno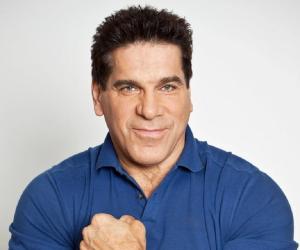 Quick Facts
Birthday: November 9, 1951
Nationality: American
Famous: Actors American Men
Age: 67 Years, 67 Year Old Males
Sun Sign: Scorpio
Also Known As: Louis Jude Ferrigno
Born in: Brooklyn, New York, U.S.
Famous as: Actor & Former Professional Bodybuilder
Height: 6'4" (193 cm), 6'4" Males
Family:
Spouse/Ex-: Carla Ferrigno (m. 1980), Susan Groff (m. 1978–1979)
father: Matt Ferrigno
mother: Victoria Ferrigno
children: Brent Ferrigno, Louis Ferrigno Jr., Shanna Ferrigno
U.S. State: New Yorkers
More Facts
education: Brooklyn Technical High School
awards: IFBB Mr. America Title
IFBB Mr. Universe Tilte
Continue Reading Below
Lou Ferrigno's name is synonymous with the superhero character, Hulk. As a baby, he was diagnosed with permanent hearing loss. The disability made him the butt of jokes at school. However, he found strength to battle the disadvantage by taking up weight lifting and bodybuilding. He was able to prove himself by winning the 'Teenage Mr. America', and two consecutive 'Mr. Universe' and 'Mr. America' titles. He clashed with Arnold Schwarzenegger for Mr. Olympia title. Though he failed, their rivalry was made into a book and a film called 'Pumping Iron'. The film rocketed the two strongmen to fame. Capitalizing on that fame, he won a breakthrough role in the TV serial, 'The Incredible Hulk'. In the late eighties, he would reprise the character of Hulk in three of its sequels. He continued to be associated with the Hulk character in many other ways. He was cast as Hercules in the film, 'Hercules' and in its sequel, 'The Adventures of Hercules'. Although he has retired from professional body building, he continues to act and makes appearances on TV shows. He also owns and runs a fitness equipment company.
Recommended Lists:
Recommended Lists:
Continue Reading Below
Childhood & Early Life
Lou Ferrigno was born on November 9, 1959 at Brroklyn, New York to Victoria and Matt Ferrigno, a police lieutenant. At three, he was diagnosed with hearing loss as a result of recurring ear infections as a baby.

He graduated from St. Athanasius Grammar School and Brooklyn Technical High School, where he trained in metal working, in 1969. A fan of bodybuilder and actor, Steve Reeves, he began weight training at 13.

Recommended Lists:

Recommended Lists:

Career

Lou Ferrigno won the IFBB 'Mr. America' title, a bodybuilding contest organized by the International Federation of Bodybuilders (IFBB) in 1973. The following year, he won the IFBB 'Mr. Universe' held in Verona Italy.

His attempt at the 'Mr. Olympia' title, awarded to the winner of the professional men's bodybuilding contest, was thwarted by Arnold Schwarzenegger in 1974 - he stood second that year and third the following year.

Despite his successes in the competitions, he had to work in a Brooklyn factory as sheet metal worker. The job was fraught with dangers, so he eventually resigned from the job.

He became a defensive lineman for the Toronto Argonauts, a professional team of the Canadian Football League. But he was dropped after just two games, because of his inexperience.

In 1977, by his own high standards, he fared badly in the first World's Strongest Man competition, taking the fourth place which saw eight competitors. The weightlifter, Bruce Wilhelm, won the competition that year.

He was cast in the title role in the 1983 cult film 'Hercules'. The film earned him a Worst New Star Raspberry Award. A sequel, 'The Adventures of Hercules', was released two years later.

He played the role of a paramedic by name, John Six, in ABC's short-lived medical drama series, 'Trauma Center', in 1983. That year, he made a brief appearance in the game show, 'Family Feud'.

Continue Reading Below

Between 1988 and 1990, he played the role of Hulk in three television films – 'The Incredible Hulk Returns', 'The Trial of the Incredible Hulk', and 'The Death of the Incredible Hulk'.

He switched back to bodybuilding briefly, and starting 1992, made two successive attempts to win the coveted 'Mr. Olympia' title, but disappointed; he was placed 12th and 10th respectively.

For the animated television series, 'The Incredible Hulk', he continued to associate with the main character of Hulk by providing his voice. The series which began in 1996 lasted 21 episodes.

In 1997, he became the subject of a documentary, 'Stand Tall', on bodybuilding and dealt with his struggles due to his hearing disability. The film starred him and Arnold Schwarzenegger.

Between 2000 and 2008, he and his wife appeared as themselves and neighbors of the chief characters Heffernans in the CBS sitcom, 'The King of Queens'.

In 2003, Ang Lee's superhero film, 'Hulk', he appeared in a cameo as a security guard. In the sequel, 'The Incredible Hulk', directed by Louis Leterrier released five years later, he voiced for Hulk.

As Michael Jackson's fitness-adviser, he had the task of keeping the singer fit for his planned 'That Is It' 2009 London concerts. But the concerts did not take place due to Jacksons's death.

Continue Reading Below

He demonstrated and sold his company's fitness equipment on Drew Carey's show, 'The Price Is Right', in 2009, and in the following year appeared on the children's show, 'Sonny with a Chance'.

In 'The Avengers', a 2012 American superhero film, his voice was blended with that of the actor Mark Ruffalo who played Hulk in the movie, and won appreciation from the film's Sound Designer, Christopher Boyes.

He competed in the NBC reality show, 'The Celebrity Apprentice', in 2012 to raise money for his charity, the Muscular Dystrophy Association. He collected $50,000 for Muscular Dystrophy Association.

After his appointment as a LA County's reserve sheriff's deputy seven years earlier, he was sworn in as a special deputy to the Delaware County, Ohio, Sheriff's Department in 2013.

The latest film in the Scorpion King franchise, 'The Scorpion King: The Lost Throne' will see him play Skizurra. Now in post-production stage, it will release later this year.

Recommended Lists:

Recommended Lists:

Major Works

Ferrigno's rivalry with Arnold Schwarzenegger for the 'Mr. Olympia' title inspired a book, Pumping Iron, which was adapted into a critically acclaimed docudrama, and made the two rivals( playing themselves) very famous.

In 1978, standing 6' 5" and weighing 285 lb, he was cast as Hulk in the CBS hit serial,' The Incredible Hulk', which ran for 5 seasons. He reprised his role many more times.

Awards

After winning the bodybuilding title, 'Teenage Mr. America', he won two consecutive 'Mr. Universe' titles starting from 1973. He also won a 'Mr. America' title that year.

Ferrigno won two Golden Raspberry (also called Razzie) Awards nominations for his role in the film, 'Hercules', in the Worst New Star and Worst Actor categories; he won the Worst New Star Razzie.

Personal Life & Legacy

After divorcing his first wife, Susan Groff, Lou Ferrigno married psychotherapist Carla Green, who became his manager. The couple has three children, Shanna, Louis, Jr. and Brent.

Trivia

A sequel to the TV movie, 'The Death of the Incredible Hulk', was planned with this actor reprising the role of Hulk, but the project never materialized because Bill Bixby, his co-star died.

This champion body builder was Michael Jackson's personal trainer and a good friend, and appears in the singer's 'Liberian Girl' video.

1. The Avengers (2012)

(Sci-Fi, Action)

2. Avengers: Age of Ultron (2015)

(Adventure, Sci-Fi, Action)

---

3. The Incredible Hulk (2008)

(Sci-Fi, Adventure, Action)

4. Hulk (2003)

(Action, Sci-Fi)

---

---

5. Moms' Night Out (2014)

(Comedy)

6. I sette magnifici gladiatori (1983)

(Fantasy, Adventure, Action, Drama)

---

---

---

7. Hercules (1983)

(Adventure, Fantasy)

8. Sinbad of the Seven Seas (1989)

(Adventure, Fantasy)

---

---

---

---

Translate Wiki

to Spanish, French, Hindi, Portuguese

Article Title

- Lou Ferrigno Biography

Author

- Editors, TheFamousPeople.com

Website

- TheFamousPeople.com

URL

-

https://www.thefamouspeople.com/profiles/lou-ferrigno-4350.php

Last Updated

- October 05, 2017

---

---

---