Lorrie Morgan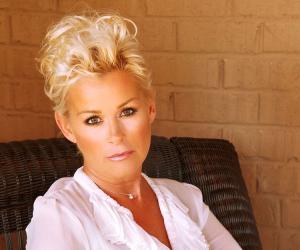 Quick Facts
Nationality: American
Famous: Country Singers American Women
Age: 60 Years, 60 Year Old Females
Sun Sign: Cancer
Also Known As: Loretta Lynn
Born in: Nashville, Tennessee, United States
Famous as: Country Singer
Height: 5'1" (155 cm), 5'1" Females
Family:
Spouse/Ex-: Brad Thompson, Jon Randall, Keith Whitley, Randy White, Ron Gaddis, Sammy Kershaw
father: George Morgan
children: Brad Thompson, Jesse Keith Whitley, Morgan Anastasia Gaddis
U.S. State: Tennessee
Continue Reading Below
Lorrie Morgan is a famous American country music singer and the daughter of the legendary American singer George Thomas Morgan. She started performing publically at the age of 13 with her father, and took the stage at the 'Grand Ole Opry', a weekly country music platform with her own version of 'Paper Roses', a song composed by Fred Spielman and Janice Torre, that was later sung by Anita Bryant. Although her career started at a very early age, she did not reach stardom until the 1990s when she rose to fame with her U.S. top charting single 'Trainwreck of Emotion' that was written and composed by her, followed by other mega hits like 'Five Minutes', 'Dear Me', 'Except for Monday', and 'A Picture Of Me Without You.' Through her extensive singing career she has delivered more than 20 hit singles that have topped the famous 'Billboard Hot Country Singles and Tracks', and recorded more than a dozen studio albums, live shows, and other hit compilations. As a country singer with a huge fan following, she has sold over six million records worldwide. Coming to her personal life, she has been married six times, three of her spouses being famous American Country singers. Being an artist and musical icon, she continues to write and compose songs for her Country Music fans worldwide.
Recommended Lists:
Recommended Lists:
Continue Reading Below
Childhood & Early Life
Lorrie Morgan was born Loretta Lynn Morgan on 27th June 1959 in Nashville, Tennessee. She is the youngest of four children of legendary country music singer George Morgan and Anastasia Paridon. Her siblings are Marty Morgan, Candy Morgan, and Bethany Chamberlain.

Recommended Lists:

Recommended Lists:

Early Singing Career

Lorrie Morgan started singing and performing from 1972 with her father in her hometown, Nashville. She performed famous songs, adding her own renditions, and gained popularity among the local audience.

After her father's sudden demise in 1975, she took over his band at the age of 16. She started writing her own songs, and even paired with the 'Little Roy Wiggins' band, led by steel guitarist Little Roy Wiggins in 1977.

She also worked as a part-time receptionist and singer at an American Music Publishing firm 'Acuff-Rose Music'. Performing hundreds of shows and gigs in clubs around the country, she gained enough popularity that paved the road for her country singing career.

As a rising vocalist, Lorrie Morgan was called to sing on television shows in Nashville, especially by Ralph Emery, a morning television show host, and close friend of her late father George Morgan.

In 1979, she recorded a song 'I'm Completely Satisfied With You'. This song started playing on all radio-stations and TV shows, and became a small hit in Nashville. She started singing in night clubs and performed live openers for other famous American and Canadian country singers and bands like Jack Greene, 'Billy Thunderkloud and the Chieftones', and others.

Whilst touring with various artists, she performed for the Opryland USA amusement park as a part of the bluegrass show for a couple of years in Nashville, Tennessee. She was also hired as a full time singer for a show called 'Nashville Now' hosted by TNN.

She wrote and composed a new song 'Don't Go Changing' in 1984, which was again a small hit in Nashville, and it was in the same year that she was inducted into the Grand Ole Opry as the youngest vocalist.

Recommended Lists:

Recommended Lists:

Professional Career

Lorrie Morgan's professional career began in 1988, when she signed a contract with a well-known American record name, 'RCA Records', owned by Sony Music. She released her first album 'Leave the Light On' in 1989 that covered 11 songs, including the hit country song 'Trainwreck of Emotion'.

The song, 'Dear Me', from the same album was also a success. However, just as her professional career was taking off, her husband died. Moving on in her musical career, she started writing and composing hit country songs, and 'Five Minutes' became the number one hit in 1990.

She released her second album 'Something in Red' that comprised ten hit songs, which hit the No. 8 position on the 'Billboard Country Chart.' It included numerous hit songs like 'We Both Walk', 'A Picture of Me', 'Except for Monday', and the very famous duet song 'Best Woman Wins'. This album eventually scored a platinum rating.

Lorrie Morgan's third platinum album 'Watch Me' was released with 'BNA Records' in 1992 with ten chart buster songs that included 'Half Enough', ' 'I Guess You Had To Be There', 'What Part of No', and 'Watch Me.'

She was only female vocalist at that time to earn three platinum albums, and was voted as 'Female Vocalist of the Year' in 1994 by 'Music City News Awards', a fan-voted award for country music. She released her fourth studio album called 'War Paint' in 1994, with good tracks like 'My Night to Howl', and 'Don't Touch Me'.

In 1995, her 'Greatest Hits' compilation was released with hits from her previous albums, some of them being 'Five Minutes', 'Dear Me', 'Watch Me, 'Something In Red', and 'I Didn't Know My Own Strength'.

Over the ensuing years she released various country albums like 'Greater Need' (1996), 'Shakin' Things Up' (1997), 'Secret Love' (1998), 'My Heart'(1999), 'Show Me How' (2004), 'A Moment In Time' (2009), 'I Walk Alone' (2010), 'Dos Divas' (2013), and 'Letting Go..Slow' (2016).

Major Works

Lorrie Morgan is a country music legend who has composed and sung for hit albums like 'Leave the Light On', 'Something in Red', and 'Watch Me'. She has also performed with singing greats like Dolly Parton with whom she collaborated for the song 'Best Woman Wins' that went platinum. Her albums like 'War Paint' (1994), 'Greater Need' (1996), and 'Shaking Things Up' (1997) are accredited gold.

Awards & Achievements

Lorrie Morgan's duet song with Keith Whitley, 'Til a tear becomes a Rose,' won the Country Music Association Award for vocal event of the year in 1990.

She was voted as the 'Female Vocalist of the Year' by 'Music City News Awards' for four years: 1994, 1996, 1997, and 1998.

She won the 'Hot Shot Debut' Award for her album 'Reflections: Greatest Hits' (1995) for the fifth position debut on the country album charts.

Personal Life

Lorrie Morgan married bass player Ron Gaddis in 1979, but the couple parted ways the following year. She had one child with him, daughter Morgan Anastasia Gaddis.

Whilst performing shows for various clubs and gigs, Lorrie Morgan got into a relationship with American Country Music singer Keith Whitley who was also touring to promote his album 'L.A. to Miami'. The pair got married on 22nd November 1986; the marriage ended with the demise of Keith Whitley due to alcohol poisoning in 1989. The couple had one child, Jesse Keith Whitley, who is also a musician.

She got married to a bus driver named Brad Thompson on 27th October 1991, but the marriage ended in 1993 with a divorce. She tied the knot for the fourth time with country music singer, songwriter, and musician Jon Randall on 16th November 1996, but the couple divorced in 1999.

On 29th September 2001, Lorrie Morgan tied the knot for the fifth time with Sammy Kershaw, a country singer and a politician as well. The couple divorced on 23rd October 2007 due to personal issues.

She married Randy White, a Tennessee businessman, on 15th September 2010, and the couple remains married till date.

Trivia

Lorrie Morgan's nickname is 'Fussy'.

Translate Wiki

to Spanish, French, Hindi, Portuguese

Article Title

- Lorrie Morgan Biography

Author

- Editors, TheFamousPeople.com

Website

- TheFamousPeople.com

URL

-

https://www.thefamouspeople.com/profiles/lorrie-morgan-12651.php

Last Updated

- September 29, 2017

---

---

---