Kimberly Guilfoyle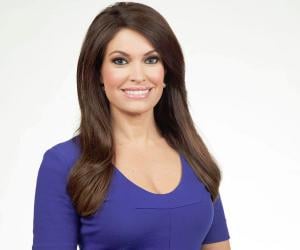 Quick Facts
Nationality: American
Famous: TV Anchors TV Presenters
Age: 50 Years, 50 Year Old Females
Sun Sign: Pisces
Also Known As: Kimberly Ann Guilfoyle
Born in: San Francisco, California, United States
Famous as: News Anchor
Height: 1.7 m
Family:
Spouse/Ex-: Gavin Newsom (m. 2001; div. 2006) Eric Villency
children: Ronan Anthony Villency
U.S. State: California
City: San Francisco, California
Notable Alumni: University Of California, Davis, University Of San Francisco
More Facts
education: University of California, Davis (BA) University of San Francisco (JD)
Continue Reading Below
Kimberly Ann Guilfoyle is an American news personality who is currently one of the co-hosts of the news and talk show 'The Five' on Fox News Channel. She has also hosted the program 'Both Sides' on Court TV, as well as served as a legal analyst on 'Anderson Cooper 360°.' An attorney by profession, she ventured into television after several years of a successful legal career. Before taking up television as a full-time career, she held a high-profile job as a prosecuting attorney in San Francisco and Los Angeles, and had even served as an assistant District Attorney in San Francisco for four years. Once married to prominent California politician Gavin Newsom, she first came into limelight due to her husband's high visibility in the media. She started appearing on television specials in the mid 2000s and over a period of time quit her legal career to focus more on her television appearances. In 2011, Guilfoyle was chosen as a co-host for the 'The Five,' a news and talk show on Fox News Channel featuring a rotating panel who discuss current stories, political issues, and pop culture, a post that earned her much name and fame as a news personality. In mid-2017 it was reported that Guilfoyle was being considered to serve as press secretary for President Donald Trump. However, the reports were later dismissed.
Recommended Lists:
Recommended Lists:
Continue Reading Below
Childhood & Early Life
Kimberly Ann Guilfoyle was born on March 9, 1969 in San Francisco to a Puerto Rican mother and an Irish father. Her mother, Mercedes, taught special education, while her father, Tony, was a US Army veteran who later became a real estate investor. She has one brother.

Her early years were quite happy as both her parents doted on her. However, a major tragedy befell the family when her mother became sick with leukaemia and died when Kimberly was just 11. Though devastated by her death, Tony did his best to raise his daughter as a single father.

Kimberly was a bright girl and graduated from Mercy High School. She then graduated magna cum laude from the University of California, Davis, before moving on to the University of San Francisco School of Law from where she earned her Juris Doctor (J.D.) in 1994.

As a university student she interned at the San Francisco district attorney's office and also did a few odd jobs on the side, including a stint as a model for Macy's, and a bridal magazine.

She also studied at Trinity College, Dublin, in Ireland where she published research papers in international children's rights and European Economic Community law.

Recommended Lists:

Recommended Lists:

Legal Career

Kimberly Guilfoyle began her legal career as a prosecutor in San Francisco but lost her job due to certain political reasons in 1996. Thus she moved to Los Angeles looking for better prospects.

She worked for four years as a Deputy District Attorney during which period she dealt with cases related to domestic violence, kidnapping, robbery, arson, sexual assault and homicide. She was very proficient as an attorney and received several awards at the Los Angeles District Attorney's Office, including Prosecutor of the Month.

She was re-hired in the San Francisco District Attorney's Office in 2000 as an Assistant District Attorney, a position she served in for four years until 2004. In this position, she gained much publicity along with lead prosecutor James Hammer in 2002 for their work in the infamous People v. Noel and Knoller case, a second-degree murder trial involving a dog mauling.

Recommended Lists:

Recommended Lists:

Television Career

Being an attorney, Kimberly Guilfoyle started appearing in television programs that required legal knowledge in 2004. She moved to New York where she began hosting the program 'Both Sides' on Court TV. Around the same time, she also began working as a legal analyst on 'Anderson Cooper 360°.'

In 2006, she joined Fox News Channel as a host of the weekend show 'The Lineup.' Though the show was eventually cancelled, she remained a regular contributor for the network. Over the years she served as a guest host on 'Hannity,' 'On the Record,' 'Justice with Judge Jeanine,' and 'Fox and Friends.'

In 2011, she was selected as a co-host of news and talk show 'The Five' which proved to be very popular; as of 2017, she continues to co-host the show. She also began co-hosting 'Outnumbered' in 2014 and appeared weekly on 'The O'Reilly Factor's recurring segment "Is it Legal?" until the show's cancellation in 2017.

Recommended Lists:

Recommended Lists:

Major Works

Kimberly Guilfoyle is best known as a co-host of 'The Five' on Fox News Channel. The news and talk show, which features discussions on current stories, political issues, and pop culture, is a highly popular one which established the former attorney as a credible TV personality to reckon with.

Awards & Achievements

Kimberly Guilfoyle is the recipient of several awards, including Prosecutor of the Month from the Los Angeles District Attorney's Office, and an award for being "Outstanding Woman of the Year" from the City of San Francisco.

In 2004 she was awarded with a "Special Civil Rights Award" from the New York City. The following year, she was named USO Entertainer of the Year.

She is also an active board member of The Gastro Esophageal Cancer Foundation and serves on the advisory panel for the American Bar Association.

Personal Life & Legacy

In 2001, Kimberly Guilfoyle married Gavin Newsom, then a city supervisor. Her husband was elected mayor of San Francisco in 2003. Their marriage, however, could not withstand the pressures of the couple's high profile careers and thus they divorced in 2006.

A few months after her divorce, Guilfoyle married furniture heir Eric Villency in Barbados. The couple have a son named Ronan Anthony. This marriage too ended in divorce.

Translate Wiki

to Spanish, French, Hindi, Portuguese

Article Title

- Kimberly Guilfoyle Biography

Author

- Editors, TheFamousPeople.com

Website

- TheFamousPeople.com

URL

-

https://www.thefamouspeople.com/profiles/kimberly-guilfoyle-32739.php

Last Updated

- May 18, 2017

---

---

---