Karl Lagerfeld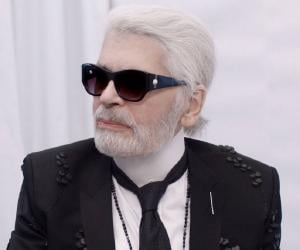 Quick Facts
Birthday: September 10, 1933
Nationality: German
Famous: Fashion Designers German Men
Died At Age: 85
Sun Sign: Virgo
Also Known As: Karl Otto Lagerfeldt
Born in: Hamburg
Famous as: Fashion Designer
Height: 5'10" (178 cm), 5'10" Males
Family:
father: Otto Lagerfeldt
mother: Elisabeth Bahlman
siblings: Martha Christiana Lagerfeldt, Thea Lagerfeldt
Died on: February 19, 2019
place of death: Neuilly-sur-Seine, France
Personality: ENTP
City: Hamburg, Germany
More Facts
education: Lycée Montaigne
awards: 2010 - The Couture Council Fashion Visionary Award
Continue Reading Below
The creative power behind Chanel's multi-million dollar business enterprise, Karl Lagerfeld was widely regarded as the 'Emperor' of the fashion world. He reigned over various fashion houses and designer labels across the world, including Fendi, H&M, Diesel, and Chloe. He was one of the most acclaimed fashion designers who epitomised fashion and the art of designing. This multi-faceted creative genius was a master of innovation and had the creative ability to transform himself to fit the needs and requirements of the label he worked with. Addressed by the Vogue Magazine as the 'unparalleled interpreter of the mood of the moment,' Lagerfeld was an immensely talented and skilful designer, whose creations were always innovative. He owned a clothing label of his own, which gained a reputation of being one of the best labels. This man of many talents was also a talented photographer and owned a book store in Paris.
Recommended Lists:
Recommended Lists:
Continue Reading Below
Childhood & Early Life
Karl Lagerfeld was born on September 10, 1933, in Hamburg, Germany, to Otto Lagerfeldt and Elisabeth Bahlman. He had a privileged upbringing all through his childhood and early youth.

He studied at a private school and finished his secondary schooling from the famous Lycee Montaigne, where he obtained his majors in history and drawing.

Continue Reading Below

Recommended Lists:

Recommended Lists:

Career

In 1955, he worked as an assistant to French designer, Pierre Balmain and subsequently assisted designer Jean Patou. He designed haute couture collections for Patou.

In July 1958, he came out with his first collection, which he exhibited in a two hour presentation. He released this collection under the name 'Roland Karl'. The collection was, however, not well received.

In 1960, he designed a collection of miniskirts which were released during the spring season that year. The collection was not well received yet again and fashion critics reviewed it negatively.

Later in the year 1960, he released a collection of special little hats, which were made out of satin. This was his first piece of work that garnered positive reviews and praise and was well received.

In 1963, he began to work as a designer with the Roman couture brand named, 'Tiziani'. The brand later also launched a ready-to-wear label, for which he designed the first collection.

Following his replacement by Guy Douvier at Tiziani', in 1970, he collaborated with the Roman haute couture house, 'Curiel'. The first 'Curiel' collection was designed by him that year.

In October 1972, he exhibited his spring-wear collection titled, 'Chloe'. The designer ensemble made it to the headlines of the fashion fraternity and was tagged as the most fashionable clothes one could get his hands on.

Continue Reading Below

Later in 1972, he also began to work with the Italian fashion house, 'Fendi'. At 'Fendi' he was assigned to design a variety of furs, accessories and also clothing lines.

Innovative cuts, high-profile designing and stylish ensembles made him one of the most sought after names in the world dominated by fashion. His popularity rose to unattained levels with him being tied up with as many as four designers and he was designing men and women's wear, lingerie, sweater and shoes simultaneously.

It was in 1983 that he began to work with the French label 'Chanel.' The following year, he launched his own fashion label, something that he aspired since making an entry in the fashion circuits.

In 1994, he came out with a controversial collection that consisted of dresses, which were embroidered with phrases from the Koran. Such was the uproar that he had to hire bodyguards for model Claudia Schiffer to protect her from fundamentalists.

In 2002, he worked in collaboration with 'Diesel.' Together, they launched a special denim collection named 'Lagerfeld Gallery by Diesel.' The collection was presented at the Paris Fashion Week. About 90% of the collection sold off in its very first week, despite the sky-high price range.

In 2004, he collaborated with the Swedish multinational retail-clothing company, 'H&M'. The brand offered a collection of his clothes for both men and women in certain selected outlets. Almost the entire collection was sold out in just about two days.

Apart from being a high-profile fashion designer, he is also a talented photographer. This talent came to limelight when he personally photographed American singer and actress, 'Mariah Carey' for the cover of 'V' magazine. It is reported that he has also photographed advertisement campaigns for 'Chanel' and 'Fendi'.

Continue Reading Below

In 2006, he launched a new specially designed collection of denim wear and fitted T-shirts for both men and women. This exquisite collection was called, 'K Karl Lagerfeld'.

In 2010, he was seen in a Volkswagen commercial, in which he played himself. That year, he also designed a special bottle with his image for Coca Cola Light in France.

In 2012, he created a collection of holiday cosmetics for Japanese makeup artist, ShuUemura. That same year he also launched a collection of Suzanne Belperron's pins and brooches.

Awards & Achievements

In 2010, he received the Fashion Visionary Award 2010. The award was conferred upon him at the New York Fashion Week.

Family, Personal Life & Legacy

Lagerfeld owned several houses in Paris, and also had houses in Brittany, Monte Carlo, Hamburg, and Manhattan. All these were decorated with different themes.

He lived with his Birman cat, Choupette, in Paris. He had, once, said that he would marry his cat if it were legal.

Lagerfeld had health complications in January 2019. He was admitted to the American Hospital of Paris in Neuilly-sur-Seine on February 18, and he died on February 19 at the hospital, at the age of 85. The cause of his death was not disclosed.

Trivia

This world famous fashion designer shocked the world when he lost 42 kgs within thirteen months. He lost weight to wear clothes designed by HediSlimane.

Translate Wiki

to Spanish, French, Hindi, Portuguese

Article Title

- Karl Lagerfeld Biography

Author

- Editors, TheFamousPeople.com

Website

- TheFamousPeople.com

URL

-

https://www.thefamouspeople.com/profiles/karl-lagerfeld-3942.php

Last Updated

- February 20, 2019

---

---

---