John Goodman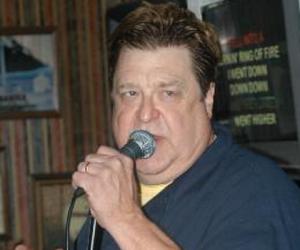 Quick Facts
Nationality: American
Famous: Actors American Men
Age: 66 Years, 66 Year Old Males
Sun Sign: Gemini
Also Known As: John Stephen Goodman
Born in: St. Louis, Missouri
Famous as: Actor
Height: 6'2" (188 cm), 6'2" Males
Family:
Spouse/Ex-: Annabeth Goodman (m.1989)
father: Leslie F. Goodman
mother: Virginia Roos (née Loosmore)
siblings: Elisabeth Horvath, Leslie
children: Molly Evangeline Goodman
U.S. State: Missouri
More Facts
education: Affton High School, Missouri State University
Continue Reading Below
American film, television and stage actor and a recipient of the Golden Globe Award, John Goodman paved his way to success with the successful and one of the most watched television series, 'Roseanne'. He has proved himself to be one of Hollywood's most skilled and talented character actors who can play any role with ease and comfort. An enthusiastic football player, during his school and teenage years, he even won a football scholarship to study at the Missouri State University. Unfortunately due to his injuries, Goodman was not able to continue playing football and he instead moved to New York City in search of acting opportunities. After a period of struggle in New York, doing odd jobs and embarrassing commercials, he finally made his first appearance in films with 'Eddie Macon's Run', in which he played a minor role. He has appeared in over 50 films, including numerous Disney films and the films directed by the Coen brothers. Some of his films include, 'Argo, The Flintstones', 'Coyote Ugly' and The Artist'. He speaks openly about his struggles with alcoholism which he has since overcome.
Recommended Lists:
Recommended Lists:
Continue Reading Below
Childhood & Early Life
John Stephen Goodman was born in St. Louis, Missouri to Leslie F. Goodman, a postal worker and Virginia Roos, a store clerk and waitress. He has two siblings.

He attended the Affton High School in St. Louis County, Missouri, where he was an avid football player and theatre actor. He later graduated from the Missouri State University.

In 1975, after he injured himself, he put an end to his football career and relocated to New York in order to pursue a career in the field of acting. In New York, he did many jobs, acted in commercials and performed on off-Broadway.

Continue Reading Below

Recommended Lists:

Recommended Lists:

Career

In 1983, he made his first appearance in the movies with 'Eddie Macon's Run', which was directed by Jeff Kanew. In the film, he played a minor role of 'Herbert'.

In 1985, he was part of the cast of the successful Broadway musical, 'Big River: The Adventures of Huckleberry Finn'. The musical was based on Mark Twain's novel, 'Adventures of Huckleberry Finn'.

In 1987, he played the role of 'Gale Snoats' in the comedy film, 'Raising Arizona', which was directed by the Coen brothers. The movie is best known for its visual gags and symbolic elements.

From 1988, he starred in the American sitcom, 'Roseanne', which was an immensely successful TV series, broadcasted on ABC network. In the show, he played the role of 'Dan Conner'.

In 1991, he starred in the American comedy film, 'King Ralph', which was directed by David S. Ward. The film was a moderate success and was based on the novel, 'Headlong' by Emlyn Williams.

In 1992, he delivered the voice role of 'Frosty the snowman' in the animated Christmas TV special, 'Frosty Returns'. The show was broadcast on the CBS television network.

He played the role of 'Fred Flintstone' in the Brian Levant comedy film, 'The Flintstones' in 1994. Even though the film received negative reviews, it was a success at the box office.

Continue Reading Below

In 1998, he starred in the comedy film, 'The Big Lebowski', which was directed by the Coen brothers. The movie received good reviews and it was screened at the 1998 Sundance Film Festival.

In 2000, he was seen in the romantic comedy-drama film, 'Coyote Ugly', which was based on the real Coyote Ugly Saloon, a chain of bars in the U.S. The film was set in New York City.

In 2004, he appeared as 'Stephen Blauner', singer/actor Bobby Darin's talent manager in the biographical film, 'Beyond the Sea'. The film was based on the life of Bobby Darin.

In 2006, he played a voice role in the animated film, 'Cars', which was directed by John Lasseter. The film earned several accolades including an Academy Award nomination.

In 2009, he played the role of 'Graham Bloomwood' in the romantic comedy film, 'Confessions of a Shopaholic'. The film revolves around the life of a shopaholic journalist.

He played the role of 'Al Zimmer' in the silent film, 'The Artist' in 2011. The film was directed by Michel Hazanavicius and it was rereleased in France and Belgium the following year.

In 2012, he played the role of 'John Chambers', in the historical drama film, 'Argo', which was based on the Iran Hostage crisis in 1979. The film was directed by Ben Affleck.

Continue Reading Below

Recommended Lists:

Recommended Lists:

Major Works

He starred in the successful TV sitcom, 'Roseanne', which was the most, watched show in the U.S. from 1989 to 1990. Later, the show was ranked as 34th on TV Guide's '50 Greatest TV Shows of All Time'.

He appeared in the film, 'The Artist', which earned a whopping $133,432,856 at the box office. The film was the recipient of five Academy Awards and three Golden Globes.

Awards & Achievements

In 1993, he was the recipient of the Golden Globe in the category, 'Best Performance by an Actor in a TV-Series - Comedy/Musical' for 'Roseanne'.

Personal Life & Legacy

In 1989, he married Annabeth Hartzog and the couple have a child together. The couple lives in New Orleans.

He openly admits that he has problems with his weight and is also open about his alcoholism.

Trivia

This golden globe winning American TV and film actor was once a bouncer.

1. The Big Lebowski (1998)

(Comedy, Crime)

2. O Brother, Where Art Thou? (2000)

(Adventure, Comedy, Crime, Music)

---

3. Monsters, Inc. (2001)

(Comedy, Animation, Fantasy, Adventure, Family)

4. Argo (2012)

(Drama, Thriller, History, Biography)

---

---

5. The Artist (2011)

(Romance, Comedy, Drama)

6. Barton Fink (1991)

(Drama, Comedy, Thriller)

---

---

---

7. 10 Cloverfield Lane (2016)

(Mystery, Horror, Thriller, Sci-Fi, Drama)

8. Trumbo (2015)

(Biography, Drama)

---

---

---

---

| | | |
| --- | --- | --- |
| 1993 | Best Performance by an Actor in a Television Series - Comedy or Musical | Roseanne (1988) |

| | | |
| --- | --- | --- |
| 2007 | Outstanding Guest Actor in a Drama Series | Studio 60 on the Sunset Strip (2006) |

| | | |
| --- | --- | --- |
| 2001 | Favorite Male Performer in a New Television Series | Normal, Ohio (2000) |
| 1989 | Favorite Male Performer in a New TV Program | Winner |

Translate Wiki

to Spanish, French, Hindi, Portuguese

Article Title

- John Goodman Biography

Author

- Editors, TheFamousPeople.com

Website

- TheFamousPeople.com

URL

-

https://www.thefamouspeople.com/profiles/john-stephen-goodman-1910.php

Last Updated

- December 07, 2018

---

---

---