J. R. R. Tolkien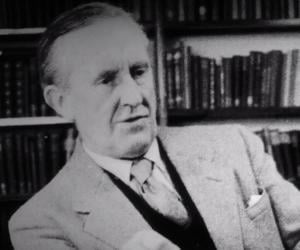 Quick Facts
Nationality: British
Famous: Quotes By J. R. R. Tolkien Poets
Died At Age: 81
Sun Sign: Capricorn
Also Known As: John Ronald Reuel Tolkien
Born in: Bloemfontein, Orange Free State
Famous as: Writer, Poet
Family:
Spouse/Ex-: Edith Bratt (1916–1971)
father: Arthur Reuel Tolkien
mother: Mabel
siblings: Hilary Arthur Reuel
children: Christopher Tolkien, John Tolkien, Michael Tolkien, Priscilla Tolkien
Died on: September 2, 1973
place of death: Bournemouth, England
epitaphs: Beren
More Facts
awards: - Prometheus Hall of Fame Award
1978 - Locus Award for Best Fantasy Novel
- Mythopoeic Fantasy Award

- Gandalf Award for Book-Length Fantasy
- International Fantasy Award for Fiction



Continue Reading Below
Never had he thought that a bedtime story he narrated to his children would transform into a cult award-winning novel, with hundreds of millions of fan following across the world. Described as 'grew in the telling', his 'The Hobbit' became one of his most-loved books, along with his richly inventive epic tale series 'The Lord of the Rings' which was helmed in bits and pieces sent as letters to his kids. J.R.R. Tolkien was an internationally eminent writer, most popular for his dark fantasy stories. His areas of expertise were often inspirations drawn from Germanic people, including poetry, literature, mythology and old English. Apart from novels, he also authored a series of short stories. It was due to his connection with fictional histories, fantasy writings, and constructed languages that he came to be known as the 'father of modern fantasy literature'. His epic tale series 'The Lord of the Rings' has been translated into over 25 languages for readers across the world, even after 50 years from its original publication, and has often been ranked among the best-loved stories created in the 20th century, along with 'The Hobbit'. These two novels have been adapted into award-winning blockbuster movies by Hollywood director, Peter Jackson.
Continue Reading Below
Childhood & Early Life
John Ronald Reuel Tolkien was born on January 3, 1892 in Bloemfontein, Orange Free State, to English bank manager Arthur Reuel Tolkien and Mabel nee Suffield.

His father died of rheumatic fever when he was three, and hence, started living with his maternal grandparents in Kings Heath, Birmingham, along with his mother and younger brother, Hilary.

After initial education at home, he went to King Edward's School and St. Philip's School. He returned back to King Edward's through a Foundation Scholarship in 1903.

His mother died in 1904, due to acute diabetes, and was thereafter, brought up by her friend, Fr. Francis Xavier Morgan of the Birmingham Oratory.

In 1911, he enrolled into Classics at Exeter College, Oxford, but changed the subject to English Language and Literature in 1913, and graduated with first-class in 1915.

He penned his first poem 'From the many-willow'd margin of the immemorial Thames' in 1913, at Exeter College, which was published in the college's Stapeldon Magazine.

Continue Reading Below

Recommended Lists:

Recommended Lists:

Career

He was enrolled as a Second Lieutenant in the Lancashire Fusiliers, in 1916, and fought in the Battle of the Somme on the Western Front. He contracted trench fever, a typhus-like infection, due to which he was sent back to England.

In 1918, he started working as an assistant lexicographer at The Oxford English Dictionary. Subsequently, in 1920, he joined the University of Leeds as a Reader in English Language.

He produced the popular edition of 'Sir Gawain and the Green Knight', along with E.V. Gordon, and 'A Middle English Vocabulary' single-handedly.

In 1925, he joined Oxford University as Rawlinson and Bosworth Professor of Anglo-Saxon, where he essayed the philological lecture 'Nodens' in 1932, based on the 1928 unearthing of Roman Asclepeion at Lydney Park, Gloucestershire.

The first three parts of his 'The Lord of the Rings' – 'The Fellowship of the Ring', 'The Two Towers', and 'The Return of the King', received mixed reviews from the readers, ranging from straightforward narrative to fantasy setting to ecstatic.

His lecture on 'Beowulf: The Monsters and the Critics' in 1936, based on the early medieval epic 'Beowulf', was highly appreciated.

During World War II, he was assigned as a codebreaker in the cryptographic department of the Foreign office in 1939, though he never worked due to non-requirement of his services.

Continue Reading Below

He was hired by Merton College, Oxford, in 1945 as a Professor of English Language and Literature, a position which he retained till his retirement in 1959.

He wrote numerous fantasy tales for children, which included 'The Father Christmas Letters', 'Mr. Bliss and Roverandom', 'Tree and Leaf', 'Smith of Wootton Major', 'On Fairy-Stories', and 'The Adventures of Tom Bombadil'.

Recommended Lists:

Recommended Lists:

Major Works

He translated the Old English epic poem 'Beowulf: A Translation and Commentary' in 1926; however, it was edited and published by his son posthumously in 2014.

He wrote the award-winning novel 'The Hobbit' – an interpretation of the history of Middle-earth, in 1937, supported by over 100 drawings, which became more popular as a children's book, though it was originally written for adult readers.

While writing a sequel to 'The Hobbit', he produced the highly-successful 12-book 'The Lord of the Rings', completed over a period of ten years, with the first three parts published during 1954-55 as a trilogy.

Recommended Lists:

Recommended Lists:

Awards & Achievements

The National University of Ireland and University of Liege presented him with an honorary degree in 1954.

Continue Reading Below

In 1972, he was made a Commander of the Order of the British Empire, by Queen Elizabeth II.

His 'The Silmarillion' won the Locus Award for Best Fantasy novel, in 1978.

In 2002, he was ranked at #92 on 'greatest Britons' list by BBC and was placed at #35 on 'SABC's Great South Africans' in 2004.

'The Lord of the Rings' was adjudged as UK's 'best-loved novel' in a survey conducted by BBC in 2003 and was declared 'My Favorite Book' by Australians in a poll conducted by Australian ABC in 2004.

He was placed sixth on the list of 'The 50 greatest British writers since 1945' published by 'The Times' in 2008.

In 2009, he was listed as the fifth top-earning 'dead celebrity' by Forbes.

Continue Reading Below

Personal Life & Legacy

When he was 16, he got romantically involved with Edith Mary Bratt, but was asked not to see her until he turned 21 by his guardian, Father Morgen. At 21, he renewed his relationship with Edith and got engaged to her in 1913, with marriage following in 1916 at St. Mary Immaculate Roman Catholic Church, Warwick.

The couple had four children – son John Francis Reuel Tolkien (1917), son Michael Hilary Reuel Tolkien (1920), son Christopher John Reuel Tolkien (1924), and daughter Priscilla Mary Anne Reuel Tolkien (1929).

His wife, Edith, died in 1971 and was buried at Wolvercote Cemetery, Oxford. He died 21 months later in 1973 and was put to rest in his wife's grave.

Several of his works and stories were published posthumously by his son, Christopher, like 'The Silmarillion', 'Mr. Bliss', 'The Fall of Arthur', 'Unfinished Tales of Numenor and Middle-earth', and 'The Legend of Sigurd and Gudrun'.

'The Lord of the Rings' was adapted into an Oscar-winning film trilogy with releases from 2001 to 2003.

'The Hobbit' saw movie adaptations in three installments – 'The Hobbit: An Unexpected Journey' (2012), 'The Hobbit: The Desolation of Smaug' (2013), and 'The Hobbit: The Battle of the Five Armies' (2014).

Oxford University offers a professorship in his name, J.R.R. Tolkien Professor of English Literature and Language, while The Tolkien Society organizes Tolkien Reading Day on March 25 annually in schools worldwide.

Seven blue plaques have been inducted across four cities in England to mark his association - Birmingham, Bournemouth, Leeds, and Oxford.

Trivia

He was well-versed in numerous languages, which include Latin, French, German, Middle English, Finnish, Gothic, Old English, Italian, Spanish, Danish, Russian, Serbian, Swedish, and others, due to his love for linguistic knowledge.

His love for constructing languages resulted in Quenya and Sindarin - two of the most developed forms, which formed the core of his legendarium.

Translate Wiki

to Spanish, French, Hindi, Portuguese

Article Title

- J. R. R. Tolkien Biography

Author

- Editors, TheFamousPeople.com

Website

- TheFamousPeople.com

URL

-

https://www.thefamouspeople.com/profiles/john-ronald-reuel-tolkien-1698.php

Last Updated

- July 24, 2017

---

---

---