Jerry Brown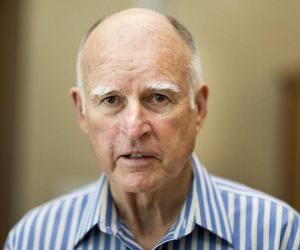 Quick Facts
Nationality: American
Famous: Political Leaders American Men
Age: 80 Years, 80 Year Old Males
Sun Sign: Aries
Also Known As: Edmund Gerald 'Jerry' Brown Jr. , Edmund Gerald Brown Jr.
Born in: San Francisco, California, U.S.
Famous as: 34th and 39th Governor of California
Height: 1.78 m
political ideology: Democrat
Family:
Spouse/Ex-: Anne Gust (2005–present)
mother: Bernice Layne Brown
religion: Roman Catholic
U.S. State: California
Ideology: Democrats
Net worth: $4 Million as of Jun 7, 2017
More Facts
education: University of California, Berkeley Yale Law School
Continue Reading Below
Edmund Gerald "Jerry" Brown, Jr. is an American politician and lawyer, presently serving as 39th Governor of California since January 3, 2011. Brown, a Democrat, was first elected as Governor in January 1975 when he succeeded Ronald Reagan to become the 34th Governor of California. At that time, aged 36, he became the youngest Governor of California in 111 years. He served the position for consecutive second term from 1979 to 1983. As governor he concentrated on fiscal severity, prevention of criminal activities and issues related to environment encompassing conservation of coastal land of the state and alternative energy technologies. Scion of the 32nd Governor of California Edmund G. "Pat" Brown, Sr., Brown made his debut in politics in the late 1960s as a Board of Trustees member of 'Los Angeles Community College'. Thereafter he held several significant positions serving as Secretary of State of California from January 1971 to 1975; Chairman of the California Democratic Party from 1989 to 1991; Mayor of Oakland from January 1999 to January 2007; and Attorney General of California from January 2007 to January 2011. He also remained a Democratic Party nominated candidate for the Presidential elections held in 1976, 1980 and 1992. He took a political sabbatical of six years in the 1980s during which time he travelled to Japan and Mexico and also worked with Mother Teresa in Kolkata, India. At present he is the oldest governor of California in its history.
Recommended Lists:
Recommended Lists:
Continue Reading Below
Childhood & Early Life
He was born on April 7, 1938, in San Francisco, California, to Edmund Gerald "Pat" Brown Sr., and Bernice Layne Brown as their only son among four children. At that time his father was an attorney who later became District Attorney of San Francisco and thereafter the 32nd Governor of California.

His family originally hailed from Germany and settled in California, US, in 1852 when his great-grandfather immigrated to California during the Gold Rush.

He attended 'St. Ignatius High School' and completed graduation in 1955. There he remained a member of California Cadet Corps.

Then he joined 'Santa Clara University' but left it after a year to join a Jesuit novice house, 'Sacred Heart Novitiate' with the objective of becoming a Catholic priest, however he left it after three years.

In 1960 he started studying at the 'University of California', Berkeley and in 1961 obtained a Bachelor of Arts in Classics from the university.

In 1964 he earned a law degree with a Juris Doctor from the 'Yale Law School' and thereafter began working for California Supreme Court Justice Mathew Tobriner as a law clerk.

During the late 1960s he worked in the 'Tuttle & Taylor' law firm after clearing state bar exam in his second attempt.

In 1969 he was elected to the Board of Trustees of the 'Los Angeles Community College'.

Recommended Lists:

Recommended Lists:

Career

He was elected California Secretary of State in 1970 and held office from January 4, 1971 to January 6, 1975. In this four year tenure he drafted and played an instrumental role in the passing of the California Political Reform Act of 1974. He also won cases arguing against 'Mobil', 'Gulf Oil', 'International Telephone and Telegraph' and 'Standard Oil of California' in the California Supreme Court.

On January 6, 1975, he became the 34th Governor of California on a Democratic ticket succeeding Republican Governor Ronald Reagan. He renounced many of the perks and privileges entitled for Governor and chose to live in a comparatively less expensive apartment instead of the posh mansion allotted to the Governor, thus gaining repute as an unconventional politician. He focussed on fiscal restraint that led the state to achieve one of the highest budget surpluses of around $5 billion in its history.

As Governor he also concentrated on setting standards with regard to energy-efficiency; setting up of California Coastal Commission; and passing of the Agricultural Labor Relations Act. He also paid heed to criminal deterrence and vetoed death penalty. He advocated for government funding of higher education, research on alternative energies and small businesses.

He ran for the Democratic nomination for president in 1976 but failed.

In 1978 he was re-elected for a second term as Governor of California, a position he held till January 3, 1983. During this tenure, apart from continuing with his other agendas, he openly inducted five gay judges that included Stephen Lachs, Jerold Krieger and Rand Schrader.

In 1980 he was unsuccessful in his second bid for the Democratic presidential nomination.

In 1982 he refrained himself from running for a third term as Governor and chose to run for the United States Senate, but was beaten by Pete Wilson, Mayor of San Diego. Following these political setbacks, he took a long sabbatical of six years from politics and kept himself engaged in different endeavours. He travelled to Mexico and studied Spanish, went to Japan and studied Zen Buddhism and later visited India and did charitable work with Mother Teresa.

Continue Reading Below

He returned to California in 1988 and made a comeback in politics being elected as Chairman of the California Democratic Party in 1989 defeating investment banker Steve Westly. He left the position in 1991 and made a third attempt to run for the Democratic nomination for president, but lost out to Bill Clinton in 1992.

In 1995 he began hosting a daily radio show in the local Pacifica Radio station, KPFA-FM, in Berkeley. The show that was broadcast to leading US markets and his Oakland based grass root political action organisation were together called 'We the People'.

Eventually he left the 'Democratic Party' and contested as an independent candidate and beat 9 other candidates securing 59 % votes to become the 47th Mayor of Oakland on January 4, 1999. He held the position till January 8, 2007 and during this tenure he achieved several feats including revitalizing the city that was quickly losing business as well as residents; drawing investments worth $1 billion; attracting over ten thousand new residents; backing downtown housing development in the region marked as Central Business District; setting up 'Oakland School for the Arts' and 'Oakland Military Institute'; developing more affordable housing; and renovating Jack London Square, Port of Oakland and the Fox Theatre among others.

On January 9, 2007 he became the 31st Attorney General of California as a Democrat and held the seat till January 3, 2011. In this capacity he advocated for rights of workers and fought against legislation that strived to invalidate the legalization of marriages between same-sex in California.

In March 2010, he declared his candidature for the position of Governor, seeking a third term after almost a gap of two decades of holding such post. He won the election with 53.8% votes beating Republican opponent Meg Whitman and assumed office on January 3, 2011, succeeding Arnold Schwarzenegger. He was re-elected for the fourth term on February 27, 2014. He continues to focus on environmental awareness, funding for education and social parity as also ways of curtailing the budget of the state.

He shifted to the original mansion of Governor, presently a section of 'Governor's Mansion State Historic Park' on December 18, 2015.

Personal Life & Legacy

On June 18, 2005, he married Anne Gust, former chief administrative officer of 'The Gap' and his long time girlfriend since 1990. The couple live in a house in Oakland Hills.

Brown underwent a nose surgery to remove a basal-cell carcinoma in April 2011.

The media reported in December 2012 that Brown was going through a treatment for an early stage of prostate cancer.

Translate Wiki

to Spanish, French, Hindi, Portuguese

Article Title

- Jerry Brown Biography

Author

- Editors, TheFamousPeople.com

Website

- TheFamousPeople.com

URL

-

https://www.thefamouspeople.com/profiles/jerry-brown-7779.php

Last Updated

- January 10, 2018

---

---

---