Jean-Baptiste Lully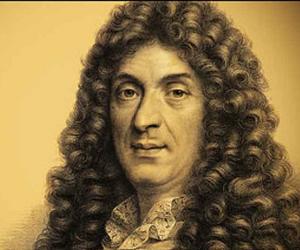 Quick Facts
Birthday: November 28, 1632
Famous: Composers Italian Men
Died At Age: 54
Sun Sign: Sagittarius
Born Country: Italy
Born in: Florence, Italy
Famous as: Composer
Family:
Spouse/Ex-: Madeleine Lambert
children: Jean-Baptiste Lully fils, Jean-Louis Lully, Louis Lully
Died on: March 22, 1687
place of death: Paris, France
Continue Reading Below
Jean-Baptiste Lully was an Italian-born French composer, instrumentalist, as well as a dancer. He spent most of his life working on the court of King Louis XIV of France where he composed mainly theater music though he is known for a small body of sacred music too. In the theater alone, he composed music for over 40 ballets and other forms of entertainment as well. His biggest achievement, however, were the fourteen operas that he composed between the years 1673 and 1687. He was also the first composer of genius French operas, and it was he who proved that opera in French could be a viable art form. His operas were also quite popular among the masses and even long after he passed away, they continued to be performed. Today, because of their great length, they can't be presented in their complete form. He is considered to be a master of the operatic form, and a composer of rare inspiration. Though throughout his life, Lully was associated with many scandals for his alleged love affairs but his rapport with King Louis remained unaffected.
Recommended Lists:
Recommended Lists:
Continue Reading Below
Childhood & Early Life
Jean-Baptiste Lully was born as Giovanni Battista Lulli on 28 November 1632 in Florence, Italy. Being the son of a miller, he had very little education, but he learnt to play the violin as well as the guitar at a young age.

In 1646, he was discovered by the son of the Duke of Guise, who took him to France, where he entered the services of Mademoiselle de Montpensier as a scullery boy. This lady helped him a lot in utilizing his musical talents till her exile in 1652. It was his talents as a guitarist, violinist and a dancer that later earned him the nicknames 'Bapiste' and 'Le grand baladin' (great street artist).

Recommended Lists:

Recommended Lists:

Career

By March 1653, Jean-Baptiste Lully had been made royal composer for instrumental skills. He eventually became almost indispensable because of his talents. When Louis XIV took over the reins of the government, Lully was not only named Superintendent of Royal Music but also named Music Master of the Royal Family.

During the 1650s and 1660s, he composed many ballets for the king in which both the king and Lully used to dance together. However, as he aged his interest in ballet diminished, and started focusing more on opera.

Considered by many to be the founder of French opera, he is known for effecting important improvements in the composition of the orchestra, into which he introduced several new instruments.

After being appointed as the Superintendent of Royal Music, the trios and dances he wrote for the court started getting published quite promptly. After this he gained control over the Great Violins as well, though for court ballets, he relied mainly on the Little Violins.

Later, he started collaborating with the playwright Molière. Their collaboration began in 1661, when Lully provided a single sung courante to 'Les Fâcheux.' Their partnership reached newer heights in 1664 with the play 'Le Mariage forcé, which was followed by many other collaborations, some at the royal court, and others taking the form of incidental music for plays.

Through Lully's collaboration with playwright Molière, a new musical form emerged during the 1660s. It was known as the comedie ballet and it combined theater, comedy, incidental music and ballet. With their lavish special effects, the popularity of these plays crossed the borders of France to gain much success and fame across other parts of Europe.

He later became director of the Académie Royale de Musique, which was the Royal Opera. Not only he produced a new opera almost every year between 1673 and 1687, but he also used to fiercely protect his monopoly over that new genre.

Continue Reading Below

Lully's music was powerful. There was liveliness in its fast movements, and in its slower movements, there was deep emotional character. The influence of his music produced a radical revolution in the style of the dances of the court as well.

While writing his own operas, he took the essential features of the Italian operas—a flexible and expressive kind of recitative and musical style which was contrasting in the arias—and combined it with elements of French musical traditions. This made this works unique.

Recommended Lists:

Recommended Lists:

Major Works

'Le Mariage Force' (Forced Marriage) is a comedy ballet in one act. The prose was composed by both Molière and Lully, on the order of Her Majesty. It was released to the public at the Theatre Palais Royal in February 1664.

'Pastoral Comique' was a work by Molière in 1667, where Lully played music for the first time. The story which was about the despair of two wealthy pastors, both in love with a shepherdess who herself is in love with a shepherd, was widely appreciated by the people. However its full text had never been printed and only the vocal parts remain with a brief description of the parts recited.

'Cadmus et Hermione' was another one of his best works, the prologue of which was in the praise of King Louis XIV. The opera itself was a love story of Cadmus, a king, and Hermione, daughter of Venus and Mars. With this work, Lully invented the form known as tragedie en music, also known as tragedie lyrique.

'Achille et Polyxène' is a tragedy lyrique by Jean Galbert de Campistron. It contained a prologue and five acts. The opera's overture and first act were composed by Lully. But before he could complete the score, he died from a conducting injury. His student Pascal Collasse finished the remaining work eight months after his death. The opera was first performed on November 7, 1687, by the Paris Opera.

'Plaude Laetare Gallia', one of his finest works, was written to celebrate the baptism of King Louis XIV's son in 1668, when he was seven.

Awards & Achievements

Jean-Baptiste Lully was quite popular in Louis XIV's court. He was elevated to the rank of Superintendent of Music before he was even 30, which can be considered one of the greatest achievements in his life.

His appointment as the Director of Académie Royale de Musique in 1672, which was founded by King Louis XIV himself was also another great accomplishment.

Personal Life & Legacy

He got French citizenship in 1661 and the following year, he married Madeleine Lambert. She was the daughter of Michel Lambert, chief musician of the Royal Court. The couple had six children, three of whom served as musicians at the French court as well. However Lully's scandalous relationships with other men and women used to annoy King Louis XIV. Yet their friendship always remained intact.

Lully's death on 22 March 1687 was unusual and unexpected. In January 1687, while he was excitedly conducting an orchestra, he struck his toe instead of the floor with the stick. Though the wound was pretty bad, he refused to have his toe amputated. The situation worsened as gangrene set in and he died two months later from blood poisoning.

Translate Wiki

to Spanish, French, Hindi, Portuguese

Article Title

- Jean-Baptiste Lully Biography

Author

- Editors, TheFamousPeople.com

Website

- TheFamousPeople.com

URL

-

https://www.thefamouspeople.com/profiles/jean-baptiste-lully-458.php

Last Updated

- March 28, 2018

---

---

---