Jacob Bernoulli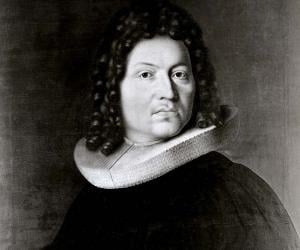 Quick Facts
Birthday: December 27, 1654
Nationality: Swiss
Famous: Mathematicians Swiss Men
Died At Age: 50
Sun Sign: Capricorn
Born in: Basel, Switzerland
Famous as: Mathematician
Family:
Spouse/Ex-: Judith Stupanus
father: Nicolaus Bernoulli
mother: Margaretha Bernoulli
siblings: Johann Bernoulli
Died on: August 16, 1705
place of death: Basel, Switzerland
discoveries/inventions: Constant E
More Facts
education: University of Basel
Continue Reading Below
Jacob Bernoulli, also known as James or Jacques Bernoulli, was a Swiss mathematician born in the middle of seventeen century in Basel, Switzerland. Although he studied theology and philosophy at university level he was more interested in mathematics and astronomy, which he studied side by side. However, it was only after he received his licentiate in theology that he could concentrate on his favorite subjects. For six or seven years he travelled throughout Europe studying under different scholars, after which he returned to Basel to take up a teaching post at his alma mater. However, he kept in touch with the academics he met during his travel throughout his life. Along with teaching, he started working on various mathematical problems, especially differential calculus as presented by Leibniz. Later, he made significant contribution to the study of calculus and is often referred to as one of the founders of the calculus of variations. Scholars also give equal importance to his works in the field of probability and his derivation of the law of large numbers. He lived for only fifty years, yet he left a huge body of work for posterity.
Recommended Lists:
Recommended Lists:
Continue Reading Below
Childhood & Early Life
Jacob Bernoulli was born on 6 January 1655 in Basel into the famed Bernoulli family, originally from Antwerp. Over the course of three generations, it produced eight highly acclaimed mathematicians who contributed significantly to the foundation of applied mathematics and physics.

Jacob's father, Nicolaus Bernoulli, was an important member of the town council and also a magistrate. He was also the owner of a successful spice business, which he had inherited from his father. Jacob's mother, Margaretha Schonauer, came from an influential family of bankers and councilors.

Jacob had two younger brothers, Nicolaus and Johann Bernoulli. While Nicolaus grew up to be a painter and alderman of Basel, Johann became a mathematician and earned fame for his contributions to infinitesimal calculus.

Nothing is known about Jacob's early life except that he entered University of Basel with philosophy and theology at his parents' insistence. Side by side, against the wishes of his parents, he also began studying mathematics and astronomy.

In 1671, Jacob Bernoulli graduated from the University of Basel with a master's degree in philosophy. Thereafter in 1676, he received his licentiate in theology. Refusing a position in the church, he moved to Geneva in the same year and there he sustained himself by giving tuitions.

Sometime around 1679, he moved to France. Here he studied for two years under the followers of René Descartes, a well-known philosopher, mathematician and scientist, who had passed away in 1650.

Thereafter in 1681, he moved to the Netherlands, where he studied with Johannes (van Waveren) Hudde, the famed mathematician, known for 'Hudde's Law' and his translation of Descartes's 'La Géométrie' into Latin. Later, he went to England, where he studied with Robert William Boyle and Robert Hooke.

In 1682, he started working on infinite series, but before he could progress much he returned to Switzerland. This was also the period when he produced his theory on comets but it later turned out to be incorrect.

Recommended Lists:

Recommended Lists:

Career

In 1683, on returning to Switzerland, Bernoulli accepted a position at the University of Basel and began teaching mechanics. Concurrently, he also started studying the new discoveries in the field of mathematics and began his own research on the subject.

In the same year, while studying a problem regarding compound interest, he discovered the first approximation found of the mathematical constant 'e'. This was possibly his first major discovery for which he justly became famous.

Sometime now, his younger brother Johann Bernoulli entered the University of Basel to study medicine but soon started studying mathematics with Jacob. Subsequently, the two brothers began to study the publications of von Tschirnhaus as well as differential calculus as presented by Leibniz.

In fact, the brothers were among the first batch of mathematicians who studied infinitesimal calculus. Subsequently they began to apply the theory to various problems. Later they helped in spreading this new branch of mathematics and became instrumental in turning it into one of the fundamental features of mathematics.

Side by side, Jacob continued his own research and in 1685 published his work on the parallels of logic and algebra in a pamphlet form. In the same year, he published another paper; this time on the theory of probability.

Next in 1687, Jacob Bernoulli was appointed Professor of Mathematics at the University of Basel, a position he held until his death. In the same year, he published his third major paper, this time on geometry, which gave a construction to divide a triangle into four equal parts with two perpendicular lines.

Concurrently, he continued his research on infinite series, started in 1682. In 1689, he established that if an experiment is repeated a large number of times then the relative frequency with which an event occurs equals the probability of the event.

Continue Reading Below

Subsequently, he wrote a few more treatises on infinite series that resulted in the establishment of the 'Law of Large Numbers in Probability Theory.' Meanwhile in May 1690, Bernoulli published another important paper, which became a landmark in the history of calculus.

In this paper, he for the first time used the term integral with its integration meaning. In the same paper, he showed that the problem of determining the isochrones or the curve of constant descent is same as solving a first-order nonlinear differential equation.

Bernoulli then began working on the problem and by 1696 he had solved the equation by the method of separation of variables. The equation is now known as 'The Bernoulli Equation'.

Meanwhile he continued working on various other problems. Around 1692, he investigated caustic curves and worked especially on the parabola, the logarithmic spiral and epicycloids. Next in 1694, he first described 'The lemniscate of Bernoulli', as it was later named. In 1695, he worked on drawbridge problems.

Throughout his life he continued working on infinite series and published several papers on it. The last paper was published in 1704, a year before his death in 1705.

Major Works

Jacob Bernoulli is best remembered for his book, 'Ars Conjectandi' (The Art of Conjecturing), published posthumously in 1713, by his nephew Nicolaus I Bernoulli. The work consolidated many central ideas in probability theory, including the first version of the law of large numbers, as well as many combinatorial topics.

Bernoulli had started the work in 1684. Although a major part of the book was finished by 1689 he continued working on it until his death in 1705. Therefore, it is essentially an incomplete work. Yet, the scholars consider it to be one of the major works in combinatorics and mathematical probability.

Personal Life & Legacy

In 1684, Jacob Bernoulli married Judith Stupanus. They had two children; a son called Nicolaus (named after his grandfather) and a daughter (name not known). Although two of his nephews later became reputed mathematicians, none of his own children followed in his footsteps.

Although initially Jacob collaborated with his younger brother Johann on various mathematical problems, over the years they became rivals and publicly attacked each other. By 1697, the relationship between the two became so bitter that they were no longer on speaking terms.

Jacob Bernoulli died on 16 August, 1705. As per his wish, the logarithmic spiral with the Latin inscription 'Eadem Mutata Resurgo' was engraved on his tombstone in Basel Munster. The inscription also says that he had been suffering from some chronic disease and died from it at the age of fifty.

Many mathematical nomenclatures like Lemniscate of Bernoulli, Bernoulli differential equation, Bernoulli law numbers, Bernoulli's formula, Bernoulli polynomials, etc. carry his name.

The lunar crater Bernoulli, located in the northeast part of the Moon, is named jointly after him and his brother Johann.

2034 Bernoulli, a minor planet discovered on 5 March 1973, has been named after the Bernoulli family, especially after Jacob Bernoulli.

Translate Wiki

to Spanish, French, Hindi, Portuguese

Article Title

- Jacob Bernoulli Biography

Author

- Editors, TheFamousPeople.com

Website

- TheFamousPeople.com

URL

-

https://www.thefamouspeople.com/profiles/jacob-bernoulli-543.php

Last Updated

- November 15, 2016

---

---

---