Helena Bonham Carter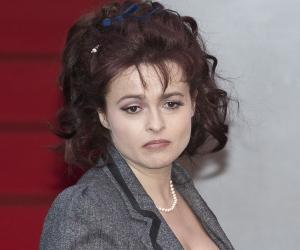 Quick Facts
Nationality: British
Famous: Actresses British Women
Age: 52 Years, 52 Year Old Females
Sun Sign: Gemini
Born in: Golders Green
Height: 5'2" (157 cm), 5'2" Females
Family:
Spouse/Ex-: Carmen Maria Scheifele Giger (m. 2006), Mia Bonzanigo (m. 1979–1982)
father: Raymond Bonham Carter
mother: Elena Propper de Callejon
siblings: Edward Bonham Carter, Thomas Bonham Carter
Personality: ENFJ
Diseases & Disabilities: Depression
More Facts
education: South Hampstead High School, Westminster School, King's College, Cambridge
Continue Reading Below
Born into an important political family, British actress Helena Bonham Carter endured a difficult childhood, having to cope with her parents' ill-health. Her debut movie 'Lady Jane' and her roles in the Merchant-Ivory productions, 'A Room with a View' and 'Howards End' gave her the image of an Edwardian heroine. Critic Richard Corliss referred to her as "a modern antique goddess". Wanting to avoid being slotted, the actress began appearing in more mainstream work, working with commercially successful, but artistically respected filmmakers like Tim Burton, who also became her partner. Her relation with Burton helped her personally and professionally. She worked in many of Burton's films such as 'Planet of the Apes' 'Big Fish', 'Sweeny Todd' and 'Alice in Wonderland'. Apart from these Burton films, she played the mad witch Bellatrix in several 'Harry Potter' films, the innkeeper Madame Thénardier in the big-budget musical 'Les Misérables' and Miss Havisham in 'Great Expectations'. Three of her standout performances came in the films, 'Wings of the Dove', as the manipulative Kate Croy, 'The King's Speech' as Queen Elizabeth and 'Sweeney Todd: The Demon Barber of Fleet Street'. As an actress, she has proved her ability to portray thoroughly modern characters and has always added value to any project in which she appeared.
Recommended Lists:
Recommended Lists:
Continue Reading Below
Childhood & Early Life
Helena Bonham Carter was born to Elena, a psychotherapist, and Raymond Bonham Carter, a merchant banker, on May 26, 1966.

She came from a renowned political family. Her paternal grandparents were successful politicians. She was the great grand daughter of former British PM Asquith. She has two older brothers, Edward and Thomas.

Her childhood was traumatic. Her mother had a serious nervous breakdown and took three years to recover. Her father suffered complications during a surgery to remove a tumor which left him half-paralyzed.

Educated at South Hampstead High School, she completed her A-levels at Westminster School. King's College, Cambridge, would not admit her because they felt that she would discontinue the course to pursue her acting career.

Continue Reading Below

Recommended Lists:

Recommended Lists:

Career

Helena Bonham Carter won a national writing contest in 1979. She used the prize money to pay for her entry into the actors' Spotlight directory. She debuted at 16 in a television commercial.

She played the title role in the movie, 'Lady Jane', in 1986. It tells the story of Lady Jane Grey, the Nine Days' Queen, her reign and romance with husband Lord Guilford Dudley.

In the Merchant-Ivory produced 1986 romance film, 'A Room with a View' she had a significant role as Lucy Honeychurch, who falls in love with a free-spirited young man.

Between 1986 and 1988, she concentrated on television work. She appeared in episodes of Miami ‪Vice and Absolutely Fabulous, and starred in television films such as, A Hazard of Hearts and The Vision.

Her role as Helen Schlegel in the 1992 Merchant-Ivory film, 'Howards End', based upon the novel by E. M. Forster, brought her massive acclaim and a BAFTA nomination for best supporting actress.

In, 'Fight Club', a 1999 film based on the novel by Chuck Palahniuk, she starred with Edward Norton and Brad Pitt. She played a dissolute woman, Marla Singer and received positive reviews from critics.

She did many movies with Tim Burton as director between 2001 and 2010, including 'Planet of the Apes', 'Big Fish' 'Charlie and the Chocolate Factory' and 'Alice in Wonderland' and 'Corpse Bride'.

Continue Reading Below

For, 'Wallace & Gromit: The Curse of the Were-Rabbit', a 2005 animated film, she lent her voice to the character Lady Tottington. The film grossed US$192,610,372 world-wide.

The actress opened her own fashion line, 'The Pantaloonies', in collaboration with swimwear designer Samantha Sage, in 2006. Their first collection, called Bloomin' Bloomers, is a Victorian style range of camisoles and bloomers.

She essayed the character of Enid Blyton, the children's writer, in 'Enid', a British dramatic television film, first broadcast in 2009 on BBC Four. This was also an award-winning effort.

She starred in the biopic, 'Toast' in 2010, a BBC One adaptation based on the autobiographical novel of the same name by the cookery writer Nigel Slater - she played the role of Joan Potter.

'The King's Speech', a 2010 British epic historical drama film directed by Tom Hooper saw her portray Queen Elizabeth. It was a major box office and critical success and brought her much fame and appreciation.

Between 2007 and 2011, she played the villainous, Bellatrix Lestrange, the female Death Eater, in the final four Harry Potter films replacing the original choice Helen McCrory who bowed out after she got pregnant.

In 2012, she worked in two adapted classics. In the film, 'Great expectations' she played the role of the wealthy spinster, Miss Havisham, while in 'Les Misérables' she played the Thénardiers.

Continue Reading Below

'Burton & Taylor', a 2013 BBC TV film, was based on the legendary acting duo and former husband and wife, Richard Burton and Elizabeth Taylor. They were 'perfectly' portrayed by Dominic West and Carter.

Recommended Lists:

Recommended Lists:

Major Works

In 1997, 'Wings of the Dove', an adaptation of a novel written by Henry James, Helena Bonham Carter played the manipulative Kate Croy. Her performance won her an Oscar nomination and many accolades.

She gave a stunning performance in Tim Burton's 'Sweeney Todd: The Demon Barber of Fleet Street', a 2007 musical horror film. Her performance as Mrs. Nellie Lovett was applauded, and she received many accolades.

Awards

Helen Bonham Carter was nominated for the Oscars twice for her performances in 'The Wings of the Dove' and 'The King's Speech', and has received seven Golden Globe nominations.

In 2011, for 'The King's Speech', she won a BAFTA for Best Supporting Actress and shared the Screen Actors Guild Outstanding Performance by a Cast in a Motion Picture Award, with her 5 co-stars.

She won two Empire Awards for Best Actress for 'Sweeney Todd' and 'Fight Club' The Empire Award is an accolade bestowed by Empire, Britain's biggest selling film magazine.

In 2008, she was presented with the Evening Standard British Film Award for two Best Actress performances in the preceding years for 'Conversations with Other Women' and 'Sweeney Todd'.

Personal Life & Legacy

Helena Bonham Carter was earlier in a relationship with actor Kenneth Branagh. In 2001, she began her current relationship with director Tim Burton. The couple lives in London and has two children - Billy Raymond and Nell.

Trivia

This talented actress was named by The Times as one of the Top 10 British Actresses of all time and was ranked No.99 on the Telegraph's list of "the 100 most powerful people in British culture".

This actress has used fake teeth in several of her films, including Planet of the Apes, Charlie and the Chocolate Factory and the four Harry Potter films.

1. Fight Club (1999)

(Drama)

2. Harry Potter and the Deathly Hallows: Part 2 (2011)

(Adventure, Fantasy, Mystery, Drama)

---

3. The King's Speech (2010)

(Biography, Drama)

4. Big Fish (2003)

(Romance, Adventure, Drama, Fantasy)

---

---

5. Harry Potter and the Deathly Hallows: Part 1 (2010)

(Mystery, Family, Adventure, Fantasy)

6. Harry Potter and the Half-Blood Prince (2009)

(Fantasy, Mystery, Family, Adventure)

---

---

---

7. Harry Potter and the Order of the Phoenix (2007)

(Mystery, Family, Adventure, Fantasy)

8. Les Misérables (2012)

(Drama, Musical, Romance)

---

---

---

---

| | | |
| --- | --- | --- |
| 2011 | Best Supporting Actress | The King's Speech (2010) |

Translate Wiki

to Spanish, French, Hindi, Portuguese

Article Title

- Helena Bonham Carter Biography

Author

- Editors, TheFamousPeople.com

Website

- TheFamousPeople.com

URL

-

https://www.thefamouspeople.com/profiles/helena-bonham-carter-4289.php

Last Updated

- July 25, 2017

---

---

---