Guru Nanak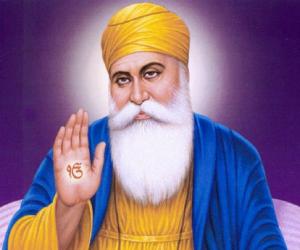 Quick Facts
Birthday: April 15, 1469
Nationality: Indian
Famous: Spiritual & Religious Leaders Indian Men
Died At Age: 70
Sun Sign: Aries
Also Known As: Nānak Guru, Guru Nanak Dev
Born in: Nankana Sahib
Famous as: Sikh Guru
Family:
Spouse/Ex-: Mata Sulakhni
father: Mehta Kalu
siblings: Bebe Nanaki
children: Lakhmi Das, Sri Chand
Died on: September 22, 1539
place of death: Kartarpur, India
Continue Reading Below
Guru Nanak was an Indian saint who founded Sikhism and became the first of the Sikh Gurus. A visionary and a great soul, he was an original spiritual thinker. His religious ideas draw on both Hindu and Islamic thoughts, but are also unique in their own right. Born into a Hindu family in 15th century India, he started displaying signs of his greatness early on in childhood. Even as a boy he used to spend long hours in meditation and was deeply spiritual. He questioned the meaningless rituals his family performed in the name of religion and refused to participate in them. His radical spirituality shocked his parents and they tried to involve him in worldly matters. The kind-hearted young boy distributed his father's money to the poor and needy thus greatly angering his pragmatic father who hoped that his son would one day become a businessman. Even an arranged marriage at an early age did not prevent Nanak from venturing further on the spiritual path. Eventually he went on to found Sikhism, a monotheistic religion that advocates the concept of the oneness of God. He traveled far and wide, mostly on foot, spreading the message of oneness of God who dwells in all living beings.
Recommended Lists:
Recommended Lists:
Continue Reading Below
Childhood & Early Life
Guru Nanak was born on 15 April 1469, in Rāi Bhoi Kī Talvaṇḍī (present day Nankana Sahib, Punjab, Pakistan) near Lahore, into a Hindu family. His father Mehta Kalu and mother Mata Tripta belonged to the merchant caste. His father was the local patwari (accountant) in the village of Talwandi. He had one elder sister, Bebe Nanaki, to whom he was very close.

From a young age he started displaying his brilliance. He became interested in spirituality and divine subjects when he was just five.

He started attending school when he was seven years old. Legend has it that he described the symbolism of the first letter of the alphabet in Persian, which resembles the mathematical version of one, to represent the unity or oneness of God.

When he attained the age of 11, his father arranged for him to participate in the sacred thread ceremony, a Hindu ritual symbolizing man's connection with God. But the boy rebelled and refused to participate in this ritual as he felt that it was a meaningless one.

When he was old enough, his father told him to graze cattle. But instead of watching the cattle he would slip into meditative trances and get into trouble because of his carelessness. This made his father angry with him.

He was very spiritual and philosophical even as a young boy and denounced idol worship. He also did not believe in the Hindu caste system. In spite of being born in a Hindu family, he interacted with Muslims and was interested in reading the religious texts of both the faiths.

His father tried to get Nanak engaged in business and gave him money for making purchases. Instead of buying the materials required for the business, Nanak spent the entire money in feeding homeless and hungry people.

Continue Reading Below

Recommended Lists:

Recommended Lists:

Later Years

When Guru Nanak was around 16, he started working under Daulat Khan Lodi, under whom his brother-in-law also worked. This marked an important period in his life as he would make numerous allusions to the governmental structure in his future hymns.

He performed well in his job as he was a very hardworking and sincere employee. He also proved to be a very kind and generous person. In spite of being a married man and father now, he was not distracted from his quest for spiritual knowledge.

He became friends with a Muslim minstrel named Mardana with whom he used to pray and meditate. One morning he went to bathe in the Kali Bein or Black River with Mardana. He walked into the river and disappeared beneath the water. There was no sign of him and everyone believed that he had drowned in the river.

Three days later he miraculously appeared out of the river and told everyone that he had been taken to God's court. He was spiritually reawakened by this incident and was completely enlightened. From this point onwards, people stared calling him "Guru Nanak".

He lost all interest in worldly affairs like family and work and soon quit his job. He left his wife and children in the care of his parents and told his family that God had called him to spread His divine message and he had to abide with the Almighty's wish.

Thus he founded the religion of Sikhism which emphasizes the principle of equality of all humans and rejects discrimination on the basis of caste, creed, and gender. The central teaching in Sikhism is the belief in the concept of the oneness of God

Along with Mardana, he traveled far and wide spreading the holy message of peace and compassion to all of mankind. Even though there are no exact accounts of his travels, he is believed to have made at least four major journeys, spanning more than 28,000 kilometers during the period from 1500 to 1524.

He returned home after his long travels and settled in Kartarpur where he continued his ministry till the very end. Towards the end of his life he appointed his disciple Bhai Lehna as his successor. Lehna was then renamed "Angad" and designated as Guru Angad, the second Sikh Guru, after Guru Nanak's death.

Major Works

Guru Nanak founded Sikhism which is now the fifth-largest organized religion in the world, with approximately 30 million adherents. He also established the system of the Langar, or communal kitchen, in order to demonstrate the need to share and have equality among all people.

Personal Life & Legacy

Guru Nanak married Sulakkhani, daughter of Mūl Chand and Chando Rāṇī, on 24 September 1487. The couple had two sons, Sri Chand and Lakhmi Chand.

He died on 22 September 1539 in Kartarpur, at the age of 70.

Translate Wiki

to Spanish, French, Hindi, Portuguese

Article Title

- Guru Nanak Biography

Author

- Editors, TheFamousPeople.com

Website

- TheFamousPeople.com

URL

-

https://www.thefamouspeople.com/profiles/guru-nanak-3656.php

Last Updated

- September 25, 2017

---

---

---