Gia Carangi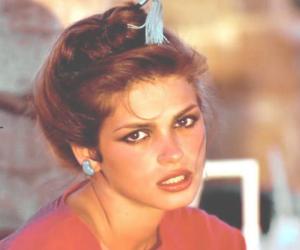 Quick Facts
Birthday: January 29, 1960
Nationality: American
Died At Age: 26
Sun Sign: Aquarius
Also Known As: Gia Marie Carangi
Born in: Philadelphia, Pennsylvania
Famous as: Model
Height: 1.73 m
Family:
father: Joseph Carangi
mother: Kathleen Carangi
Died on: November 18, 1986
place of death: Philadelphia, Pennsylvania
Cause of Death: AIDS
U.S. State: Pennsylvania
City: Philadelphia
More Facts
education: Abraham Lincoln High School
Continue Reading Below
Gia Carangi was one of the very first supermodels in the United States of America. She embarked on a very promising career which was unfortunately cut short due to her drug abuse and personal problems. In just six years of being a professional model, she had achieved a lot of success. Carangi had posed as the cover girl for top fashion magazines like 'Cosmopolitan' and 'Vogue'. At one time, she was the first choice for top brands like 'Giorgio Armani', 'Gianni Versace', 'Maybelline', 'Christian Dior', 'Chanel', 'Yves Saint Laurent' and 'Levi Strauss & Co.' Her life took an unfortunate turn in the early 1980s as she became addicted to cocaine and her career went downhill very soon. She did try to get sober and keep her career afloat but failed miserably in her attempts to do so. Later she was diagnosed with AIDS-related complications and became one of the very first celebrity women to die of the disease. Several television shows, documentaries, as well as films were made on her life. Angelina Jolie played her in a biopic named 'Gia' which was telecast on HBO. Jolie was awarded for her role in the biopic.
Recommended Lists:
Recommended Lists:
Continue Reading Below
Career
Gia Carangi had a very short but glamorous career. She managed to feature in several advertisements in Philadelphia newspapers. This gave her the hope of making it big in the fashion industry. Thus, she left Philadelphia for New York City at the young age of seventeen.

After moving to New York, she immediately signed with the 'Wilhelmina Models'. Within months, she managed to grab her first major photo shoot—by top fashion photographer Chris von Wangenheim. Carangi posed nude for Wangenheim, behind a chained fence. The photo shoot also featured Sandy Linter with whom Carangi formed a romantic bond later.

Her first major photo shoot earned her wider attention in the fashion industry and she went on to work with several top fashion photographers including Arthur Elgort, Richard Avedon, Denis Piel, and Francesco Scavullo. Soon, Carangi became the 'go-to girl' for the top fashion magazine 'Vogue'. She was featured in the 'Vogue UK', 'Vogue Paris', 'American Vogue' and 'Vogue Italia' from April 1979 to August 1980. She also posed for 'Cosmopolitan' multiple times between 1979 and 1982, and represented top clothing brands. She was the face of 'Armani', 'Christian Dior', 'Versace', 'Yves Saint Laurent', 'Levi Strauss & Co.', and 'Calvin Klein'.

During the golden period of her career, Carangi started living a luxurious and wild life. Her frequent visits to the nightclubs led her to regular cocaine usage. She became addicted to the drug and fell prey to it. Soon, she started having troubles in working as she would walk out of her photo shoots and often lose control of herself. She would cry for not having drugs during her shoots and it became difficult for others to control her. In one of 'American Vogue's' issues, Carangi was spotted with needle marks despite a lot of airbrushing in those pictures.

Several top brands distanced themselves from her and she struggled to find work. She tried rehabilitation and attempted to make a comeback but nothing worked out in her favor as she could never get rid of her addiction.

Recommended Lists:

Recommended Lists:

Continue Reading Below

Personal Life

Gia Marie Carangi was born in Philadelphia, Pennsylvania, on January 29, 1960, to Joseph Carangi and Kathleen Carangi. Her father, Joseph, was a restaurant owner, and her mother, Kathleen, used to take of the family as a homemaker. Carangi had Italian, Welsh, and Irish ancestry in her bloodline. She grew up with two elder brothers.

Her parents had a troubled marriage and used to fight a lot. Finally, her mother left the family when Gia was just eleven years old. Many of her close relatives and friends from her childhood have stated that her drug abuse and erratic lifestyle were a result of her troubled childhood.

She tried to bond with other teenage girls when she was a teenager herself. She also bonded with a group of young boys and girls who were obsessed with the English singer David Bowie. The group used to hang out together and Carangi was very much inspired by Bowie's fashion statements as well as his outspoken attitude towards bisexuality.

She was enrolled at Abraham Lincoln High School and developed a 'tom-boy kind of a persona'. Though she was homosexual, she never labeled herself 'lesbian'.

Death

Gia Carangi had a troubled childhood and later she became addicted to cocaine. The drug abuse not only ruined her career but also pushed her into a life where she had no control over herself. She had sexual relationships with a lot of her 'friends and lovers' between 1984 and 1986. She was diagnosed with AIDS-related complications and was admitted to Hahnemann University Hospital on October 18, 1986. Exactly a month later, she died of complications caused by AIDS, making her one of the very first celebrity women to be the victim of the deadly disease. None of her professional associates and colleagues was immediately informed of her death and she had a small funeral in Philadelphia on November 23.

Translate Wiki

to Spanish, French, Hindi, Portuguese

Article Title

- Gia Carangi Biography

Author

- Editors, TheFamousPeople.com

Website

- TheFamousPeople.com

URL

-

https://www.thefamouspeople.com/profiles/gia-carangi-8149.php

Last Updated

- July 13, 2018

---

---

---