Gary Merrill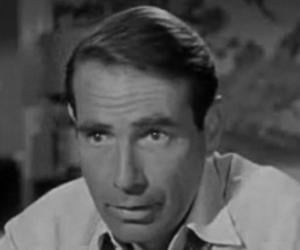 Quick Facts
Nationality: American
Famous: Voice Actors Theater Personalities
Died At Age: 74
Sun Sign: Leo
Also Known As: Gary Fred Merrill
Born in: Hartford, Connecticut
Famous as: Actor
Height: 1.73 m
Family:
Spouse/Ex-: Barbara Leeds (m. 1941–1950), Bette Davis (m. 1950–1960)
children: B. D. Hyman, Margot Merrill, Michael Merrill
U.S. State: Connecticut
Continue Reading Below
Gary Merrill was an American film, TV, and stage artist. He began his acting career while serving in the Second World War. Starting with theater, Gary eventually stepped into TV and films. On TV, he was mostly seen in guest appearances and character roles. As a film actor, Gary had numerous movie credits under his belt. Apart from westerns and medical dramas, the acclaimed actor appeared in a number of war feature films. He delivered memorable performances in films such as 'All about Eve' and the 1966 science-fiction film 'Destination Inner Space.' He was gifted with a dense and polished voice, which made him an exceptional radio artist. He was part of a few radio adaptations of films and had also showcased his voice-over skills in the radio series 'Superman.' Gary is also remembered for his a decade-long marriage with his co-star Bette Davis. Gary was her fourth husband, while Bette was his second wife. Gary also had an affair with actor Rita Hayworth. He revealed about his relationship with Rita, his other two marriages, and his drinking habit in his autobiography.
Recommended Lists:
Recommended Lists:
Continue Reading Below
Childhood & Early Life
Gary was born Gary Fred Merrill, on August 2, 1915, in Hartford, Connecticut, to Benjamin Gary Merrill and Hazel Merrill. He had a brother named Jerry. Gary attended 'Bowdoin College' in Brunswick, Maine, and then graduated from 'Trinity College.'

Gary's deep and heavy voice helped him bag the recurring part of 'Batman' in the radio series 'Superman.' During the Second World War, Gary served in the 'US Army Air Force Special Services' and simultaneously carried forward his acting career.

Recommended Lists:

Recommended Lists:

Career

Gary stepped into acting with theater and made his 'Broadway' debut in 1939, with the original comedy play 'See My Lawyer.' He played the character 'Peter Russo' in all the shows in the following years. In 1942, he was featured in the original 'Broadway' production 'This Is the Army.'

While serving in the 'Army Air Force,' Gary appeared as 'Captain McIntyre' in the original play 'Winged Victory.' Similarly, as in case of 'This Is the Army,' Gary was cast in the film version of 'Winged Victory,' too. However, in the film 'This Is the Army' he appeared in an uncredited role. In the subsequent years, Gary was seen in the plays 'Yellow Jack,' 'Born Yesterday,' and 'At War With the Army.'

Gary made his film debut with the 1949 war film 'Twelve O'Clock High.' The same year, he played 'Commander ET Kramer' in the drama film 'Slattery's Hurricane.' The following year, Gary was seen in the significant role of 'Bill Sampson' in the drama 'All about Eve.' In 1952 and 1953, Gary appeared in the 'Lux Radio Theatre' adaptations of the biopic 'Follow the Sun' and the drama film 'Phone Call from a Stranger.' He was also featured as 'David Trask' in the film version of the latter.

Gary began his stint on TV in 1953 and mostly featured in guest roles in anthologies and dramas. From 1954 to 1956, he played 'Jason Tyler' in the 'NBC' crime series 'Justice.' From 1957 to 1960, Gary played various characters in five episodes of the 'CBS' anthology series 'Alfred Hitchcock Presents.' In 1962, he again appeared in two memorable episodes of the re-titled anthology 'The Alfred Hitchcock Hour.' Meanwhile, Gary played 'Dr. Bill Hurlbird' in the 1962 original play 'Step on a Crack.'

In 1964, Gary was seen as 'Lou Sheldon' in the 'CBS' drama series 'The Reporter.' He was cast as 'Sam' in the 1967 musical film 'Clambake,' starring Elvis Presley. Some of his other TV credits included 'General Electric Theater,' 'Ben Casey,' 'Combat!,' 'The 20th Century-Fox Hour,' 'Wagon Train,' 'Studio 57,' and 'The Twilight Zone.'

Toward the end of his acting career, Gary was featured as the narrator of the syndicated TV series 'The American Adventure.' After his journey as a TV artist ended in 1980, Gary appeared in the revival of the comedy 'Morning's at Seven' by Paul Osborn.

Gary was also involved in political affairs and had even campaigned in favor of 'Democrat' candidate Edmund Sixtus Muskie during his 1958 run for the governor of Maine. In 1965, Gary promoted black voter registration by taking part in the 'Selma to Montgomery' marches. As an anti-war, pro-environmentalist primary candidate, he filed his candidature for the Maine legislature. His candidature, however, was later rejected.

Recommended Lists:

Recommended Lists:

Family & Personal Life

Gary married Barbara Leeds in 1941. The marriage ended in a divorce on July 28, 1950. The day of his divorce, he got married to his co-star Bette Davis. They adopted two children named Margo and Michael. Gary had also adopted Bette's daughter from her previous marriage, Barbara. In 1960, Gary and Bette ended their marriage after a bitter divorce. Although their marriage was like a "fairytale" (in Gary's words) in its initial years, toward the end, it had turned tumultuous.

Gary and Bette met while filming 'All about Eve' and were married to each other by the time the film released. However, they were both married to other partners during their courtship period. After the divorce, he had a 4-year-long affair with actor Rita Hayworth.

Merrill succumbed to lung cancer on March 5, 1990, in Falmouth, Maine. He is resting in the 'Pine Grove Cemetery.' At the time of his death, he was survived by his children, his brother, and his two grandchildren.

In 1988, Gary released his autobiography, 'Bette, Rita, and the Rest of My Life.'

Translate Wiki

to Spanish, French, Hindi, Portuguese

Article Title

- Gary Merrill Biography

Author

- Editors, TheFamousPeople.com

Website

- TheFamousPeople.com

URL

-

https://www.thefamouspeople.com/profiles/gary-merrill-43974.php

Last Updated

- March 14, 2019

---

---

---