Frank Fenner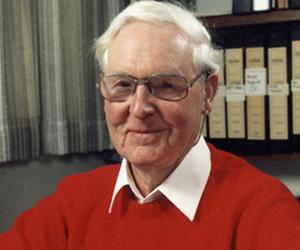 Quick Facts
Birthday: December 21, 1914
Nationality: Australian
Famous: Virologists Australian Men
Died At Age: 95
Sun Sign: Sagittarius
Born in: Ballarat, Australia
Famous as: Played a vital role in eradication of smallpox and control of Australia's rabbit plague
Family:
Spouse/Ex-: Ellen Margaret Bobbie Roberts
father: Albert Charles Fenner
mother: Peggy Fenner
Died on: November 22, 2010
place of death: Canberra
More Facts
awards: Member of the Order of the British Empire (1945)
Japan Prize (1988)
Companion of the Order of Australia (1989)

Copley Medal of the Royal Society (1995)
Albert Einstein World Award of Science (2000)

Continue Reading Below
Australian scientist Frank John Fenner is one of the most distinguished names in the field of virology across the globe. Bestowed with several prestigious honors including Companion of the Order of Australia, Member of the Order of British Empire and Companion of the Order of the St Michael and St George, he dedicated his life to the eradication of communicable diseases. Born in Ballarat, he attained a degree in medical science from University of Adelaide. Later, he was drafted into the Australian Army Medical Corps where he worked as a physician, pathologist and malariologist. He is remembered for his two great achievements: (1) Overseeing the eardication of smallpox, (2) Control of Australia's rabbit plague through the introduction of Myxoma virus. In his honour, the Australian Academy of Science awards annually the prestigious Fenner Medal for distinguished research in biology by a scientist under 40 years of age.
Recommended Lists:
Recommended Lists:
Continue Reading Below
Childhood & Early Life
Frank Johannes Fenner was born on December 21, 1914 in Ballarat. Both his parents were employed as teachers. He was one of the five children born to the couple. When he was about two years old, the family shifted to Adelaide, South Australia.

Young Fenner attained his early education from Rose Park Primary School after which he enrolled at the Thebarton Technical School.

After completing his preliminary education, he gained admission at the University of Adelaide where he attained his MBBS degree in 1938 and MD in 1942. Meanwhile, he received a Diploma of Tropical Medicine from University of Sydney in 1940.

Recommended Lists:

Recommended Lists:

Career

In 1940, he was drafted into the Australian Army Medical Corps. He served at Australia, Palestine, Egypt, New Guinea and Borneo, first in the position of a Captain and later as a Major. He worked until 1946 taking up various portfolios that of a physician, pathologist and malariologist.

Following his war-time service, he was appointed by Frank Macfarlane Burnet to work at the Walter and Eliza Hall Institute of Medical Research in Melbourne. In the early years of his career, he essentially worked on virus that causes smallpox in mice, known as mousepox or Poxvirus genetics

It was his study of pathogenesis of viral disease that shaped much of the future course of his career. Furthermore, it was his study that led to the development of diagnostics tests and vaccines related to the disease.

For his excellent command over his work, he was bestowed with a fellowship from Rockfeller Institute for Medical Research in New York City, in 1949. It was there that he worked on mycobacterium Bairnsdale bacillus, which causes Buruli ulcer. After tuberculosis and leprosy, it was third highest affected mycobacterial disease worldwide.

He returned to Australia in 1949 where he was appointed as the Professor of Microbiology at the new John Curtin School of Medical Research at the Australian National University, Canberra.

His was interested in the study of viruses and began studying myxoma virus. His primary focus was balancing between virus virulence and host resistance.

He worked on the pathogenesis, classification, morphology and relationship with other virus groups, the poxvirus group, on immunity and so on. He also studied the changes in virulence which occurred in the early days and later progressively inclined.

Continue Reading Below

For five years, from 1967 to 1973, he served as the Director of John Curtis School. Alongside his directorial role at the John Curtis School, he established and served as the foundation Director of the Centre for Resources and Environmental Studies at the ANU from 1973 until his retirement in 1979. The position was offered to him keeping in mind his unwavering interest in the environment. In 2007, the Center was absorbed into the Fenner School of Environment and Society.

In 1977, he was named as the chairman of the Global Commission for Certification of Smallpox Eradication. It was on May 8, 1980 that he announced the complete eradication of the disease to World Health Assembly.

The complete eradication of smallpox was one of the major achievements made by World Health Organization, as the disease was amongst the world's most lethal viruses and had caused millions of death. Those who barely survived suffered from lifelong defacing scars.

Awards & Achievements

In 1945, for his work in combating malaria in Papua, New Guinea, he was made a Member of the Order of the British Empire.

In 1976, he was conferred with the honor, Companion of the Order of St Michael and St George (CMG), for his service in the field of medical research.

He became the joint winner of the Japan Prize (Preventive Medicine) in 1988.

Recognizing his work and service in the field of medical science, public health and environment, he was bestowed with the prestigious honor of being appointed as Companion of the Order of Australia (AC).

Continue Reading Below

In 1995, the Royal Society awarded him with Copley Medal.

In 2000, he was bestowed with Albert Einstein World Award of Science.

Two years later, he won the Clunies Ross Lifetime Contribution National Science and Technology Award

Other prominent awards won by him include WHO Medal, Mueller Medal, ANZAAS Medal, ANZAC Peace Prize, Matthew Flinders Medal, Britannica Australia Award for Medicine, 2002 Prime Minister's Prize for Science and ACT Senior Australian of the Year 2005

Personal Life & Legacy

He first met Ellen Margaret 'Bobbie' Roberts at the Australian Army Nursing Service during World War II, where the latter worked on malaria as a trained midwife and nurse.

The two tied the nuptial knot in a Catholic ceremony. Since the couple suffered from infertility, they adopted two children, Marilyn Aldus Fenner and Victoria Fenner.

Tragedy struck the family on March 30, 1958 as their younger daughter Victoria Fenner shot and killed herself. The autopsy stated extreme mental and spiritual disturbance as the reason for the death.

In 1989, he suffered yet another major blow as his wife, Bobbie Fenner was diagnosed with cancer. She eventually died in 1994. Following her death, his elder daughter with her family moved into his family home to care for him.

On November 22, 2010, he breathed his last after suffering from brief illness.

Posthumously, the ANU Medical School and Faculty of Science, and a residential college building was named in his honor.

The Australian Academy of Science initiated an annual award under his name, the prestigious Fenner Medal, to honor scientists under the age of 40 who have made distinguished research in biology.

Trivia

This Australian scientist played a significant role in the successful eradication of smallpox.

Translate Wiki

to Spanish, French, Hindi, Portuguese

Article Title

- Frank Fenner Biography

Author

- Editors, TheFamousPeople.com

Website

- TheFamousPeople.com

URL

-

https://www.thefamouspeople.com/profiles/frank-fenner-5336.php

Last Updated

- October 27, 2017

---

---

---