F. Scott Fitzgerald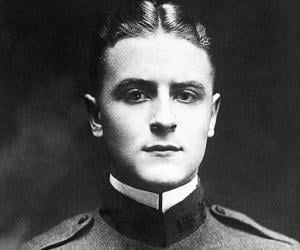 Quick Facts
Birthday: September 24, 1896
Nationality: American
Famous: College Dropouts Novelists
Died At Age: 44
Sun Sign: Libra
Also Known As: Francis Scott Key Fitzgerald, F Scott Fitzgerald, Fitzgerald
Born in: Saint Paul
Famous as: Novelist
Family:
Spouse/Ex-: Zelda Fitzgerald
father: Edward Fitzgerald
mother: Mollie McQuillan Fitzgerald
siblings: Louise Scott Fitzgerald
children: Frances Scott Fitzgerald
Died on: December 21, 1940
place of death: Hollywood
Diseases & Disabilities: Depression
U.S. State: Minnesota
City: Saint Paul, Minnesota
More Facts
education: 1917 - Princeton University, 1908 - Nardin Academy, 1911 - St. Paul Academy and Summit School
Continue Reading Below
The American author Francis Scott Key Fitzgerald was without a doubt among the greatest authors of the 20th century and is still regarded as among the finest authors to have been produced by the USA. Fitzgerald was a product of the period that was better known as the Jazz Age in the 1920s and excelled in writing short stories and novels. Writers from all over the world and his contemporaries, all considered him to be a writer of exquisite quality and it is not a wonder that he is still revered by devotees of literature and casual readers alike. "Fitzgerald was a better just plain writer than all of us put together. Just words writing", wrote John O' Hara to another famous American writer John Steinbeck and similar sentiments have been expressed by plenty of authors, critics, readers and scholars alike over the past decades. Although F. Scott Fitzgerald is primarily known as a great novelist, it should not be forgotten that he started off his writing career as a short story writer and wrote plenty of critically acclaimed stories. In addition to that, he has also written poems and that is something that makes him a versatile literary genius. Keep reading to know more about the life and works of this accomplished writer.
Recommended Lists:
Recommended Lists:
Continue Reading Below
Childhood & Early Life
F. Scott Fitzgerald was born to Edward Fitzgerald and Molly Fitzgerald in the city of Saint Paul in Minnesota on September 24, 1896. His was a family of aristocrats and his father was an executive at 'Proctor & Gamble' at the time he was born.

Till the age of 12, Fitzgerald lived in Buffalo, New York where he studied first at the 'Holy Angels Convent before enrolling at 'Nardin Academy'. Even at such a young age Fitzgerald showed a keen interest in literature and had an eye for details.

In the year 1908, the family went back to their native state of Minnesota after Fitzgerald's father Edward was sacked from 'Proctor & Gamble'. He was enrolled in the 'St. Paul's Academy' in his home town. He wrote a highly appreciated detective story during his first year at this school.

Fitzgerald was sent to the famous 'Newham School' located in Hackensack, New Jersey in the year 1911. It was during his time at the 'Newham School' that he was encouraged by his teachers to look at writing as a profession due to his obvious gifts as a writer.

Scott enrolled in the prestigious 'Princeton University' but he could not maintain his literary pursuits along with his academic ones and thus eventually left university in 1917. He enrolled in the army but not before his manuscript of the novel 'The Romantic Egotist' was rejected by a publisher.

Continue Reading Below

Recommended Lists:

Recommended Lists:

Career

In the year 1918, Fitzgerald returned to New York City after the conclusion of the First World War and took up a job in the advertising agency Barron Collier. His motivation to take up a job was to make sure that he earned enough to marry Zelde Sayre, a girl he had fallen in love with.

He started working on his first novel 'This Side of Paradise' and it was in the year 1919 that the manuscript was accepted by Scribner's. The book was published the next year and became a bestseller quickly, which also convinced his long time love interest Zelde Sayre that he was financially secure as a potential husband.

The success of his first novel landed him writing opportunities with popular magazines like 'The Saturday Evening Post' and 'Esquire', who were also known to pay their writers well. He primarily wrote short stories for them in order to supplement his income.

In the year 1922, Scott published his second novel titled 'The Beautiful and Damned', which dealt with the life and times of a couple from the cream of society.

Fitzgerald and his wife Zelde moved to Paris in 1924 where they developed close acquaintance with a group of locals consisting expatriate Americans. Fitzgerald struck up a friendship with another giant of literature Ernest Hemingway while he was in France. His fourth novel 'Tender Is The Night' was based on his experiences in Paris.

In the year 1925, while he was still in the France, Fitzgerald finished his best work 'The Great Gatsby', a novel that is still regarded as one of the greatest ever written in the English language.

Fitzgerald decided to try his hand at the movies and in 1937 he went to Hollywood looking for work. He wrote plenty of short stories for different publications, worked on movie scripts and also worked for a while for MGM.

Continue Reading Below

Recommended Lists:

Recommended Lists:

Major Works

There is absolutely no doubt that F. Scott Fitzgerald's most important work was the novel 'The Great Gatsby' which dealt on the concept of the mythical American Dream. It went on to sell millions of copies worldwide since it was published in 1925.

Awards & Achievements

Scott F. Fitzgerald did not win many awards during his lifetime in spite of being one of the most influential writers of his generation. However, in 2009 he was inducted by the US Sate of New Jersey into the 'New Jersey Hall of Fame'.

Personal Life & Legacy

Fitzgerald got married to Zelde Sayre, whose father was an Alabama Supreme Court Judge on October 26, 1921. The couple had only one child, a daughter named Frances Scott Fitzgerald, who became a journalist and writer in her own right.

The popular novelist was an alcoholic and his wife's mental breakdown pushed him further towards chronic alcoholism. He left her in 1937 when he moved to Hollywood and there he started a romantic relationship with journalist Sheila Graham.

On December 21, 1940, at the age of only 44, F. Scott Fitzgerald died of a heart attack in his home in Hollywood. He was cremated at the 'St Mary's Cemetery' at Rockville, Maryland.

Translate Wiki

to Spanish, French, Hindi, Portuguese

Article Title

- F. Scott Fitzgerald Biography

Author

- Editors, TheFamousPeople.com

Website

- TheFamousPeople.com

URL

-

https://www.thefamouspeople.com/profiles/francis-scott-key-fitzgerald-1386.php

Last Updated

- September 06, 2017

---

---

---