Essie Davis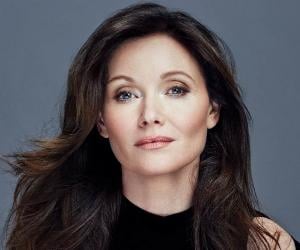 Quick Facts
Nationality: Australian
Famous: Actresses Australian Women
Age: 49 Years, 49 Year Old Females
Sun Sign: Capricorn
Also Known As: Esther Essie Davis
Born in: Hobart, Tasmania
Famous as: Actress
Height: 1.78 m
Family:
Spouse/Ex-: Justin Kurzel (m. 2002)
father: George Davis
mother: Mary Davis
children: Ruby Kurzel, Stella Kurzel
More Facts
education: National Institute of Dramatic Art
Continue Reading Below
Esther Essie Davis is an Australian actress best known for her role in the broadly successful series 'Miss Fischer's Murder Mysteries,' and the film 'The Babadook.' She has also been a part of many Australian and American films and Television series' and continues to rise as one of the few Australian actors shining brightly in Hollywood. Her stint with art happened at a very early age, all thanks to her father and later, she went on to study art at National Institute of Dramatic Art in Sydney. Her acting career officially took-off in Australia. As she graduated, she started acting in theatre, and brought many of Shakespeare's characters to life. Essie moved to movies making her debut with the 1995 film 'Dad and Dave: On Our Selection' where her performance resonated with makers from Hollywood and the Australian film industry. And soon enough, she found herself acting in big films such as The Matrix series and 'Australia.' Awards kept coming and she got her hands on a Tony Award, a Critics Award for Best Actress at Toronto International Film Festival and a Chainsaw award for best actress.
Recommended Lists:
Recommended Lists:
Continue Reading Below
Childhood & Early Life
Essie Davis was born on 7th January 1970 in Tasmania, Australia to a local artist, George Davis. She received her early trainings in arts and crafts from her father. She looked up to him as an inspiration and still maintains that he was the biggest pillar of support while she was growing up. She was the youngest kid in a huge family of 9 people, including the parents.

The family survived in very humble conditions and her father, being a painter, could only adhere to the basic needs of 7 of his kids. Her brothers also worked along with the studies to earn money.

The beauty of her surroundings in her hometown, Hobart, kept her feeling alive and she showed all the signs of a creative kid. She was a silent kid and mostly remained engrossed in nature. She got enrolled in the Clarence High School, then went to the University of Tasmania for her higher studies and started her tryst with performing arts with the Old Nick Company and later, she got serious about her career in arts and hence joined National Institute of Dramatic Art, Sydney, graduating in 1992.

Recommended Lists:

Recommended Lists:

Career

Being continuously involved with theatricals through her high school days and later in college, she started doing plays once she was out of college. She joined Bell Shakespeare, a theatre company, which true to its name, was into doing Shakespearean plays. She got the lead role in 1993s 'Romeo and Juliet' and played Juliet with such warmth and affection, that she subsequently went on to star in theatre company's other Shakespearean retellings 'Hamlet', 'Richard 3' and 'Macbeth'.

She kept auditioning for roles in films and TV and it wasn't late before she caught the eyes of several talent agents and casting directors through her plays. She was signed on for the film 'Dad and Dave: On Our Selection', where she acted opposite established actors such as Geoffrey Rush, Leo McKern and John Sutherland.

Once 'Dad and Dave: On Our Selection' released, more people saw the glimpse of how good an actor she was, more offers rained in on her and she made appearances in films like 'River Street' and 'Blackrock', which were somehow less known but provided her with a solid platform to exhibit her talent.

Her 1998 Tasmanian film 'The Sound of One Hand Clapping' got her noticed in the United States, and then there was a long wait for a call from Hollywood, and meanwhile, she kept appearing in TV shows like 'Corridors of Power' and 'Young Lion'.

Her first Hollywood film came her way in 2003 in form of the second instalment in the highly regarded science fiction action franchise, 'The Matrix Reloaded', where she played the role of Maggie.

Starring in Matrix opened her ways for further roles in Hollywood and Australian films and in the same year as Matrix, she appeared in four other films 'The Pact', 'Code 46', 'Girl with a Pearl Earring' along with the third and final instalment in The Matrix series, 'The Matrix Revolution'.

Another big role came her way in Baz Luhrmann's 'Australia', where she appeared with fellow Australian Hollywood stars, Hugh Jackman, and Nicole Kidman.

Continue Reading Below

For the next few years, she kept appearing in many big and small roles in American and Australian films, never quite finding her footing, until 2011, when her show 'Miss Fischer's Murder Mysteries' went on air. The ABC network's costume drama was a big budget show and Essie Davis got to play the title role in it. Her acting prowess was widely appreciated and she became a popular television face in Australia. The period show, set in 1920s Melbourne, told the story of Phryne Fischer, a private investigator.

Her character in 'Miss Fischer's Murder Mysteries' got immensely popular among the masses and critics alike. She received countless awards and nominations for her character in the series which ran for 34 episodes and finally culminated in 2015.

Essie received universal acclaim for her role in the 2014 feature film 'The Babadook', which was Jennifer Kent's debut feature film. The film, along with Essie, rocked the award seasons and ended up winning severe critical and commercial acclaim.

In 2016, Essie got signed up to play a key recurring role in the sixth season of 'Game of Thrones'. There were reports that she would also be appearing in the seventh season of the show, but the producers denied the news. Essie received praise for the show and said that just being a part of the most successful TV series of all times is an honour.

There were talks of a film trilogy on her character from the show 'Miss Fischer's Murder Mysteries', to which Essie said that plans are being made and when they will find something to work upon, she would definitely love to be a part of the film as portraying Phryne Fischer was one of the most memorable experiences of her life. The producers have said that Essie's busy schedule is a big roadblock in the film's production and they hope that it will soon get over and Essie will be free to get the cameras for the film rolling. In June 2016, she was confirmed as a part of the show 'The White Princess', which will soon go on-air.

Apart from films, she continued her stints with theatre even after becoming a fairly successful film actress. In 2000, she participated in Gwendolen Fairfax's 'The Importance of Being Earnest', where she was the part of their national tour. For the Sydney Theatre Company, she did 'The School for Scandal' and as usual, received accolades and a Lawrence Olivier Award for the best supporting actress award for the play 'A Streetcar Named Desire' at the National Theatres in London. A Tony Award nomination came for her in 2004, for the play 'Jumpers', a Broadway musical.

Personal Life

Essie Davis met Justin Kurzel in 1996, during a street play and they started dating. However, due to their respective busy schedules, the couple remained in long distance relationship for most of the time and eventually got married in 2002. The couple is parents to twin daughters - Ruby and Stella.

Essie is in love with her hometown, Hobart, and visits the place whenever she finds even a little time away from her busy schedule.

A huge 'Game of Thrones' fan, Essie has said that she never misses any episode and being a part of the show is an unforgettable honour in itself.

Net Worth

As of July 2017, Essie Davis' net worth is estimated to be around USD 2 million.

1. The Matrix Reloaded (2003)

(Sci-Fi, Action)

2. Girl with a Pearl Earring (2003)

(Drama, Biography, Romance)

---

3. The Babadook (2014)

(Drama, Horror)

4. The Matrix Revolutions (2003)

(Sci-Fi, Action)

---

---

5. Australia (2008)

(Romance, War, Drama, Adventure)

6. Burning Man (2011)

(Romance, Drama)

---

---

---

7. Hey Hey It's Esther Blueburger (2008)

(Comedy, Drama)

8. Charlotte's Web (2006)

(Fantasy, Family, Comedy)

---

---

---

---

Translate Wiki

to Spanish, French, Hindi, Portuguese

Article Title

- Essie Davis Biography

Author

- Editors, TheFamousPeople.com

Website

- TheFamousPeople.com

URL

-

https://www.thefamouspeople.com/profiles/essie-davis-11419.php

Last Updated

- February 28, 2018

---

---

---