Jack Welch
Quick Facts
Also Known As: John Francis Welch Jr.
Famous as: Former Chairman & CEO of General Electric
Nationality: American
Birthday: November 19, 1935
Age: 82 Years
Sun Sign: Scorpio
Height: 1.7 m
Born in: Peabody, Massachusetts, U.S
father: John Francis Welch Sr.
mother: Grace Andrews Welch
Spouse/Ex-spouse: Suzy Welch (m. 2004), Carolyn B. Osburn (m. 1959–1987), Jane Beasley (m. 1989–2003)
Personality: ENTJ
Diseases & Disabilities: Stammered / Stuttered
Net worth: $750 million as of Jan 3, 2017
More Facts
education: University of Illinois at Urbana-Champaign (1960), University of Massachusetts Amherst (1957), University of Illinois at Urbana-Champaign, Salem High School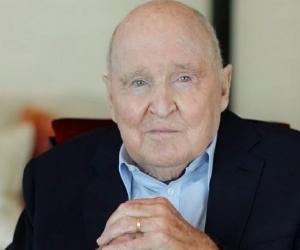 Image Credit
http://www.huffingtonpost.com/2012/12/08/jack-welch-jobs-report_n_2263207.html?ir=India&adsSiteOverride=in

John Francis Welch, Jr., better known as Jack Welch in the business world, was the chairman and CEO of General Electric for a period of two decades. Now retired, the business executive is a qualified chemical engineer who began his career in a junior position at General Electric. Though he was not happy during his initial years at the company, he eventually began to enjoy his work and became the head of GE's entire plastics division within a few years of joining. From there he went from success to success and his long and fruitful journey with the company finally culminated in his being selected the CEO. Under his leadership GE increased its market share manifold and soon many CEOs of other companies too began following his policies. Jack Welch redefined the concept of leadership and created a model for others to follow. In spite of being such a successful CEO he was not without his detractors who felt he was too rigid and uncaring towards the working class employees as he was known to dismiss employees frequently. His brilliant leadership skills prompted him to write books on the very subject, many of which became international bestsellers. Welch has also had his share of controversies, especially at the time of his much publicized divorce from his second wife.
Recommended Lists:
Recommended Lists:
Continue Reading Below
Childhood & Early Life
He was born on 19 November 1935 in Massachusetts to John Welch and his wife, Grace. His father worked as a Boston & Maine Railroad conductor while his mother managed the home. He was the only child of his parents.

He displayed business acumen from a young age and worked during the summers as a newspaper boy, shoe salesman and golf caddy while he was still a school student.

He attended Salem High School and was a talented athlete. He loved playing sports like baseball, football and hockey and was consumed by a great drive to win.

He went to the University of Massachusetts from where he graduated with a Bachelor of Science degree in chemical engineering in 1957.

He then enrolled at the University of Illinois from where he earned a Master's degree and a PhD in chemical engineering in 1960.

Continue Reading Below

Recommended Lists:

Recommended Lists:

Career

He joined General Electric in 1960 as a junior chemical engineer in the plastics division. He worked diligently for a year and was hoping for a big raise. When he got a raise of less than what he had expected, he was disappointed and planned to quit.

He was persuaded to stay by an executive, Reuben Gutoff, and reluctantly agreed. An incident that happened in 1963 almost cost him the job. There was an explosion at a factory building under his management and he was almost fired for this.

He continued working for GE and was made the vice president and head of GE's entire plastics division in 1968, just eight years after he had joined the company in a junior position.

The plastics division, at that time a $26 million operation, grew rapidly under his management. He oversaw the production and marketing of Lexan and Noryl, which were plastic products, developed in the GE labs.

In 1971, Welch also became the vice president of GE's metallurgical and chemical divisions. His background in chemical engineering combined with his astute business acumen made him a brilliant manager.

Throughout the 1970s he worked relentlessly and was promoted from one position to another in quick succession, managing each challenging post with the same dedication and determination.

In 1973, he was appointed as the head of strategic planning for GE. He held this position for the next six years, managing a $2 billion portfolio of businesses.

Continue Reading Below

He was named the vice president and head of Consumer Products and Services Division in 1977; he became the Vice Chairman in 1979. Within two decades of joining GE he had risen through various ranks to attain one of the top most positions.

It was announced in 1980 that Jack Welch would succeed Reginald H. Jones as the CEO. In 1981 the 45-year-old Welch took over the reigns from his predecessor to become General Electric's youngest chairman and CEO.

He was an able leader, though also considered brutal for his firing policies. He would frequently fire employees and sometimes could be too strict on them. Yet his leadership strategies worked wonders and the company increased its revenues manifold over the years.

Many of his management and leadership strategies, including his 'Rank and Yank' policy became very popular and soon other companies were following him.

He served as the CEO and chairman of the company for 20 years from 1981 till his retirement in 2001. The company's value rose 4000% during his tenure and he was hailed as one of the greatest ever business leaders in the US.

Welch is also an author who has written several books on management and leadership, including the 2005 bestseller, 'Winning' which he co-wrote with his third wife, Suzy.

Continue Reading Below

Recommended Lists:

Recommended Lists:

Major Works

Jack Welch is best known for serving as the chairman and CEO of General Electric from 1981 to 2001. An astute manager and leader, he revolutionized the way GE conducted business and turned it into one of the fastest growing companies in the US.

Awards & Achievements

He was named 'Manager of the Century' in 1999.

His book, 'Winning' (2005) which he co-wrote with Suzy Welch, became the No. 1 on The Wall Street Journal bestseller list.

Personal Life & Legacy

He married Carolyn Osburn in 1959 and had four children with her. The couple divorced after 28 years of marriage in 1987.

He married for the second time in 1989. His second wife, Jane Beasley, was a lawyer. This marriage too ended in a divorce in 2003 after his wife found about his affair with Suzy Wetlaufer whom he would eventually marry.

He married Suzy in 2004 and is currently married to her.

Translate Wiki

to Spanish, French, Hindi, Portuguese

Article Title

- Jack Welch Biography

Author

- Editors, TheFamousPeople.com

Website

- TheFamousPeople.com

URL

-

https://www.thefamouspeople.com/profiles/dr-john-francis-1713.php

Last Updated

- January 08, 2018