Dina Merrill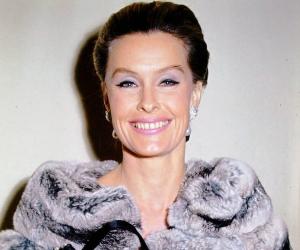 Quick Facts
Birthday: December 29, 1923
Nationality: American
Famous: Actresses Socialites
Died At Age: 93
Sun Sign: Capricorn
Also Known As: Nedenia Marjorie Hutton
Born in: New York City, New York, U.S.
Famous as: Actress, Socialite, Philanthropist
Family:
Spouse/Ex-: Stanley M. Rumbough Jr. (m. 1946; div. 1966); Cliff Robertson
father: Edward Francis Hutton
mother: Marjorie Merriweather Post
siblings: Eleanor Post Close (half-sister); Barbara Hutton
place of death: East Hampton, New York, U.S.
City: New York City
U.S. State: New Yorkers
Continue Reading Below
Dina Merrill was an American actress, socialite, philanthropist and heiress who despite being born in one of the richest American households, worked hard enough to carve a special place for herself among the American elite. She was born to Post Cereals heiress Marjorie Merriweather Post and a wallstreet professional Edward Hutton. Dina was born Nedenia Hutton but later adopted the stage name Dina Merrill on the advice of a relative. She started her acting career with stage in 1945, and from there, she became one of the most in-demand actresses during the 50s. She featured in films such as 'Desk Set', 'The Young Savages' and 'Don't Give up the Ship' in the early stages of her film career and later went on to do films like 'The Player' and 'Shade'. Subsequently, she became a part of many TV movies and shows and became a diva for the TV and film audiences alike. Apart from her film career, she is also a known businesswoman with an impeccable presence of mind and has been a trustee of Eugene O'Neill Theatre Centre and one of the board members of Lehman Brothers.
Recommended Lists:
Recommended Lists:
Continue Reading Below
Childhood & Early Life
Dina Merrill was born on 29th December 1923 in New York City to Marjorie Merriweather Post, the heiress of Post Cereals, and Wall Street stockbroker, Edward Francis Hutton.

Born with a silver spoon, Dina was always a pampered kid, and being the only kid in the family, she was exposed to all sorts of luxuries a child could ever want. But somehow, Dina was immune to all the glitz and initially wanted to lead a very normal life, which she couldn't.

She hated all the attention she got because of her rich heritage but she eventually grew to enjoy it and by the time she was a teenager, she was pretty much a part of the American elite, being friends with super rich kids and going to exotic locations for school holidays.

While most of the rich kids in those times were in the news due to their drug usage among other antics, she kept her dignity intact and stayed out of the news.

Dina was a keen traveller and spent almost half her childhood on the yacht 'Sea Cloud' their family owned. The yacht had all the luxuries of a five star hotel and some of their guests during their holidays were the royal British kings and queens, princes and princesses.

While in school, Dina was given a private luxury car and a driver, but she wished to travel in the school bus like other children. Her father wanted her to study law and enter politics but little Dina had some other dreams. Being an actor wasn't always on her list but she dreamed of having something of her own.

She got enrolled in George Washington University in Washington D.C., but right around that time, her interests shifted from academics to a further more interesting career. Bored of her rich life, she decided to become an actor, so that she could lead many different lives, and she got herself enrolled in the American Academy of Dramatic Arts in New York.

Recommended Lists:

Recommended Lists:

Career

Dina Merrill made her stage debut in the year 1945, and she didn't use her father's approach or money to bag the first role. It was purely her talent and skills and as she performed on stage for the first time in Broadway 'The Mermaids Singing', she got hooked to the performance art and with that, her acting career kicked off.

She ended up doing many plays during her early years and her gorgeous looks and acting prowess drew comparisons with Grace Kelly, a legendary actress and Dina was now being hailed as the new Grace Kelly.

After a full decade of earning experience and confidence through theatre, it was then the time to move on to the next step, TV and films and Dina made her film debut with a sensational role in the film 'Desk Set' in mid-50s, where she appeared in a supporting role.

Her solid presence and gorgeous sense of dressing and make-up sort of bound her to certain types of roles as model wife or a socialite in further films such as 'Operation Petticoat', 'Butterfield 8' and 'Young Savages' and she eventually became one of the most loved and adored actors in the late 50s to early 60s.

Her film career blossomed in the 60s and 70s with some big films such as 'I'll Take Sweden', 'The Greatest Wedding' and 'Just tell me what you Want' and along with that, she also kept appearing in television on the guest spots on shows such as 'Bonanza', 'The Love Boats' and 'The Nanny'. In her two-episode-long role as a villain in 'Batman', she played Calamity Jan. Her love for the theatrical productions didn't die even after all the success in TV and films and she was seen in a revival of the musical 'On your Toes' in 1983 and an off-Broadway, 'Wit & Wilson'.

Her business ventures got her into news as much as her film roles. In partnership with her third husband Ted Hartley, she merged her company Pavilion Communications with RKO, which laid the foundation of RKO studios.

She was appointed as a trustee to the John F. Kennedy Centre of Performing Arts along with Eugene O'Neill Theatre Company. She also happened to be New York Mission Society's vice president. Her father compelled her to use her excellent business sense for his company E. F. Hutton and Co. and made her one of the board members. She was one of the decision makers during the time her father's company took over Lehman Brothers, creating a stir in the business circles of the United States of America.

Recommended Lists:

Recommended Lists:

Personal Life & Death

Dina Merrill had a very unstable married life. She married twice in her life; she first married Stanley Rumbough Jr. in mid 40s and had three children with him. Her hectic schedule due to her career made the couple go sour towards each other and they divorced in 1966, after almost 20 years of being together.

She had a roaring love affair with the Oscar award winning actor Cliff Robertson in 1966 and the couple got married a year later, and had a daughter together. They, however, separated in 1986 after quite a lot of struggle.

In 1989, she finally married Ted Harley, a businessman, and the couple remained together until her death.

Dina was known as a big philanthropist and she spent most of her life in giving away the money she received from her father in inheritance, which was about 50 millions USD. She served as the chairwoman of Pro-Choice Coalition, and she was given the position due to the very crucial financial contributions she made to the organization over the years.

She also donated to and worked towards promoting women's health. She also donated a big chunk of her fortune to Juvenile Diabetes Research Foundation, after her young 23 years old son, David suffered from the disease before dying in an accident.

In the last few years of life, Dina suffered from a very aggressive form of dementia, and succumbed to it on 22nd May 2017. She died peacefully at her residence in New York City at the age of 93.

Recommended Lists:

Recommended Lists:

Translate Wiki

to Spanish, French, Hindi, Portuguese

Article Title

- Dina Merrill Biography

Author

- Editors, TheFamousPeople.com

Website

- TheFamousPeople.com

URL

-

https://www.thefamouspeople.com/profiles/dina-merrill-33670.php

Last Updated

- January 10, 2018

---

---

---