Dawn French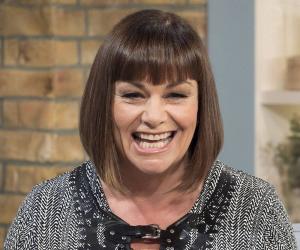 Quick Facts
Birthday: October 11, 1957
Nationality: British
Age: 61 Years, 61 Year Old Females
Sun Sign: Libra
Also Known As: Dawn Roma French
Born in: Holyhead
Height: 5'0" (152 cm), 5'0" Females
Family:
Spouse/Ex-: Mark Bignell (m. 2013), Lenny Henry (m. 1984–2010)
father: Denys Vernon French
mother: Felicity
children: Billie Henry
More Facts
education: Manchester University, Central School of Speech and Drama, London, England
Continue Reading Below
With a chubby face, funny haircut and infectious laughter, Dawn French is the quintessential female comedian who has been blessed with the looks and demeanor to make anybody laugh. Even though she had never been conventionally pretty from childhood, her father boosted her confidence by telling her that she was the most beautiful girl to him. The daughter of a Royal Air Force employee, she received high quality education and was exposed to various co-curricular activities. Naturally gifted with a quirky sense of humour, the vivacious and confident lady was cocky and loud as a teenager. She had always been interested in debating and theatre and thus decided to pursue a course at the Central School of Speech and Drama. Today she is best known as a part of the highly popular comedic duo - French and Saunders, which she formed with Jennifer Saunders whom she met in college. As unlikely as it seems, the two women hated each other at first sight and would not have ever even imagined working together! But fate had other plans and the two funny ladies came together to form one of the most hilarious female comedy duo of the contemporary times. She is also a writer and has penned a bestselling autobiography titled, 'Dear Fatty'.
Recommended Lists:
Recommended Lists:
Continue Reading Below
Childhood & Early Life
She is the daughter of Denys Vernon French and Felicity O'Brien. She has one brother, Gary. Her father worked with the Royal Air Force.

She first went to the St. Dundtan's Abbey School before shifting to Caistor Grammar School. After winning a debating scholarship she got a chance to study at the Spence School in New York.

Her father played an important role in instilling confidence and self-worth in his daughter. Though he himself suffered from depression he never let it affect his children. He always told Dawn how pretty and precious she was and it went a long way in making her the successful woman she is today.

In 1977 she went to study at the Central School of Speech and Drama where she met Jennifer Saunders. The two girls had a shared history of growing up in the same locality, but had never met before. The initial emotion they felt towards each other was dislike, though this would change in the future.

Continue Reading Below

Recommended Lists:

Recommended Lists:

Career

French and Saunders shared a flat while at college and had to do projects together. After getting to know each other, they became friends. After graduating, they formed a comedy act called the Menopause Sisters.

The duo began gaining in prominence during the 1980s as a part of the alternative comic scene, the Comic Strip. The ladies were very unabashed in their performance and highly innovative and energetic.

A television comedy series, called 'The Comic Strip Presents…' debuted in 1982. Along with French and Saunders, other prominent comedians who starred in the series were Nigel Planner, Peter Richardson, and Alexei Sayle.

French made her debut in an episode called 'Five Go Mad in Dorset' of 'The Comic Strip Presents…' series and went on to appear in 27 of its episodes; she also wrote two of them.

Comedy producer Martin Lewis recorded a Comic Strip comedy album which featured French and Saunders. The album was released in 1981 and brought her talents to a wider audience.

French and Saunders were becoming very popular together and they decided to start their own show. The series 'French & Saunders' debuted in 1987. The duo spoofed celebrities like Cher, Madonna, and Spice Girls in their sketches. The show ran for 20 years and its last episode was aired in 2007.

She also pursued solo projects and appeared in the BBC dark comedy series, 'Murder Most Horrid' which premiered in 1991. The series parodied thriller and murder mysteries and ran till 1999.

Continue Reading Below

Director Richard Curtis specifically created a sitcom for her titled 'The Vicar of Dibley' which debuted in 1994. She played Geraldine Granger, a female Vicar, in the series which was a huge success. The show ran till 2007.

She acted in the comedy drama series 'Ted and Alice' in 2002 in which she portrayed a tourist information officer who falls in love with an alien.

In 2009 she appeared in the dark comedy television series 'Psychoville'. The series revolved around five different people who are blackmailed by the same individual. It ran for two seasons till 2011.

In 2013 she became one of the four judges on the show 'Australia's Got Talent'. She had also judged the show 'Superstar' in 2012.

In addition to her television roles, she has also appeared in some films, most notably as the Fat Lady in 'Harry Potter and the Prisoner of Azkaban' (2004).

Recommended Lists:

Recommended Lists:

Major Works

A popular comedian, her best known work is the creation of the television series, 'French and Saunders' which she created with Jennifer Saunders. The show was very famous during the 1980s for its hilarious spoofs. This series won her several awards and laurels.

Recommended Lists:

Recommended Lists:

Awards & Achievements

She won the British Comedy Award for the Best TV Comedy Actress for her role in 'The Vicar of Dibley' in 1997.

In 2009 she along with Jennifer Saunders won the BAFTA Fellowship award.

Personal Life & legacy

She married Lenny Henry in 1984. The couple adopted a daughter, Billie. They separated after 25 years of marriage in 2010.

Currently she is married to Mark Bignell.

Trivia

This popular comedian was named as the most admired female celebrity amongst women in Britain in a 2006 poll.

1. Harry Potter and the Forbidden Journey (2010)

(Short, Adventure)

2. Harry Potter and the Prisoner of Azkaban (2004)

(Mystery, Fantasy, Family, Adventure)

---

3. The Chronicles of Narnia: The Lion, the Witch and the Wardrobe (2005)

(Family, Fantasy, Adventure)

4. Love and Other Disasters (2006)

(Comedy, Romance)

---

---

5. Eat the Rich (1987)

(Comedy, Action, Crime)

6. Maybe Baby (2000)

(Comedy, Romance)

---

---

---

7. Absolutely Fabulous: The Movie (2016)

(Comedy, Crime)

8. The Adventures of Pinocchio (1996)

(Drama, Musical, Fantasy, Family, Adventure)

---

---

---

---

Translate Wiki

to Spanish, French, Hindi, Portuguese

Article Title

- Dawn French Biography

Author

- Editors, TheFamousPeople.com

Website

- TheFamousPeople.com

URL

-

https://www.thefamouspeople.com/profiles/dawn-roma-french-1201.php

Last Updated

- October 17, 2017

---

---

---