Charles Manson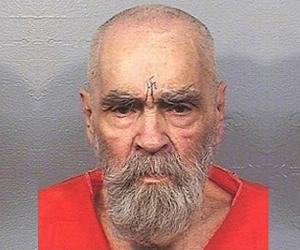 Quick Facts
Birthday: November 12, 1934
Nationality: American
Famous: Quotes By Charles Manson Murderers
Died At Age: 83
Sun Sign: Scorpio
Also Known As: Charles Milles Manson
Born in: Cincinnati, Ohio, U.S.
Famous as: Criminal and Murderer
Height: 1.57 m
Family:
Spouse/Ex-: Candy Stevens, Rosalie Jean Willis
father: William Manson
mother: Kathleen Maddox
children: Charles Luther Manson, Charles Milles Manson, Jr., Valentine Michael
Died on: November 19, 2017
place of death: Bakersfield, California, U.S.
Continue Reading Below
Charles Manson was an infamous American criminal. He was the founder of Manson Family, a hippie group, involved in several high profile murder cases like Hinman murder case, murder of film actress Sharon Tate and supermarket executive Leno LaBianca. The son of a prostitute, he became involved with a number of burglary cases when he was very young. During his stay in Washington, D.C's National Training School for Boys, a caseworker perceived him as aggressively antisocial. He spent a major part of his life at different juvenile centres and prisons for his connection with offences like burglary, federal crime, act of pimping and murdering several persons. He used to preach his philosophy of Scientology among his hippie followers who used to consider him as their 'guru'. After his meeting with Dennis Wilson, the founding member of The Beach Boys, Wilson used to pay for studio time for the recording of Manson's songs. Through Wilson, he made acquaintance with personalities like Gregg Jakobson and Terry Melcher. After his conviction for his crime, his recorded songs were released commercially and bands like White Zombie, Guns N' Roses and Marilyn Manson have covered some of his songs.
Recommended Lists:
Recommended Lists:
Continue Reading Below
Childhood & Early Life
Charles Manson was born to Kathleen Maddox, a 16 year old unmarried woman in Cincinnati, Ohio, U.S. At first he was named 'no name Maddox'. Sometime after his birth, his mother married William Manson, a labour, and the new born child was named Charles Milles Maddox.

His mother filed a bastardy suit against his biological father, Colonel Walker Scott. In 1939, when police detained his mother on charge of robbery, he was placed in his aunt's home in McMechen, West Virginia.

During Kathleen's 1942 parole, she retrieved Charles and used to live with him in run-down hotel rooms. Later the court placed him in Gibault School for Boys, Terre Haute, Indiana from where he escaped to his mother after ten months. But his mother declined to take his responsibility.

Recommended Lists:

Recommended Lists:

Offences & Incarceration

He started his criminal activities by committing a burglary at a grocery store. After that, he was involved in several case of burglary of other stores. When police arrested him, he was sent to an Indianapolis juvenile centre.

Later, he was sent to Washington, D.C's National Training School for Boys where he spent four years. In October 1951, on recommendation of a psychiatrist, he was transferred to Natural Bridge Honor Camp from where he was again transferred to the Federal Reformatory, Virginia for his antisocial activity.

Due to his undisciplined behaviour, he was transferred to the Federal Reformatory at Chillicothe, Ohio in September 1952. There he became a model resident with good behaviour and improved educational level that resulted his May 1954 parole.

In the next year, when he reached Los Angeles in a car that he stole in Ohio, he faced charge of federal crime and was given five years' probation. In March 1956, police arrested him in Indianapolis for his failure to appear at a Los Angeles hearing of another charge of federal crime filed in Florida.

In September 1958, he received five years' parole. In September 1959, he faced a charge for his attempt to cash a forged U.S. Treasury check. But he received 10-year suspended sentence when Leona, a woman who claimed to be in love with him, plead for his release before the court.

But police detained him on his way from California to New Mexico with Leona and another woman for violating the Mann Act. He disappeared shortly after his release.

The police caught him in Laredo, Texas. After his return to Los Angeles, he was sentenced to 10-year imprisonment on the check-cashing charge. In 1961, he was transferred from the Los Angeles County Jail to the United States Penitentiary at McNeil Island.

Continue Reading Below

After his release from jail on March 21, 1967, he moved to Berkeley, California where he earned his livelihood by begging.

Here he met Mary Brunner, a library assistant at University of California. Later he moved in with Mary. By establishing himself as a 'guru' in San Francisco's Haight-Ashbury, he organized a group of members to whom he used to preach his philosophy of Scientology.

Along with some of his followers, he traveled to several places in the US in an old school bus decorated in hippie style. Later, the group shifted to musician Dennis Wilson's house.

In 1968, the group relocated to Spahn's Movie Ranch. After a brief period, they moved to Death Valley in Eastern California. Due to the Manson Family's involvement in a number of murder cases, he went through legal wrangle for several years.

In a 1971 trail, he was given a life sentence due to his role in the murders of Gary Hinman and Donald Shea. In 1997, he was transferred from Corcoran State Prison to Pelican Bay State Prison for his involvement in drug trafficking.

Personal Life & Legacy

In January 1955, he married Rosalie Jean Wills, a hospital waitress with whom he had a son, Charles Manson, Jr. Later, Rosalie started living with another man.

Rosalie received a decree of divorce in 1958. In 1959, he married Leona, a prostitute with whom he has a son, Charles Luther. He divorced Leona in 1963.

He was denied parole on April 11, 2012. According to prison officials, as a patient of several health and mental problems like schizophrenia and paranoid delusional disorder, his release from jail will prove dangerous. Currently he is imprisoned at Corcoran State Prison in California.

On January 1, 2017, Manson was taken to Mercy Hospital in downtown Bakersfield from California State Prison in Corcoran as he was suffering from gastrointestinal bleeding . He was considered him too weak for surgery so he returned back to prison by January 6.

On November 15, 2017, it was reported that Manson was admitted to a hospital in Bakersfield due to health complications. He reportedly died of natural causes at the hospital on November 19.

Trivia

Translate Wiki

to Spanish, French, Hindi, Portuguese

Article Title

- Charles Manson Biography

Author

- Editors, TheFamousPeople.com

Website

- TheFamousPeople.com

URL

-

https://www.thefamouspeople.com/profiles/charles-manson-3419.php

Last Updated

- November 20, 2017

---

---

---