John Wayne Gacy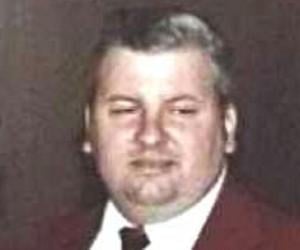 Quick Facts
Nationality: American
Famous: Murderers Serial Killers
Died At Age: 52
Sun Sign: Pisces
Also Known As: Johnny, Killer Clown, Pogo the Clown, John Wayne Gacy Jr.
Born in: Chicago
Famous as: Serial Killer
Family:
Spouse/Ex-: Carole Hoff, Marlynn Myers
father: John Stanley Gacy
mother: Marion Elaine Robinson
siblings: Joanne Gacy, Karen Gacy
children: Christine Gacy, Michael Gacy
place of death: Crest Hill
Continue Reading Below
John Wayne Gacy was an American serial killer and rapist who targeted young male victims. He was convicted of sexually assaulting and murdering 33 teenage boys and young men during the 1970s and sentenced to death for 12 of these killings, and eventually executed by lethal injection. It is believed that the actual number of victims he killed might have been higher. A highly sadistic killer, he derived pleasure from torturing his victims and enjoyed watching them die a slow and agonizing death in front of his eyes. Known for his sexual depravity and cruelty, he himself had been a victim of physical violence and sexual assault as a young boy. Growing up with an abusive father, John Gacy endured a very difficult childhood. However, as a young adult he was able to establish himself as a reasonably successful professional and a respectable citizen of the society. But unknown to his own family and neighbours, Gacy lived a double life. During the 1970s he began luring teenage boys and young men into his house on some pretext and sexually assaulted them before brutally taking their lives. He evaded capture for several years before some of the survivors of his attacks approached the police leading to his capture and conviction.
Recommended Lists:
Recommended Lists:
Continue Reading Below
Childhood & Early Life
John Wayne Gacy, Jr. was born in Chicago, Illinois on March 17, 1942, to John Stanley Gacy and Marion Elaine Robinson. He had two sisters. His father was an auto repair machinist and World War I veteran.

His father was an abusive alcoholic and young John had a very difficult relationship with him. The father used to mercilessly beat the boy for no reason, and even rendered him unconscious with his brutal physical assaults. His mother tried her best to protect John from his father, but to no avail. Another unfortunate incident happened in the little boy's life when he was sexually molested by a family friend.

To add to his woes, he suffered from a heart condition because of which he could not play any sports. Overweight and uncouth, he was often mocked at by his neighboring bullies. His ill health also prevented him from performing well at school.

His father's abusive behavior continued to worsen with time, and tired of all the troubles at home, John Gacy left the family home and went to Las Vegas, Nevada, in 1962.

In Nevada he found work as a mortuary attendant. A bizarre incident happened one day—he hugged and caressed one of the dead bodies in the mortuary—and was shocked by his own behavior. Terrified and confused, he returned home to his parents.

Upon his return, he enrolled in the Northwestern Business College from which he graduated in 1963.

Recommended Lists:

Recommended Lists:

Early Career

John Wayne Gacy soon found a job as a management trainee in the Nunn-Bush Shoe Company. He found considerable success there and was soon promoted to manager of his department in Illinois. He also fell in love and married a co-worker, settling into the typical life of a respectable middle-class American.

In the 1960s he joined the Jaycees—The United States Junior Chamber—and became a tireless worker for the organization which was a non-profit venture aimed at providing opportunities for young men to develop personal and leadership skills through service to others. He became a well-known figure within the organization and by 1965, had risen to the position of vice-president of the Springfield Jaycees.

Recommended Lists:

Recommended Lists:

Offences & Incarceration

There was a dark side to Gacy's personality and he committed his first known sexual assault on a teenage boy in 1967. The boy was a son of a fellow Jaycee who he lured to his house and assaulted. Over the next few months he molested and raped many other boys.

One of the boys he assaulted, Donald Voorhees, informed his father about Gacy's misdeed. The father immediately contacted the police who arrested Gacy. The police, however, could not find conclusive proof and indicted Gacy on the sodomy charge.

Gacy then hired one of his employees to physically assault Donald Voorhees in an effort to discourage the boy from testifying against him at his upcoming trial. The employee attacked Donald who immediately reported the assault to the police. Gacy was again arrested and was convicted of sodomy in December 1968 and sentenced to 10 years at the Anamosa State Penitentiary. Disturbed by her husband's criminal activities, his wife divorced him.

He proved to be a model inmate in prison where he had also joined the inmate Jaycee chapter, and was released on parole after only 18 months. He returned to Chicago and set about rebuilding his life. He developed good relations with his neighbours who were unaware of his past and got married again.

He remained active on the community as well, and often dressed up as a clown to entertain sick children. He threw parties for his neighbours and was successful in creating a positive image for himself in the society. Unbeknownst to his neighbours, Gacy was also living a secret life as a rapist and murderer—he had not reformed as his wife and mother believed.

Continue Reading Below

He started his own decorating business, PDM Contractors, in 1974 which proved to be successful. He was also becoming increasingly active on the political front and offered labour services of his PDM employees free of charge to the Democratic Party.

On the personal front, the relations between Gacy and his wife deteriorated during the 1970s due to his open confession that he was bisexual; the couple divorced in 1976. His reputation in the society suffered following his divorce and people began to notice a stench around the area his house was located. Rumors of him molesting his teenage employees also surfaced during this time.

A teenage boy named Robert Piest disappeared in late 1978 and someone notified the police that shortly before his disappearance, Robert had told his mother that he was going to visit a contractor to talk about a job opportunity. A person known to Robert identified the contractor in question as John Gacy and the police obtained a search warrant for his home.

An extensive search of Gacy's house and the surrounding region in December 1978 revealed horrifying secrets and the police discovered several bodies around his property. Even though he initially claimed innocence, he eventually confessed to the police that he had committed approximately 25 to 30 murders since 1972. His last known victim Robert Piest's body was finally recovered from a lock on the Illinois River in April 1979.

Trial & Execution

He was charged with 33 murders and his trial opened in February 1980. His defence countered that Gacy was insane, irrational and not responsible for his actions, and also roped in a number of psychiatric experts, who testified that Gacy had been insane at the times he had committed the murders.

The jury eventually reached a guilty but sane verdict, and he was sentenced to death for 12 of the murders on March 13, 1980. He spent several years on death row and was executed by lethal injection at Stateville Correctional Center on May 10, 1994.

Personal Life & Legacy

In September 1964, Gacy married Marlynn Myers, a co-worker at the Nunn-Bush Shoe Company. The couple had two children. His first wife divorced him in 1969 when he was imprisoned on the charges of sodomy.

He married again after being released on parole. In 1972 he tied the knot with Carole Hoff, a divorcee with two young daughters. Within a few years of their marriage, he openly confessed to Carole that he was bisexual. The couple divorced in 1976.

Trivia

This brutal serial killer was also known as the "Killer Clown" as he used to dress up as "Pogo the Clown" at children's parties.

Translate Wiki

to Spanish, French, Hindi, Portuguese

Article Title

- John Wayne Gacy Biography

Author

- Editors, TheFamousPeople.com

Website

- TheFamousPeople.com

URL

-

https://www.thefamouspeople.com/profiles/john-wayne-gacy-6689.php

Last Updated

- July 25, 2017

---

---

---