Charles I of England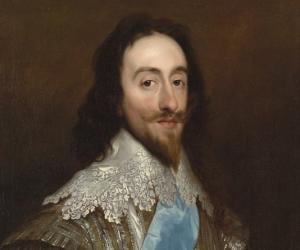 Quick Facts
Birthday: November 19, 1600
Nationality: British
Famous: Emperors & Kings British Men
Died At Age: 48
Sun Sign: Scorpio
Also Known As: Charles I, Charles
Born in: Dunfermline Palace
Famous as: King of England, Scotland and Ireland
Family:
Spouse/Ex-: Henrietta Maria of France
father: James VI and I
mother: Anne of Denmark
siblings: Duke of Kintyre and Lorne, Elizabeth Stuart, Henry Frederick, Prince of Wales, Queen of Bohemia, Robert Stuart
children: Anne of England, Charles II of England, daughter of Charles I, Duke of Gloucester, Elizabeth Stuart, Henrietta of England, Henry Stuart, James II of England, Mary, Princess Royal and Princess of Orange
Died on: January 30, 1649
place of death: Palace of Whitehall
Continue Reading Below
Charles I of England was the king of England, Scotland and Ireland from 1625 to 1649. He was an authoritarian who believed in the divine right of kings and desired to govern his territories according to his own rules and regulations. He had no regard for the views and opinions of his subjects who began to loathe him for his autocracy and dictatorship. He was also a very religious man who supported high church ecclesiastics and thus earned the mistrust of reformed groups such as the Puritans and Calvinists. Charles was born as the second son of King James VI of Scotland, and since he had an elder brother, it was not expected that he would one day inherit the throne. However, the unfortunate and untimely death of his more popular elder brother meant that Charles became the heir apparent to succeed his father. Charles I was unpopular from the very beginning; he quarreled with the Parliament of England over several issues from the time of his succession. He attempted several times to dissolve the parliament and rule alone which further added to his unpopularity. His continued animosity with the parliament led to the English Civil War and his eventual execution. He was beheaded in January 1649.
Recommended Lists:
Recommended Lists:
Continue Reading Below
Childhood & Early Life
Charles was born as the second son of King James VI of Scotland and Anne of Denmark on 19 November 1600. He was created Duke of Albany, the traditional title of the second son of the King of Scotland on 23 December 1600.

His father became the King of England in March 1603. His parents and older siblings left for England leaving behind Charles who was a sickly child as they feared that he might not survive the journey.

Charles left for England in mid-1604 when he was found to be strong enough for the journey. He would spend most of the rest of his life in England. In addition to being a weak child, he also developed a speech impediment.

In 1605, he was created Duke of York and made a Knight of the Bath.

He received his early education from Thomas Murray who taught him classics, languages, mathematics and religion.

As he grew up, Charles overcame some of his physical infirmities and became an adept horseman and marksman. He also loved hunting and fencing.

His elder brother Henry, who was the heir apparent and a much popular figure, died of an illness at the age of 18 in 1612. Charles, aged 12 at that time, became the heir apparent. He automatically gained several titles including Duke of Cornwall and Duke of Rothesay due to his newly gained status as the eldest surviving son of the sovereign.

Charles was created Prince of Wales and Earl of Chester in November 1616.

Recommended Lists:

Recommended Lists:

Accession & Reign

King James started suffered from ill health in 1624 and was growing progressively weaker. He became so ill that he was not even able to control the Parliament properly. Eventually Charles, being the heir apparent, began taking up more responsibility in the governance.

The king died in March 1625 and Charles became the king. At the time of his succession he had a close friendship with George Villiers, Duke of Buckingham, who was a notorious figure in the English court.

Charles I proved to be an unpopular ruler from the very beginning. The initial years of his reign were marked by political turbulence and conflicts with the parliament. He engaged in wars with France and Spain at the same time and this kindled a general dislike for him in the minds of the citizens.

He was an authoritarian who believed in the absolute powers of the monarch. He dissolved the parliament three times between 1625 and 1629. After dismissing the parliament in 1629, he resolved to rule alone and because of this he had to raise revenue by non-parliamentary means which added to his notoriety.

Over the 1630s he primarily raised revenue from measures such as impositions, forced loans, wardship, ship money, and exploitation of forest laws. However, he became involved in a war against Scotland in 1639 and the need for extensive funding forced him to summon a parliament in 1640 in order to obtain funds to fight the Scots.

The Irish uprising of October 1641 strained the relations between the king and the parliament leading to rising political tensions. Charles tried to get five members of parliament arrested and the escalating tensions culminated in the English Civil War in 1642 which was fought between supporters of King Charles I against the supporters of the Parliament.

The first English Civil War raged on from 1642 to 1646 while the second one took place from 1648-49. The king's supporters were defeated in both the wars and the king was put on trial for treason following the conclusion of the second civil war, marking the downfall of Charles I of England.

Personal Life & Legacy

Charles I married French princess Henrietta Maria in 1625. The initial years of their marriage were fraught with quarrels and disagreements though their relationship improved over time. Eventually the couple formed a strong bond and had a happy married life. This marriage produced nine children.

Following the second English Civil War, Charles I was charged with high treason and "other high crimes against the realm of England." He was put on trial, declared guilty and sentenced to death. He was beheaded on 30 January 1649 outside the Banqueting House on Whitehall, London.

Translate Wiki

to Spanish, French, Hindi, Portuguese

Article Title

- Charles I of England Biography

Author

- Editors, TheFamousPeople.com

Website

- TheFamousPeople.com

URL

-

https://www.thefamouspeople.com/profiles/charles-i-of-england-6363.php

Last Updated

- July 24, 2017

---

---

---