Henry VII of England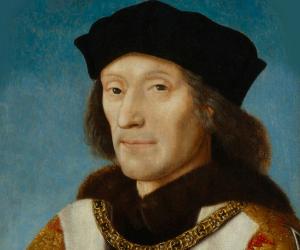 Quick Facts
Birthday: January 28, 1457
Nationality: British
Famous: Emperors & Kings British Men
Died At Age: 52
Sun Sign: Aquarius
Also Known As: Henry Tudor, Earl of Richmond
Born in: Pembroke Castle, Pembrokeshire, Wales
Famous as: First Tudor Monarch
Family:
Spouse/Ex-: Elizabeth of York (m. 1486; d. 1503)
father: Edmund Tudor, 1st Earl of Richmond
mother: Lady Margaret Beaufort
children: Arthur, Henry VIII, King of EnglandMary, Margaret, Prince of Wales, Queen of France, Queen of Scots
Died on: April 21, 1509
place of death: Richmond Palace, Surrey, England
Continue Reading Below
Henry VII, also known as Henry Tudor, earl of Richmond, was the King of England and first monarch of the Tudor Dynasty. He was the last King of England who seized the throne on a battlefield when House of Lancaster under his command defeated the last King of the House of York, Richard III, at the last significant battle of the 'Wars of the Roses', the 'Battle of Bosworth Field'. He went on to secure his claim to throne by getting married to Elizabeth of York, niece of Richard III. He reigned for around 24 years starting from August 22, 1485, and during such time he made effort in strengthening the English monarchy. He introduced several economic, administrative and diplomatic measures and policies in pursuit of restoring stability, power and peace of the monarchy while creating economic prosperity. These included among others implementing new taxes and backing the wool industry of the island that got him into alum trade and thereby sign the Magnus Intercursus ("great agreement"). He remained the Lord of Ireland and reined the Principality of Wales until November 29, 1489. Upon his death, his son Henry VIII peacefully succeeded the throne.
Recommended Lists:
Recommended Lists:
Continue Reading Below
Birth & Lineage
Henry VII was born on January 28, 1457 in Pembroke Castle, Pembrokeshire, Wales, to Edmund Tudor and Lady Margaret Beaufort. His father died three months prior to his birth.

Edmund Tudor was born to Owen Tudor, a Welsh squire and the widow of King Henry V, Catherine of Valois whom Owen married secretly. In 1452, Edmund became Earl of Richmond, and was "formally declared legitimate by the Parliament".

Lady Margaret was the daughter and the only heiress of John Beaufort, 1st Duke of Somerset. He was one of the great-grandsons of King Edward III, and grandson of the latter's third surviving son, John of Gaunt, Duke of Lancaster. His father, John Beaufort, 1st Earl of Somerset, and also three of the latter's siblings were born to John of Gaunt and his mistress, Katherine Swynford, prior to their marriage (1396).

Although the parliament of King Richard II of England declared children of Beaufort as legitimate in 1390 and 1397 respectively and Pope Boniface IX also declared their legitimacy in September 1396, their half-brother, Henry IV, restricted them from succession to the throne.

Thus the claim to throne for Henry Tudor remained weak and of little significance until the demise of King Henry VI of England and his only son Edward of Westminster, Prince of Wales, in 1471. Along with this, the death of two remaining kinsmen of the Beaufort line made Henry Tudor as the only surviving male having any lineal claim to the House of Lancaster.

Recommended Lists:

Recommended Lists:

Childhood & Early Life

While in South Wales fighting for Henry VI, Henry's father was taken into custody by the Yorkists at the Carmarthen Castle in 1456 where the latter succumbed to the bubonic plague on November 3, around three months before the birth of Henry Tudor.

His paternal uncle, Jasper Tudor, the Earl of Pembroke, started looking after the 13 year old widow, Lady Margaret, and the new-born Henry. The Battle of Towton (March 29, 1461) witnessed decisive victory of Yorkists with Yorkist Edward, Duke of York overthrowing Lancastrian King Henry VI to become King Edward IV.

During such time Jasper Tudor went into exile abroad while Welsh nobleman, politician and courtier William Herbert who backed the Yorkist cause during the 'War of the Roses' became the Earl of Pembroke taking control of Pembroke Castle and guardianship of Lady Margaret Beaufort and young Henry.

After fallout with Richard Neville, Earl of Warwick in 1469, who went on to back the Lancastrians, Herbert was captured and executed. In 1470, Warwick restored Henry VI as the King following which Jasper Tudor came back from exile and brought Henry Tudor to court.

Edward IV was enthroned again in 1471, and Henry Tudor escaped to Brittany.

Battle of Bosworth Field & Ascension to the Throne

While his mother began promoting him as the credible replacement of the then King of England, Richard III, Henry Tudor took pledge on December 25, 1483 to marry Elizabeth of York, the eldest daughter and the only surviving heir of Edward IV, thus receiving the reverence of his adherents.

Two significant revolts broke out against Richard III. While the first one led by Henry Stafford, Duke of Buckingham failed, Jasper Tudor and Henry Tudor led a second rebellion in August 1485.

Continue Reading Below

Geared up with the supply of French troops and equipments and Scottish forces and garnering support of the Woodvilles - in-laws of late Edward IV, Henry Tudor along with Jasper Tudor, had a decisive victory over the Yorkist army led by Richard III on August 22, 1485 at what became famous as the Battle of Bosworth Field, marking the last major battle of the 'Wars of the Roses'.

The killing of Richard III in the battle not only marked the ultimate overthrow of the House of York but also the rise of the Tudor Dynasty with Henry Tudor becoming the first English monarch of the dynasty, Henry VII of England. His coronation took place on October 30, 1485, in Westminster Abbey.

Reign

Henry VII then wasted no time to honour his pledge of marrying Elizabeth of York and entered into wedlock with her on January 18, 1486.

With this he not only succeeded in unifying the conflicting houses of Lancaster and York symbolising such unification by the Tudor rose (comprising red rose of Lancaster and white rose of York), but also secured a stronger claim for his children to the throne.

The 'Titulus Regius' act that declared marriage of Edward IV and Elizabeth Woodville invalid and their children as illegitimate thus barring them from throne was repealed by the first Parliament of Henry VII. This reinstated legitimacy of children of Edward IV and Elizabeth Woodville including that of Henry VII's wife Elizabeth of York.

Although Henry VII did not have any early estate management experience like his predecessors, he proved to be a provident monarch fiscally and succeeded in establishing a stable financial administration restoring the wealth of the exchequer that was effectively bankrupt.

He ensured better tax collection by initiating rigorous tax mechanisms which however remained unpopular. Later, when his son Henry VIII ascended the throne, the new monarch executed the two most detested tax collectors, Edmund Dudley and Richard Empson charged with treason.

Continue Reading Below

The measurement system of Pound Avoirdupois was established as a standard which not only became part of the system of imperial units but also remains a part of the International pound units that prevail today.

He backed the wool industry of the island that ultimately involved him in alum trade in 1486. He licensed ships and sold alums to the Low Countries and in England that were acquired from the Ottoman Empire, thus making a once expensive commodity cheaper.

He made efforts in maintaining harmony and economic prosperity of his kingdom and in that pursuit signed several treaties including the Treaty of Medina del Campo with nascent Spain on March 26, 1489 that led to the marriage of his son Arthur Tudor to Catherine of Aragon; the Treaty of Etaples with France on November 3, 1492; and the Treaty of Perpetual Peace with Scotland in 1502.

In February 1496, he signed the commercial treaty Magnus Intercursus ("great agreement") along with Duke Philip IV of Burgundy with the other parties being the Holy Roman Empire, Florence, the Hanseatic League, Venice and the Dutch Republic. This marked the most thriving economic achievement of Henry VII.

He extensively used 'Justices of the Peace' and 'Court of Star Chamber' to maintain law and order of his kingdom and curbed any probable threat to the royal authority.

Personal Life & Legacy

He had eight children from Elizabeth of York. He lost Arthur, Prince of Wales, his first son and heir-apparent on April 2, 1502 while Elizabeth died on February 11, 1503 which left him grief-stricken.

On April 21, 1509, he succumbed to tuberculosis at the Richmond Palace and was interred beside his wife at the Westminster Abbey. His second son, Henry VIII, succeeded him to the throne.

Translate Wiki

to Spanish, French, Hindi, Portuguese

Article Title

- Henry VII of England Biography

Author

- Editors, TheFamousPeople.com

Website

- TheFamousPeople.com

URL

-

https://www.thefamouspeople.com/profiles/henry-vii-33395.php

Last Updated

- August 14, 2017

---

---

---