Canaletto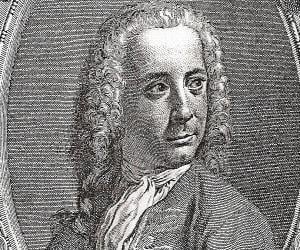 Quick Facts
Birthday: October 28, 1697
Nationality: Italian
Famous: Artists Italian Men
Died At Age: 70
Sun Sign: Scorpio
Also Known As: Giovanni Antonio Canal
Born in: Venice
Famous as: Painter
Family:
father: Bernardo Canal
mother: Artemisia Barbieri
Died on: April 19, 1768
place of death: Venice
Continue Reading Below
Italian painter Giovanni Antonio Canal who came to be known across the world by his nickname Canaletto was one of the most prolific artists of the 18th century. He made a name for himself as a supreme painter of cityscapes. Canaletto's father was a painter by profession as well and during his childhood in Venice he was trained by his father, before he went to work in Rome. However, after a short stint in Rome, he returned to Venice, learnt the nuances of topographical painting and drawing cityscapes from an older painter and started working with wealthy patrons who used to give him very lucrative commissions. One of the most remarkable works by Canaletto of his early years as a painter of cityscapes was 'The Stonemason's Yard' that showed the sort of vision that he had as a painter and over the years his work was punctuated with bold colours and attention for detail that made him very popular. His work became a huge draw among rich English gentleman of the era who bought his paintings when they were in Italy on holiday and it was due to this lucrative market that Canaletto even moved to England at one point in his career.
Recommended Lists:
Recommended Lists:
Continue Reading Below
Childhood & Early Life
Giovanni Antonio Canal or Canaletto was born on 17 October, 1697 in Venice, Italy to Bernardo Canal and his wife Artemsia Barbieri. Canaletto's father Bernardo Canal was a painter by profession and it was because of his father's surname that he was called Canaletto which literally means 'little Canal' in Italian.

For three years starting from 1716, Canaletto was taught the nuances of painting by his father Bernardo Canal in Venice and his brother helped him during these years as well.

He went to complete his education as a painter in Rome and in 1719, at the age of 22 he returned to Venice. In Rome, Canaletto was engaged in painting the scenes at an opera owned by one Alessandro Scarlatti.

Canaletto's biggest inspiration when he was a young man was Giovanni Paolo Panini of Rome, a renowned vedutista of the time. Canaletto however was fascinated by the topography of his surroundings and used the inspiration for his paintings.

Recommended Lists:

Recommended Lists:

Career

Canaletto's first known work is the 'Architectural Capriccio' which he completed in the year 1723. It was around this time that he started training under the painter Luca Carlevarjis, who was not a famous painter in his own right but taught the young Canaletto the intricacies of drawing cityscapes.

Canaletto got in touch with wealthy foreigners once he came back to Venice and his earliest works were commissioned by many of them. He completed some paintings for the Prince of Lichtenstein and in 1725 he completed another lucrative commission for a merchant named Stefano Conti.

Canaletto became an extremely busy painter quite early on in his career and according to art critics he produced his most important works around this time. One of his most significant paintings was 'The Stonemason's Yard' that he completed in 1729. The subject of the painting was a part of the city inhabited by working class people and was widely appreciated.

The wealthy English tourists who used to visit Venice were the most enthusiastic buyers of his work. Canaletto became a prosperous and popular painter whose work was appreciated outside his own country. The Englishmen remained his most important patrons right from his early days as a painter till the breakout War of Austrian Succession that started in 1740. Due to the significant drop in earnings, Canaletto made the decision of moving to London, England, six years after the start of the war.

Canaletto lived in England for nine years starting from 1746 and during that time he completed plenty of commissions from wealthy Englishmen who wanted paintings of their own castles. He was also well-known for painting the sights and sounds of London and the Westminster Bridge in particular was one of his favourite subjects.

Upon his return to Venice, Canaletto was made a member of the Venetian Academy in 1763. Canaletto remained an active painter till his last days.

Major Works

Canaletto produced a huge body of work throughout a career that spanned close to five decades and became very famous for his cityscapes. In this regard, his most important work is 'The Stonemason's Yard' which he painted in 1729 since it is the true embodiment of his rare talents as a topographical painter.

Achievements

Canaletto's paintings changed hands at astronomical sums long after his death. The painting 'View of the Grand Canal from the Palazzo Baibi to the Rialto' went for £18.6 million at an auction in the year 2005.

Personal Life & Legacy

Canaletto remained unmarried and there is no record of any romantic relationship that he might have had at any point in his life.

Canaletto died on 19 April, 1768 at the age of 70 in Venice at the house in which he had resided for a large part of his life.

Translate Wiki

to Spanish, French, Hindi, Portuguese

Article Title

- Canaletto Biography

Author

- Editors, TheFamousPeople.com

Website

- TheFamousPeople.com

URL

-

https://www.thefamouspeople.com/profiles/canaletto-6795.php

Last Updated

- October 26, 2017

---

---

---