C Thomas Howell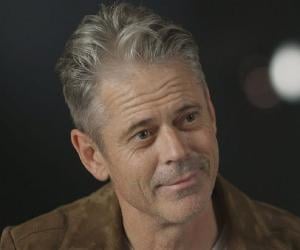 Quick Facts
Birthday: December 7, 1966
Nationality: American
Famous: Actors American Men
Age: 52 Years, 52 Year Old Males
Sun Sign: Sagittarius
Also Known As: Christopher Thomas Howell, Tommy Howell, Tom Howell
Born in: Van Nuys, Los Angeles, California
Famous as: Actor
Height: 5'11" (180 cm), 5'11" Males
Family:
Spouse/Ex-: Sylvie Anderson (1992–2015)
father: Chris N Howell
mother: Candice Howell
siblings: Candi Howell, John Howell, Stacy Howell
children: Dashiell Howell, Isabelle Howell, Liam Howell
U.S. State: California
City: Los Angeles
Continue Reading Below
C Thomas Howell is a renowned American actor and director. He caught the eye of audiences worldwide after starring in movies like 'E.T. the Extra-Terrestrial', 'Red Dawn', 'The Hitcher', 'Secret Admirer', and 'The Soul Man'. Perhaps his most famous role to date remains that of Ponyboy Curtis in the Francis Ford Coppola classic 'The Outsiders'. He has also directed several small budget movies like 'The Day the Earth Stopped', 'The Land That Time Forgot', and 'War of the Worlds 2: The Next Wave'. Howell has had an equally active career in television as well. He has been seen on TV series like 'Kindred: The Embraced', 'Amazon', 'Southland', and 'Stitchers'. He was also critically acclaimed for his performance as the Boston Reaper on the crime drama 'Criminal Minds'. He has recurring roles on popular TV shows like 'Ray Donovan' and 'SEAL Team'. The actor has also lent his voice to the character of Leonard Snart or Captain Cold in the video game 'Injustice 2'. Howell is also involved with charities and had directed the music video 'All the Same' by the band Lotus Crash to address the subject of homelessness in USA.
Recommended Lists:
Recommended Lists:
Continue Reading Below
Childhood & Early Life
Christopher Thomas Howell was born on December 7, 1966, in Van Nuys, California, USA, to Chris N Howell and Candice Howell, He has a brother John Howell and two sisters, Stacy and Candi.

His parents divorced when Howell was very young. He was raised by his mother primarily but also spent a large amount of his childhood with his father. He was inspired by his father who was a professional bull rider who later became a stunt coordinator.

Howell entered the entertainment industry through his father's connections and started acting at the young age of four. He was first seen in an episode of 'The Brian Keith Show'. He also became a bull rider and at the age of 12, won the 'California Junior Rodeo Association' championship.

He spent a lot of his childhood with his grandfather who took him for golfing. He got his nickname 'CT' from the initials of his actual name there. Howell went to 'Saugus High School' and later studied at 'The National Conservatory for Drama Arts'.

Recommended Lists:

Recommended Lists:

Film Career

C Thomas Howell made his acting debut in the episode 'The Little People' of 'The Brian Keith Show'. In 1982, he made his movie debut in the Steven Spielberg classic 'E.T. the Extra-Terrestrial'. The movie was the biggest blockbuster of the year.

There was no denying his talent and Howell was soon cast as Ponyboy Curtis in the coming-of-age movie 'The Outsiders' (1983). Starring alongside the likes of Tom Cruise, Diane Lane, and Patrick Swayze, he not only held his ground but became a teen heartthrob.

In 1984, C Thomas Howell went on to star in some of his best movies including, 'Grandview, U.S.A.', 'Tank', and 'Red Dawn'. His performances were praised by critics and audiences alike.

In 1985, he appeared in the movie 'Secret Admirer'. The movie was well received and the next year, Howell was cast in the lead role of Jim Halsey in the thriller 'The Hitcher'.

1986 turned out to be the beginning of the end of Howell's rise to superstardom. The reason was simply; the movie 'Soul Man'. He played a white student who took tanning pills to appear African-American to get a scholarship. The racist tone was severely criticized by everyone worldwide.

Although Howell never reached the heights his talents had once promised, he still continued to star in many movies. In 1988, he was seen in the movies 'A Tiger's Tale' and 'Young Toscanini'. The next year he was seen in the movie 'The Return of the Musketeers'.

From 1990 to 1993, C Thomas Howell made appearances in several small movies including 'Side Out', 'Breaking the Rules', and 'That Night'. His only critically successful movie was the American epic war film 'Gettysburg' (1993) in which he played Thomas Chamberlain. The movie was a commercial disaster.

Continue Reading Below

In the next few years, Howell continued to make movies but none achieved the success of his initial movies. Movies like 'Teresa's Tattoo' (1994), 'Payback', and 'Mad Dogs and Englishmen' in 1995 were moderately successful.

In 1996, he ventured into direction with the direct to video movie 'Pure Danger'. His most successful movies during the period were 'Matter of Trust' and 'Laws Of Deception' released in 1997.

From 1998 to 2000, Howell continued to appear in movies like 'Charades', 'The Crimson Code', and 'The Prince and the Surfer'. None of the movies were major successes.

Howell somewhat turned his movie career around in 2000 with 'The Million Dollar Kid'. His performance was praised and he continued to make appearances in movies like 'Asylum Days' and 'Asakari' in 2001.

In 2003, he was cast in the movies like 'Gods and Generals' and 'The Hitcher II: I've Been Waiting'. His upward journey continued with the biopic drama 'Hidalgo' (2004). It became one of his first movies in a long time to become a commercial blockbuster, grossing US$ 108.1 million.

He went on to create a nice niche for him in small-budget movies. His consistent performances in 'The Hillside Strangler' (2004), 'H. G. Wells' War of the Worlds' (2005), 'The Da Vinci Treasure' (2006), and 'Dead Letters' (2007) made him a household name in the industry.

2008 was a milestone year for C Thomas Howell as he went on to direct two consecutive 'mockbuster' movies including, 'War of the Worlds 2: The Next Wave' and 'The Day the Earth Stopped'. He also starred in 'Toxic' and 'The Grind'.

Continue Reading Below

From 2009 to 2012, he portrayed small roles in successful movies like 'American Pie Presents: The Book of Love' and 'The Amazing Spider-Man'.

Howell continued to act in smaller films in the next few years including 'Storm Rider' (2013), 'Confessions of a Womanizer' (2014), and voiced the character of Dr. Will Magnus in 'Justice League: Gods and Monsters' (2015).

In 2016, Howell was cast alongside Woody Harrelson in the biopic drama, 'LBJ', based on President Lyndon B. Johnson. The movie was one of the biggest commercial failures of his career in spite of the cast's acting being critically acclaimed universally.

In 2017, he was seen in movies like 'The Shadow People', 'The Rack Pack', and 'Beast Mode', etc. which were small movies.

Television Career

C Thomas Howell landed his first major role on the TV show 'Two Marriages' in the episode 'Relativity' in 1983. In the next few years, he made several appearances in shows like 'Nightmare Classics' (1989) and 'Kindred: The Embraced' (1996).

He was also cast in a number of TV movies including 'Acting on Impulse' (1993), 'Suspect Device' (1995), and 'Sealed with a Kiss' (1998).

Howell landed his first lead recurring role on the TV series 'Amazon' (1999–2000) where he played Dr. Alex Kennedy. He continued his success on shows like 'Summerland' (2004-2005), 'ER' (2005), and '24' (2006).

Continue Reading Below

From 2009 to 2013, he had the recurring role of the Boston Reaper in 'Criminal Minds' (2009–2013) and of Bill "Dewey" Dudek in the crime drama 'Southland'. Howell also made appearances on episodes of popular TV shows like 'Sons of Anarchy' and 'Blue Bloods', in 2013.

In the next few years, the actor was seen in recurring roles on TV series like 'Grimm' (2014), 'Girlfriends' Guide to Divorce' (2014–2015), and 'Stitchers' (2015–2017), all of which were incredibly well received by viewers.

Since 2017, Howell has been a recurring cast member of top rated shows like 'Ray Donovan' and 'SEAL Team'.

Major Works

Howell's portrayal as Ponyboy Curtis in the 'The Outsiders' is considered to be his best role to date. The role won him the 'Best Young Motion Picture Actor in a Feature Film' award at the 1984 'Young Artist Awards'.

'E.T. the Extra-Terrestrial' is also one of his highest grossing movies. Made on a budget of US$ 10.5 million, the movie went on to gross more than US$ 730 million.

Family & Personal Life

C Thomas Howell married his 'Soul Man' co-star, Rae Dawn Chong, on July 11, 1989. They divorced in 1990.

He married Sylvie Anderson in July 25, 1992, and the couple had three children: Isabelle, Dashiell, and Liam. Howell and Sylvie divorced in 2015

In 2000, he was on trial for allegedly accidentally hitting a skateboarder but the case was dismissed.

In 2003, he was treated for ruptured appendix.

Translate Wiki

to Spanish, French, Hindi, Portuguese

Article Title

- C Thomas Howell Biography

Author

- Editors, TheFamousPeople.com

Website

- TheFamousPeople.com

URL

-

https://www.thefamouspeople.com/profiles/c-thomas-howell-33557.php

Last Updated

- December 06, 2018

---

---

---