Butch Otter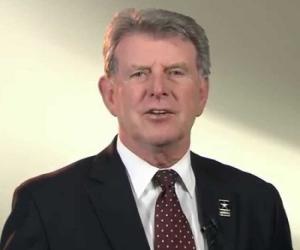 Quick Facts
Nationality: American
Famous: Political Leaders American Men
Age: 77 Years, 77 Year Old Males
Sun Sign: Taurus
Also Known As: Clement Leroy Otter
Born in: Caldwell, Idaho, United States
Famous as: Governor of Idaho
Family:
Spouse/Ex-: Lori Otter (m. 2006), Gay Simplot (m. 1964–1992)
father: Joseph Bernard Otter
mother: Regina Mary
children: Carolyn Otter, Corrine Inzer, John Otter, Kimberly Dawn Otter-Henderson
U.S. State: Idaho
More Facts
education: College of Idaho (1967), Boise State University, Saint Martin's University
Continue Reading Below
Clement Leroy "Butch" Otter is the 32nd Governor of Idaho and is currently serving his third consecutive term as governor. Otter has also been the longest serving Lieutenant Governor of Idaho with 14-year tenure. A member of the Republican Party, he is known to deviate from his party policies from time to time. He was one of the three Republicans who voted against USA Patriot Act in 2001. He also criticized the Bush Administration's domestic spying efforts. Coming from a poor family with limited opportunities, Otter has worked hard to achieve success. Before his rise to power, he served honorably in the military for five years and has worked in the agriculture business for 30 years. Otter, who was raised by hardworking parents, did odd jobs throughout his school years to get an education and refused to take up priesthood as a career choice. He was the first of his family to graduate from college and even made it to the dean's list in his last term. He has four children from his first marriage to Gay Simplot. He currently lives with his second wife, Lori, in their 70-acre ranch near Star, Idaho.
Recommended Lists:
Recommended Lists:
Continue Reading Below
Childhood & Early Life
Butch Otter was born on May 3, 1942 in Caldwell, Idaho in a poor Catholic family. He is the sixth of Joseph Bernard Otter and Regina Mary's nine children.

His father worked as a journeyman electrician while his mother ran a farm. The family travelled constantly, for which reason Otter had to attend 15 different schools during his childhood.

During his school days, Otter didn't get good grades and thought that he would have to settle for a blue-collar job. He sometimes worked as a janitor, theater ticket taker and lawn boy during his school years.

Determined to get an education, he graduated from St. Teresa's Academy (Bishop Kelly High School) in 1962, at the age of 20, despite a family accident that forced him to take a year off. After school, he briefly attended St. Martin's Abbey in Lacey, Washington, but decided against becoming a priest.

He eventually returned to Idaho to attend Boise Junior College. He completed his bachelor's degree in political science from the College of Idaho in 1967.

Recommended Lists:

Recommended Lists:

Professional Career

After his marriage in 1964, Butch Otter started working in his father-in-law J.R. Simplot's agribusiness corporation. Despite the fact that Simplot was a billionaire businessman and Otter a poor man, they got along well with each other as Simplot also grew up poor and never finished the eighth grade.

Otter started at the bottom of the company, doing menial job in Simplot Caldwell Potato Plant. However, within four years of getting his bachelor's degree, Otter was promoted to the position of vice-president of J.R. Simplot Company. In 1979, he became president of Simplot International. During this time, he traveled to nearly 80 countries to promote the company.

Before starting his political career, he also served in the military from 1968 to 1973. He was part of the Idaho Army National Guard's 116th Armored Cavalry.

Political Career

Butch Otter's political career started in 1969 when he was appointed assistant secretary and parliamentarian of the Idaho Senate. In 1972, he was elected a member of the Idaho State House of Representatives from Canyon County. He would later be re-elected to the Idaho House in 1974 and 1976.

He first made a long-shot attempt to be Governor of Idaho in 1978. Even though he could not win the Republican primary, he ranked a close third with 26.0% of the vote.

He was elected Lieutenant Governor of Idaho in 1986 and served a record 14 years in that post. During his tenure, he served under three different governors. He left the post in 2001 without completing his fourth term to take his Congressional seat.

His position as the Lieutenant Governor made him a favorite in the Republican primary to represent Idaho's 1st Congressional District in the U.S. House in 2001. He won the seat easily and kept his position till 2007.

Continue Reading Below

In 2006, Otter won the Republican primary with 70% of the vote and defeated Democrat Jerry Brady in the November 7 general election for the Governor of Idaho. He assumed office in January 2007 and has since been re-elected twice in 2010 and 2014.

He is currently serving his third consecutive term as Governor of Idaho. Most recently, he has been named as a possible nominee for United States Secretary of Agriculture in the Donald Trump administration.

Major Works

During his tenure as a Congressman, Butch Otter voted against the Patriot Act in 2001. He also voted against allowing electronic surveillance without a warrant.

He is known for his educational reforms. During his first term as the governor, he increased state educational funding by $1.36 billion. During his second term, he took aggressive measures to revamp the state's entire educational process.

Awards & Achievements

Butch Otter has been elected as the Lieutenant Governor of Idaho four times in a row. His 14-year tenure is the longest streak in the history of Idaho.

He has been elected Governor of Idaho three times consecutively. He is the third Catholic to serve as Governor of Idaho.

Personal Life & Legacy

Butch Otter's first marriage was in 1964 to Gay Simplot, the only daughter of J. R. Simplot. They have four children, three daughters and a son, and seven grandchildren. Otter separated from his first wife in 1992, after 28 years of marriage. The Catholic Church annulled their marriage before Otter married for a second time.

He married his longtime girlfriend Lori Easley on August 18, 2006, in Meridian. Lori is a former Miss Idaho USA and an educator. The two met while Lori was running for the beauty pageant in 1991. Otter faced criticism from social conservatives because of the fact that Lori is 25 years younger to him.

Trivia

His first name, Clement, got him into trouble when the children in his school started to call him "Clem" Kadiddlehopper, a village-idiot character created by comedian Red Skelton. This got him involved in a few schoolyard fights which resulted in his new nickname "Butch".

In 1960, during a poll, every kid in his Catholic school had voted for Democratic president Kennedy. After getting his voting rights in 1964, Otter even went to register as a Democrat. However, an acquaintance from the Republican booth urged him to take their pamphlets. It was after reading 'The Conscience of a Conservative', by Barry Goldwater, that Otter finally decided to vote for the Republican candidate.

The year 1992 was very eventful for Otter; he who won "Mr. Tight Jeans" contest in July, was convicted of driving under the influence of alcohol in August, and was separated from his wife in November. Otter himself is most embarrassed about the DUI, for which he was fined, got his driving license revoked, and was sentenced to 72 hours of community service and 16 hours at an alcohol treatment program.

Translate Wiki

to Spanish, French, Hindi, Portuguese

Article Title

- Butch Otter Biography

Author

- Editors, TheFamousPeople.com

Website

- TheFamousPeople.com

URL

-

https://www.thefamouspeople.com/profiles/butch-otter-29720.php

Last Updated

- January 19, 2017

---

---

---