Brooke Shields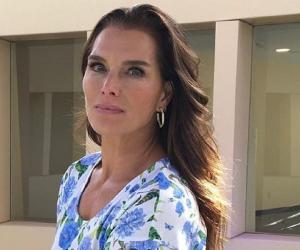 Quick Facts
Nationality: American
Age: 53 Years, 53 Year Old Females
Sun Sign: Gemini
Also Known As: Brooke Christa Shields
Born in: Manhattan
Famous as: Actress and Model
Height: 6'0" (183 cm), 6'0" Females
Family:
Spouse/Ex-: Andre Agassi, Chris Henchy
father: Francis Alexander Shields
mother: Teri Shields
siblings: Christina Shields, Marina Shields, Olympia Shields
children: Grier Hammond Henchy, Rowan Francis Henchy
Diseases & Disabilities: Depression
City: New York City
U.S. State: New Yorkers
More Facts
education: Princeton University, New Lincoln School, Dwight-Englewood School
Continue Reading Below
Brooke Shields is an American actress and model, who is without doubt one of Hollywood's most iconic personalities on the back of the films in which she acted in and also because of her glamorous career as a model of the very highest order. Her mother was an actress in her own right and she was the one who made sure that Brooke Shields became the glamorous diva that she was, at an incredibly early age. Shields started working when she was a child. She was not the conventional child actor who was only cast in roles of innocent children, but in roles that raised a lot of controversy when she was barely into her teens. On the other hand, it is also important to keep in mind that although Brooke Shields more famous for her career in films and TV, she was also one of the biggest models of her time when she was a teenager. Her face used to be splashed across the leading magazines and she used to be part of marketing campaigns of top drawer brands. In spite of all the controversies that plagues her career both on the professional and personal front, Brooke Shields continued to reinvent herself throughout her life.
Recommended Lists:
Recommended Lists:
Continue Reading Below
Childhood & Early Life
Brooke Christa Shields was born to Teri Schmonn and Francis Alexander Shields on May 31, 1965 in New York City. Her mother was an actress while her father was a businessman whose family had ties to the noble families in Italy. In fact, her father's mother was a princess named Donna Marina Torlonia.

Brooke Shields' parents divorced when she was five months old. Shields lived with her mother and her mother had decided that she was going to make sure that her daughter ended up being an actress.

Brooke Shields started off as a child actress and model very early on and appeared in her first commercial when she was 11 months old. Shields appeared in a film for the first time at the age of 12 in the film 'Pretty Baby' and soon after she was signed up by the Ford Modelling Agency.

She appeared on the cover of Vogue magazine as a 14 year old in 1980 and followed it up with a famous advert for Calvin Klein. By now Shields had become a teenage sensation and was sought after by the biggest brands and reportedly her remuneration stood at $10000 per day at the age of 16.

Shields was admitted to the New Lincoln School in New York City but later moved on to the Dwight-Englewood School located in New Jersey, since she lived with her mother in New Jersey during the major part of her childhood. She graduated in the year 1983.

Brooke Shields was a good student and upon graduating from high school she went to the prestigious Princeton University located in New Jersey. She studied French literature and completed her bachelor's degree in 1987.

Continue Reading Below

Recommended Lists:

Recommended Lists:

Career

Brooke Shield's very first outing in the film 'Pretty Baby' at the age of 12 created a furore since she had to play the role of a child prostitute. Next year she starred in another film 'Wanda Nevada' which proved to be tepid in comparison and her career was finally launched without any controversy in 1979 at the age of 13.

Along with acting in movies Brooke Shields had also become a well-known model by the time she was a teenager and in 1980 she starred in the film 'Blue Lagoon', which without doubt remains the most famous movie of her career. The film turned her into an overnight star and although there was some controversy regarding the nude scenes, Shields later admitted that body doubles were used.

In 1981, Brooke Shields starred in 'Endless Love', a romantic film that was initially given an X-rating but later on the producers of the film decided to edit it so that an R-rating could be obtained. The film was successful and Shields won plenty of awards and became one of the most recognisable young faces in Hollywood.

Shields is also a popular TV star and her first TV appearance was at the age of 15 when she made an appearance on 'The Muppet Show'. In 1996, she was cast in a major role for the series 'Saturday Susan' and her work was praised by critics. On the other hand, Shields has been cast in guest appearances in some of the leading shows of 1990s and early 2000s like 'Friends', 'That 70s Show' and 'Two and a Half Men'.

In 2007, she made a guest appearance on TV show 'Hannah Montana' and in 2008, she was cast in the show 'Lipstick Jungle' cast her but the show ended after one more season.

In 2010 and 2012, she made intermittent guest appearances in the show 'The Middle'. In 2012, she also featured in the American genealogy documentary series 'Who do you think you Are?' where it was revealed that she is a distant cousin of King Louis XIV of France.

Continue Reading Below

Recommended Lists:

Recommended Lists:

Major Works

Brooke Shields is without doubt one of Hollywood's most famous stars and although her career as a movie star did not really take off; it must be said that the movie 'Blue Lagoon' which released in 1980 broke new ground in the industry. The film is without doubt one of the greatest accomplishments in Shields' career.

Recommended Lists:

Recommended Lists:

Awards & Achievements

Brooke Shield was awarded with the People's Choice Award four times on the trot starting from 1981 in the category of favourite young performer.

Recommended Lists:

Recommended Lists:

Personal Life & Legacy

Brooke Shields had a string of relationships with plenty of famous men during her teenage years and early 20s. She had a relationship with the likes of Liam Neeson, George Michael, Prince Naruhito , John Travolta and Dodi Fayed.

On April 19, 1997 she got married to tennis ace Andre Agassi but the marriage ended in a divorce two years later.

She got married to Chris Henchy in April 2001 and the couple has two daughters.

Net Worth

Brooke Shields has an estimated net worth of $25 million.

1. The Muppets Take Manhattan (1984)

(Comedy, Romance, Adventure, Family, Musical, Drama)

2. Pretty Baby (1978)

(Drama)

---

3. Communion (1976)

(Mystery, Horror, Thriller)

4. Freeway (1996)

(Crime, Thriller, Comedy, Drama)

---

---

5. King of the Gypsies (1978)

(Drama)

6. Michael Bolton's Big, Sexy Valentine's Day Special (2017)

(Musical, Comedy, Music, Romance)

---

---

---

7. The Other Guys (2010)

(Comedy, Action, Crime)

8. Just You and Me, Kid (1979)

(Comedy)

---

---

---

---

| | | |
| --- | --- | --- |
| 1997 | Favorite Female Performer in a New Television Series | Winner |
| 1984 | Favorite Young Motion Picture Performer | Winner |
| 1983 | Favorite Young Motion Picture Performer | Winner |
| 1982 | Favorite Young Motion Picture Performer | Winner |
| 1981 | Favorite Young Motion Picture Performer | Winner |

Translate Wiki

to Spanish, French, Hindi, Portuguese

Article Title

- Brooke Shields Biography

Author

- Editors, TheFamousPeople.com

Website

- TheFamousPeople.com

URL

-

https://www.thefamouspeople.com/profiles/brooke-shields-6733.php

Last Updated

- September 18, 2017

---

---

---