Brooke Hogan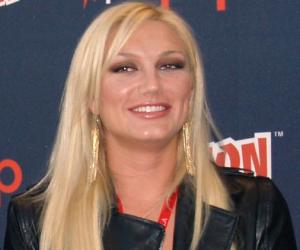 Quick Facts
Nationality: American
Age: 30 Years, 30 Year Old Females
Sun Sign: Taurus
Also Known As: Brooke Ellen Bollea
Born in: Tampa, Florida, United States
Famous as: Reality TV Star
Height: 1.80 m
Family:
father: Hulk Hogan
mother: Linda Hogan
siblings: Nick Hogan
U.S. State: Florida
More Facts
education: Clearwater Central Catholic High School
Continue Reading Below
Brooke Hogan is an American reality television star, singer, actress, and professional wrestler. Daughter of the famous wrestler, Hulk Hogan, Brooke gained immense popularity for her television series, 'Hogan Knows Best'. The series starred Brooke and her family and showed her struggles and family life. She gained immense popularity with her first studio album, 'Undiscovered', that was released in 2006. Following family problems, the series 'Hogan Knows Best' had to discontinued but this led to the new series, 'Brooke Knows Best'. This was also a great commercial success. She also tried her hands in wrestling. Ambitious and energetic, Brooke explored various fields to display her talent and skills. She has also appeared in several low-budget movies and television shows. Her second studio album, 'The Redemption', released in 2009, did not have the same success as its predecessor. Currently, Brooke Hogan is working on her new EP consisting of country music.
Recommended Lists:
Recommended Lists:
Continue Reading Below
Childhood & Early Life
Brooke Hogan was born to the well-known wrestler, Hulk Hogan and Linda Claridge on May 5, 1988 in Tampa, Florida. She has a younger sibling, Nick Hogan, who is also an actor.

Right from an early age, she was inclined towards music and dance. While she was in high school, she went for dance classes and piano lessons. She also learnt gymnastics.

She was part of the cheerleading squad of the Cleanwater Central Catholic High School, where she studied only for the first half of the freshman year. She sang inhibitor chorus here.

Recommended Lists:

Recommended Lists:

Career

Brooke Hogan started her career in 2002 as she signed with Trans Continental Records. The album's song 'Everything to Me', released in July 2004, was an instant hit. It ranked in the top position on the Hot Singles Sales chart in the United States. It also secured 97th slot on the Billboard Hot 100.

From mid to late 2004, she partnered with Hilary Duff for 'Most Wanted Tour' and toured throughout the United States. During the same period, she also toured with the Backstreet Boys on their Up Close & Personal Tour.

She appeared in one-hour long television special '(Inside) Out: Hulk Hogan, Stage Dad' with her father. The special showed Brooke's preparation for her debut album and her father's role in the preparation. This was an instant hit and gave the intended boost to Brooke's upcoming music career.

The success of the special session paved the way to an entire television series, titled 'Hogan Knows Best' in July 2005. The show won huge rating and was based on the family life of Brooke Hogan. In the show, Hulk was shown as a strict father keeping a check on his daughter's movement by placing a GPS tracker on her vehicle. He was strict with her dating but after her 18th birthday, he loosened up.

In 2006, Brooke Hogan became the first artist to sign with the Scott Storch's label, Storch Music Company (SMC).

The lead song from Brooke's album, 'About Us' premiered on the finale of 'Hogan Knows Best: Season 2'. It soon became popular among the masses and secured 33rd position on the Billboard Hot 100 chart.

She released her album 'Undiscovered' on October 24, 2006 in the United States and Canada. Though the album sold only 127,000 copies in the United States, it featured on the top slot of the Independent Albums chart in the US. It was also on 28th position on the Billboard 200.

Continue Reading Below

In November 2006, Brooke appeared on the cover page of FHM to promote her album.

In 2007, she released her second single titled 'Heaven Baby', featuring Beenie Man. She also released a promotional single from the album and called it 'For A Moment'. This had clippings from the third and fourth seasons of 'Hogan Knows Best'. In August 2007, she declared that she would be moving from SMC and would be signing a dual contract with Fontana Records and SoBe Entertainment.

Another major turn in Brooke's career was the discontinuation of 'Hogan Knows Best' series because of internal family issues. This happened while she was working on her second album. Some time later, VH1 approached her to sign for her own series, 'Brooke Knows Best'.

The series, 'Brooke Knows Best' started on July 13, 2008 and ended in 2009 after two seasons. The series showed the struggles of Brooke, her music career, the problems she faced when her parents divorced and when her brother was arrested in a car crash in which he permanently injured his friend.

Brooke Hogan released the lead single 'Falling' of her second album 'The Redemption' on March 31, 2009. Consequently, she released another single, 'Hey Yo!' and a mixtape, 'Judgement Day'. Upon its release in the US and Canada on July 21, the album 'The Redemption' rose to 27th position on the Independent Albums chart and 144th position on the Billboard 200.

Her third album, 'I Wana Be Your Girlfriend', was released on September 4, 2015. She also released a non-album single, 'Taste Like Summer' in 2017.

She made her film debut in late 2009 with a low-budget movie, 'Little Hercules in 3D'. She appeared as Sandy Powers in 'Sand Sharks' (2011), Britney Baer in 'Devour' (2012), and Kate in '2-Headed Shark Attack' (2012). She appeared in some other films as well like 'Skum Rocks!', 'Vengeance Wears A Skirt', 'School of the Dead', 'L.A. Slasher', and 'Give Me My Baby'.

Continue Reading Below

Her major television ventures include 'Scare Tactics' (2012), 'China, IL' (2012), 'Impact Wrestling' (2012-2013), and 'Glow' (2017).

Brooke Hogan had a brief wrestling career. She appeared on the episode of 'Saturday Night's Main Event' that aired on July 15, 2006. She appeared on Total Nonstop Action Wrestling Thursday episodes throughout the mid of 2012 where she promoted female's wrestling division.

Recommended Lists:

Recommended Lists:

Major Works

Brooke Hogan found immediate success with her first album, 'Undiscovered', that was released in 2006. The lead single 'About Us' from the album was an instant hit.

Her most remarkable work was the television series, 'Hogan Knows Best' and its sequel, 'Brooke Knows Best'. Both the series showed the life and struggles in the life of Brooke and gained high ratings.

Though her second album, 'The Redemption' was not as successful as her first album, yet it scored 27th position on the Independent Albums chart by selling 3,381 copies in its first week.

Recommended Lists:

Recommended Lists:

Awards & Achievements

Brooke Hogan is the first artist to be signed to Storch Music Company. The lead single 'About Us' from her first album 'Undiscovered' gained high ratings and bagged 33rd position on the Billboard Hot 100..

Recommended Lists:

Recommended Lists: