Brian Dennehy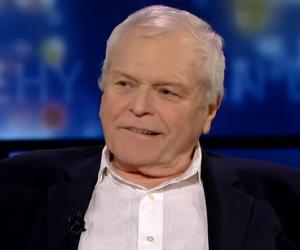 Quick Facts
Nationality: American
Famous: Actors American Men
Age: 80 Years, 80 Year Old Males
Sun Sign: Cancer
Also Known As: Brian Manion Dennehy
Born in: Bridgeport, Connecticut
Famous as: Actor
Height: 6'3" (190 cm), 6'3" Males
Family:
Spouse/Ex-: Jennifer Arnott (m. 1988), Judith Scheff (m. 1959–1974)
father: Edward Dennehy
mother: Hannah (Mannion)
children: Cormack Dennehy, Deirdre Dennehy, Elizabeth Dennehy, Kathleen Dennehy, Sarah Dennehy
U.S. State: Connecticut
Continue Reading Below
Veteran Hollywood actor Brian Manion Dennehy is one of the most respected ones in the American entertainment industry. He first got recognition when he played the negative role of 'Sheriff Will Teasle' in the movie 'First Blood', the first film of the 'John Rambo' series, starring Sylvester Stallone as the lead character. The actor soon became known for his wide range of acting skills and is regarded as one of best actors in the genre of drama. He has also featured in several comic roles. Over the course of his four-decade long career, he has played significant roles in numerous films like 'Gorky Park', 'Silverado', 'Cocoon', 'Cocoon: The Return', 'Gladiator', 'Romeo + Juliet', and 'Knight of Cups'. The versatile actor has a lengthy career on television too, appearing in several television movies and shows including 'Johnny, We Hardly Knew Ye', 'It Happened at Lakewood Manor', 'Pearl', and 'Big Shamus, Little Shamus.' Dennehy has been decorated with several prestigious awards in recognition of his contribution to the entertainment industry.
Recommended Lists:
Recommended Lists:
Continue Reading Below
Childhood & Early Life
Brian Manion Dennehy was born in Bridgeport, Connecticut, on July 9, 1938, to Hannah Dennehy and Edward Dennehy. His father worked as Associated Press's wire service editor.

As a young boy Dennehy moved to Long Island, New York with his parents and his two brothers, Michael and Edward. There he attended Chaminade High School.

After his high school years he received a football scholarship from the Columbia University in New York City. He received his bachelor's degree in arts and later graduated in dramatic arts from the Yale University. He was a member of 'Sigma Chi' fraternity and also played rugby union for Old Blue RF.

Recommended Lists:

Recommended Lists:

Career

After completing his education, Brian Dennehy started working as a stockbroker for Merrill Lynch in Manhattan during the mid-1970s. Later, he shifted his focus towards the show business.

His debut film was 'Semi-Tough', an American comedy film directed by Michael Ritchie in 1977, in which he played the role of 'T.J. Lambert'. He also appeared in two more films, 'Looking for Mr. Goodbar' and 'Bumpers' the same year.

He made his television debut in 'Kojak' as 'Peter Connor' in 1977. He also appeared in several other television shows and television films that year, including 'Serpico', 'Johnny, We Hardly Knew Ye', 'It Happened at Lakewood Manor', 'Police Woman', 'Lou Grant', and 'The Fitzpatricks'.

Dennehy landed his first big role in 1982 when he portrayed the role of 'Sheriff Will Teasle' in the first part of the "John Rambo" series, 'First Blood'. The movie was a huge commercial hit and Dennehy's negative role was appreciated by the critics and the audience.

In 1985, he appeared in 'Silverado', an American western film produced and directed by Lawrence Kasdan, portraying the character of 'Sheriff Cobb.' Later in that year, he played an alien named 'Walter' in the American science-fiction fantasy comedy-drama film 'Cocoon'.

Dennehy delivered some supporting roles in popular movies like the American legal crime comedy film 'Legal Eagles', the action-thriller film 'F/X', the legal drama 'Presumed Innocent', and the movie 'Prophet of Evil'. He also featured in the lead roles in films like the 1987 crime thriller film 'Best Seller' and the 1987 drama film 'The Belly of an Architect' alongside Chloe Webb.

During the 1980s and 1990s, he appeared in several television films and shows in guest appearances. These included 'A Rumor of War', 'Skokie', 'Split Image', 'Day One', 'A Killing in a Small Town', and 'Teamster Boss: The Jackie Presser Story'.

Continue Reading Below

Dennehy appeared in several television movies for which he was nominated several times for the Primetime Emmy Awards. He appeared in 'To Catch a Killer' as 'John Wayne Gacy' and was nominated for the 'Outstanding Lead Actor in a Miniseries or TV Movie.'

His performance in 'The Burden of Proof' in 1992 was much appreciated. He then appeared in the television movies 'A Killing in a Small Town', 'Murder in the Heartland', 'Our Fathers' and 'Death of a Salesman' for which he was nominated for the 'Emmy for Outstanding Lead Actor in a Miniseries or TV Movie'.

Dennehy went on to act in several other movies and television shows like 'Righteous Kill', 'Alleged', 'Law and Order: Special Victims Unit', 'Masters of Science Fiction', 'The Next Three Days', and 'The Challenger.'

Dennehy has been a very popular figure in the theater industry throughout his career. He has won two Tony Awards for 'Best Lead Actor in a Play' for his stellar performances in 'Death of a Salesman' and 'Long Day's Journey into Night'. He has also been a very busy Broadway artist, acting in shows like 'Translations', 'Inherit the Wind', and 'Desire Under the Elms'.

Recommended Lists:

Recommended Lists:

Major Works

Brian Dennehy got his first big break in the film industry in 1982, playing the overzealous 'Sheriff Will Teasle' opposite Sylvester Stallone's lead character 'John Rambo' in the movie 'First Blood'. His character portrayal was praised by the critics as well as the audience and helped him gain a firm foothold in the industry.

He appeared in both the Broadway version of Arthur Miller's 'Death of a Salesman' as well as the television movie adaption of it. He was nominated for the Primetime Emmy Award for 'Outstanding Lead Actor in a Miniseries or TV Movie' and later won a Tony Award for his performance of the play on Broadway. He also won a Laurence Olivier Award for the play's London show.

Personal Life

Brian Dennehy once infamously lied about serving in the Vietnam War as he was enlisted in the United States Marine Corps in 1958. But he later apologized in an interview for the lie after the author of 'Stolen Valor' dismissed his claim and demanded a reply in a mail.

He married Judith Scheff in 1959 and had three children before divorcing her in 1974. He later married Jennifer Arnott on 17 July 1988 and has two children with her.

1. First Blood (1982)

(Adventure, Action, Drama)

2. Never Cry Wolf (1983)

(Adventure, Drama)

---

3. The Next Three Days (2010)

(Romance, Drama, Thriller, Crime)

4. The Ultimate Gift (2006)

(Drama, Family, Romance)

---

---

5. Foul Play (1978)

(Thriller, Mystery, Comedy)

6. Gorky Park (1983)

(Thriller, Drama, Crime, Mystery)

---

---

---

7. Split Image (1982)

(Drama, Romance)

8. Silverado (1985)

(Western, Drama, Crime, Action, Romance)

---

---

---

---

| | | |
| --- | --- | --- |
| 2001 | Best Performance by an Actor in a Miniseries or Motion Picture Made for Television | Death of a Salesman (2000) |

Translate Wiki

to Spanish, French, Hindi, Portuguese

Article Title

- Brian Dennehy Biography

Author

- Editors, TheFamousPeople.com

Website

- TheFamousPeople.com

URL

-

https://www.thefamouspeople.com/profiles/brian-dennehy-30782.php

Last Updated

- May 15, 2018

---

---

---