Baz Luhrmann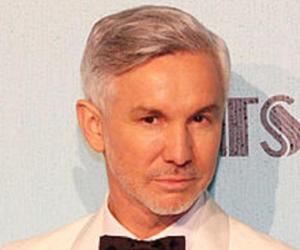 Quick Facts
Birthday: September 17, 1962
Nationality: Australian
Famous: Directors Australian Men
Age: 56 Years, 56 Year Old Males
Sun Sign: Virgo
Also Known As: Mark Anthony Luhrmann
Born in: Sydney
Famous as: Film Director
Height: 1.7 m
Family:
Spouse/Ex-: Catherine Martin
father: Leonard Luhrmann
mother: Barbara Luhrmann
children: Lillian Amanda Luhrmann, William Alexander Luhrmann
City: Sydney, Australia
More Facts
education: National Institute of Dramatic Art, University of New South Wales
Continue Reading Below
Baz Luhrmann is an Australian writer, filmmaker, and producer. Over the course of his nearly four-decade long career, he has been involved in projects spanning the film, television, opera, theatre, music, and recording industries. He is considered to be a modern example of an auteur as he maintains a distinctive style in all his works. A native of Sydney, Luhrmann started acting while he was still in high school, in a production of Shakespeare's 'Henry IV, Part 1'. In 1981, he made his screen debut in the romance drama 'Winter of Our Dreams'. As an actor, he is predominantly known for the 1982 film 'The Highest Honor', in which he worked with Steve Bisley and Stuart Wilson. He is also a prominent figure in the Australian theatre scene, having performed in plays, such as 'All's Well That Ends Well', 'Funeral Games', and 'Holiday Makers'. However, he has been far more successful behind the camera with his Red Curtain Trilogy, which consists of his romantic comedy film 'Strictly Ballroom', the romantic tragedy 'William Shakespeare's Romeo + Juliet', and 'Moulin Rouge!'. Luhrmann has also been credited for creating stage productions of Giacomo Puccini's 'La bohème' for both the Australian Opera and Broadway and 'Strictly Ballroom the Musical'. He set up his own record label, House of Iona, in collaboration with RCA Records sometime in the late 1990s.
Recommended Lists:
Recommended Lists:
Continue Reading Below
Childhood & Early Life
Baz Luhrmann was born as Mark Anthony Luhrmann on September 17, 1962, in Sydney, Australia to Barbara Carmel (née Brennan) and Leonard Luhrmann. His father operated a petrol station and later a movie theatre in the country town of Herons Creek while his mother ran a dress shop and taught ballroom dancing.

Luhrmann spent the early years of his life in Herons Creek, growing up alongside his two brothers, Brett and Chris. His father's work at the movie theatre gave him the chance to watch good films for free. This played an influential role in the development of his love for cinema.

While he was still a child, his parents divorced, and Luhrmann, along with his mother and brothers, went back to live in Sydney.

It was his father who gave him the nickname "Baz" due to his afro style hair, after the popular British fictional anthropomorphic fox, Basil Brush. When he was in high school, he legally got his name changed to Bazmark, joining together his nickname and his given first name.

He studied at St Joseph's Hastings Regional School in Port Macquarie from 1975 to 1978 and later attended St Paul's Catholic College, where he participated in a production of Shakespeare's 'Henry IV, Part 1'.

He subsequently enrolled at Narrabeen Sports High School, where he became acquainted with his future collaborator Craig Pearce. Luhrmann graduated high school in 1980.

In 1983, he enrolled at the National Institute of Dramatic Art (NIDA) to do an acting course. He had the likes of Sonia Todd, Catherine McClements and Justin Monjo as his batch mates. They eventually graduated from NIDA in 1985.

Recommended Lists:

Recommended Lists:

Film Career

Baz Luhrmann started off in the entertainment industry as an actor. His first cinematic appearance was in the 1981 romance drama 'Winter of Our Dreams'. Portraying a street rat named Pete, Luhrmann held his own against two of the biggest stars in contemporary Australian cinema, Judy Davis and Bryan Brown.

He then landed a minor role as a film student in the 1982 thriller 'The Dark Room'. The film was directed by Paul Harmon, the son of Bill Harmon.

He appeared in the war drama 'The Highest Honor' (1982), which was a film based on the Operation Jaywick and Operation Rimau by Z Special Unit during the World War II. Luhrmann was cast as Able Seaman A. W. Huston in what was to be his last film as an actor beyond the sporadic cameos in his own films.

Luhrmann's first film as a writer and director was the 1992 romantic comedy 'Strictly Ballroom'. This was the first movie in his Red Curtain Trilogy of theatre-motif-related films.

Luhrmann collaborated on the screenplay with Craig Pearce and Andrew Bovell and the said screenplay was based on Luhrmann's 1984 critically acclaimed play of the same name. He wrote it during his time as a student at the National Institute of Dramatic Arts in Sydney.

The film starred Paul Mercurio, Tara Morice, Bill Hunter, and Pat Thomson and had music composed by David Hirschfelder. It was a massive critical and commercial success. Made on an AUD 3 million budget, it earned AUD 80 million. Furthermore, it won multiple awards, including the BAFTA Film Awards for Best Costume Design, Best Original Film Score, and Best Production Design in 1993.

Luhrmann himself received AFI Awards for Best Director and Best Screenplay in 1992 and the ALFS Award for Newcomer of the Year in 1993.

Continue Reading Below

After the massive success of 'Strictly Ballroom', Hollywood came calling. In 1996, he made 'Romeo + Juliet', a modern adaptation of Shakespeare's play. Leonardo DiCaprio and Claire Danes were cast in the leading roles of Romeo and Juliet. The second film in the Red Curtain Trilogy, it earned Luhrmann BAFTA Awards for Best Direction and Best Adapted Screenplay. It achieved prominent success at the box office as well, accumulating $147.5 million.

Luhrmann's most ambitious and biggest film to date was the 2001 musical drama 'Moulin Rouge!' It was the third and the final film in his Red Curtain Trilogy and starred Nicole Kidman and Ewan McGregor. Set in the year 1900, the plot of the film develops in the musical landscape of the Montmartre Quarter of Paris, France.

The film earned over $179 million at the box office and won multiple awards, including the Academy Awards for Best Costume Design and Best Art Decoration. Luhrmann and Kidman were nominated for the Oscar for Best Picture and Best Actress, respectively.

'Moulin Rouge!' was the first musical since Disney's animated film 'Beauty and the Beast' (1991) to be nominated for Best Picture Oscar. According to a BBC's poll conducted in 2016, the movie ranked 53rd among the greatest films since 2000. It also earned Luhrmann the Golden Globe Award for Best Motion Picture – Musical or Comedy in 2001.

After 'Moulin Rouge!', Luhrmann returned to his native country to make the 2008 Australian-British-American romantic historical adventure drama film 'Australia'. Starring Hugh Jackman and Nicole Kidman, the film is formatted as a biography and the narrative is set between 1939 and 1942 against a dramatized backdrop of what was happening in northern Australia at the time.

The film turned out to be the third-highest grossing film in the history of Australian cinema, after 'Crocodile Dundee' (1986) and 'Mad Max: Fury Road' (2015). It won the Satellite Awards for Best Art Direction and Production Design, Best Cinematography, and Best Visual Effects. The film also received an Oscar nomination for 'Best Costume Design'.

Luhrmann's latest cinematic project is the 2013 romance drama 'The Great Gatsby'. Based on F. Scott Fitzgerald's 1925 novel of the same name, the film starred DiCaprio as the eponymous character, Tobey Maguire as Nick Carraway, Carey Mulligan as Daisy Buchanan, Joel Edgerton as Tom Buchanan, and Amitabh Bachchan as Meyer Wolfsheim.

Continue Reading Below

The film garnered mixed reviews and polarized critics on their opinions about the acting performances, soundtrack, visual style, and direction. On the other hand, it was the biggest box-office success in Luhrmann's career. Made on a $190 million budget, the film brought in $353.6 million.

Television Career

Baz Luhrmann made his debut on television in the multi-Logie award-winning Australian television soap opera/serial drama 'A Country Practice'. Appearing in four episodes, he portrayed the role of Jerry Percival between 1981 and 1982. He was also featured in the 1983 television documentary 'Kids of the Cross'.

Luhrmann returned to television in 2016 as the co-creator of the musical drama television series 'The Get Down'. The six-episode first part of the show premiered globally on Netflix on August 12, 2016.

The show chronicled the rise of the disco and R&B genres of music in the late 1970s' South Bronx region of New York City. It received positive reviews from the critics and the audience response was very encouraging as well.

A five-episode second part was streamed on April 7, 2017, marking the conclusion of the series. At the 2017 MPSE Golden Reel Awards, 'The Get Down' won the Best Music Editor – Television Short Form award for music producer Jamieson Shaw's work on the show.

Theatre Career

In 1982, Baz Luhrmann used the money he had gotten from the few films and TV shows he had appeared in to establish his own theatre company, which he named The Bond Theatre Company. He worked here with some of his future collaborators, such as Nelly Hooper and Gabrielle Mason. The Pavillion at Sydney's Bondi Beach served as their venue.

Between 1982 and 1989, Luhrmann appeared in 12 plays. These included the productions of 'Are You Lonesome Tonight?' (1982), Maxim Gorky's 'Holiday Makers' (1984), Shakespeare's 'All's Well That Ends Well' (1984), August Strindberg's 'Dreamplay' (1985), Moss Hart and George S. Kaufman's 'Once in a Lifetime' (1985), 'Crocodile Creek' (1986), and 'The Conquest of the South Pole' (1989).

Continue Reading Below

In 1990, Luhrmann staged a production of Puccini's 'La bohème' at Opera Australia in Sydney. He brought the play to Broadway in 2002. In 1993, he directed Benjamin Britten's operatic version of 'A Midsummer Night's Dream' for the Australian Opera.

Other Ventures

In 2004, three years after the release of 'Moulin Rouge!', Luhrmann developed a 180-second short film titled 'Chanel N°5: The Film' for Chanel. The project, which was intrinsically inspired by the film, reunited Luhrmann with Kidman.

The commercial has been listed in the Guinness Book of World Records for having the highest budget ever ($33 million) for an advertising commercial. In 2014, he made a sequel, titled 'Chanel N°5: The One That I Want', which starred Gisele Bündchen.

In 2009, Luhrmann wrote sketches for the TV special for the 81st Annual Academy Awards. It consisted of a number that paid homage to musicals and starred Hugh Jackman, Beyoncé, Zac Efron, Vanessa Hudgens, Dominic Cooper and Amanda Seyfried.

In 2012, he returned to making fashion-related content when he released a series of short films. They were 'Ugly Chic', 'Hard Chic', 'Naïf Chic', 'The Classical Body', 'The Exotic Body', 'Waist Up/Waist Down', 'Schiaparelli & Prada: Impossible Conversations', and 'The Surreal Body'.

Recently, Luhrmann wrote and directed the romantic short film 'ERDEM x H&M: The Secret Life of Flowers' (2017). Through his record label House of Iona, Luhrmann released the album 'Something for Everybody'.

Personal Life

Baz Luhrmann met his future wife, Catherine Martin, while they were both in college. They married on January 26, 1997, and have two children together, daughter Lillian Amanda Luhrmann (born October 10, 2003) and son William Alexander Luhrmann (born on June 8, 2005).

In July 2015, the couple decided to sell their Darlinghurst, Sydney, home and relocate to New York City in order to have a more settled family life.

Trivia

Luhrmann is an ardent supporter of the Melbourne Demons in the Australian Football League.

| | | |
| --- | --- | --- |
| 1998 | Best Screenplay - Adapted | Romeo + Juliet (1996) |

Translate Wiki

to Spanish, French, Hindi, Portuguese

Article Title

- Baz Luhrmann Biography

Author

- Editors, TheFamousPeople.com

Website

- TheFamousPeople.com

URL

-

https://www.thefamouspeople.com/profiles/baz-luhrmann-8981.php

Last Updated

- July 11, 2018

---

---

---