Arlo Guthrie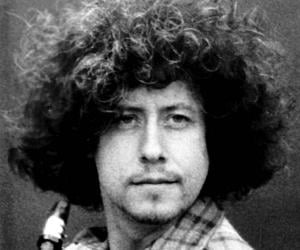 Quick Facts
Nationality: American
Famous: Jewish Singers Folk Singers
Age: 71 Years, 71 Year Old Males
Sun Sign: Cancer
Also Known As: Arlo Davy Guthrie
Born in: Brooklyn, New York
Famous as: Singer
Height: 1.854
Family:
Spouse/Ex-: Jackie Guthrie
father: Woody Guthrie
mother: Marjorie Guthrie
siblings: Nora Guthrie
children: Abe Guthrie, Annie Guthrie, Cathy Guthrie, Sarah Lee Guthrie
U.S. State: New Yorkers
More Facts
education: Westfield State University, Stockbridge School, Rocky Mountain College
Continue Reading Below
Arlo Davy Guthrie is an American folk singer and son of the famous folk pioneer Woody Guthrie. Known for protesting against social injustice through his music, Arlo shot to fame with his song 'Alice's Restaurant Massacree', a sarcastic blues song, which became so popular that it was sung as the Thanksgiving anthem in the United States. His song 'Massachusetts', a part of his album 'Amigo', was adopted by the legislature as the official folk song of the Commonwealth of Massachusetts. Being the son of a popular folk artiste, he was exposed to music from a young age. It did not take him long to realize that music was his life's calling. Arlo was 13 when he performed for the first time at a public show. By the mid-1960s, he had become an icon of the counterculture generation, and was at the peak of his career in the late 1960s and early 1970s. His albums 'Arlo' and 'Running down the Road' were quite successful. His song 'Coming into Los Angeles' was featured in the soundtrack of the film 'Woodstock.' He created his own recording label, Rising Son Records, in 1983. Like many other folk musicians, Arlo Guthrie also feels that it is his duty to pass folk music and its values on to the coming generations.
Recommended Lists:
Recommended Lists:
Continue Reading Below
Childhood & Early Life
Arlo Davy Guthrie was born on July 10, 1947, in Brooklyn, New York, to folk singer and composer Woody Guthrie and Marjorie Mazia Guthrie, who was a professional dancer with the Martha Graham Company. Record producer Nora Guthrie is his sister. His maternal grandmother was the famous poet Aliza Greenblatt.

His parents divorced when he was young. Nonetheless, he was close to his father, who gifted him a guitar on his sixth birthday.

He attended Woodward School in Clinton Hill, Brooklyn, till his eighth grade, graduating in 1965 from the Stockbridge School, in Stockbridge, Massachusetts. For some time, he attended Rocky Mountain College, in Billings, Montana.

After his father's death in 1967, his close friends like Cisco Houston, Leadbelly, and Pete Seeger played an active role in Arlo's life and career. He regularly performed with Seeger.

Recommended Lists:

Recommended Lists:

Career

On the Thanksgiving Day in 1965, Arlo Guthrie, who was then 18, was arrested on charges of "illegally dumping on private property". As explained by Arlo, to help his teacher and friend, he took their garbage and dumped it because the local landfill was closed. While he paid a fine for it, the incident became the basis for his song, 'Alice's Restaurant Massacree'.

He signed a deal with Warner Brothers and released the album, 'Alice's Restaurant' in September 1967. The album had the song 'Alice's Restaurant Massacree' in addition to others. It became very popular amongst the US college students and counterculture radio stations.

His second album 'Arlo' was released in 1968, and the third album 'Running Down the Road' in 1969. His version of the traditional folk song 'Stealin', which is included in the latter album, was featured in the film 'Two-Lane Blacktop'.

In 1969, he was featured in the film version of 'Alice's Restaurant', directed and co-written by Arthur Penn. His performance was acclaimed.

His album 'Washington County' was released in 1970. The album 'Hobo's Lullaby' was released in 1972 on Reprise Records, and later, it was re-released on his own recording label Rising Son Records in 1997.

In 1972, Arlo recorded and released the song 'The City of New Orleans', which was his only Top 40 hit. The single 'Coming into Los Angeles', which was successful to some extent and was appreciated at the Woodstock Festival, was banned from many radio stations due to a controversy.

As his popularity peaked in the late 1960s and early 1970s, he became increasingly busy recording and performing at concerts. He performed with famous musicians like Bob Dylan, Joan Baez, Doc Watson, and Bill Monroe.

Continue Reading Below

Although he has appeared in some films and some television series and shows, he preferred singing and songwriting to acting, despite the good reviews he earned for some of his performances in films and TV series.

He has appeared as himself in a number of films and TV shows like 'The Dick Cavett Show' and 'Arthur Penn' in 1970, 'The Tonight Show Starring Johnny Carson' in 1972, 'The Weavers: Wasn't That a Time' in 1982, 'Woodstock: The Lost Performances' in 1990, 'Healthy Kids' in 1998, 'The Ballad of Ramblin' Jack' and 'Hollywood Rocks the Movies: The Early Years' in 2000. He starred in the television drama, 'Byrds of Paradise' in 1993 on ABC.

His show 'The Arlo Guthrie Show', which included storytelling and musical performances, was aired on PBS in February 1987.

He toured worldwide with different shows like An America Scrapbook in 1998, The Guthrie Family Legacy Tour in 2006, Boys Night Out Tour and The Lost World Tour in 2008, Here Come The Kid(s) in 2013, and The Centennial celebration tour in 2014.

Major Works

Arlo Guthrie's song 'Alice's Restaurant Massacree' which was featured in his debut album 'Alice's Restaurant,' made him famous and a youth icon of the 1960s counterculture scene. It became Guthrie's signature song.

His 1976 album 'Amigo', which contained strong folk and folk rock music, earned a 5-star rating from Rolling Stone.

The single 'City of New Orleans,' a lyrical poem about a train ride from Chicago to New Orleans, is another one of his successful works. He had embarked on this train trip across the country to raise money for musicians who were hit by Hurricane Katrina and Hurricane Rita.

Personal Life

Arlo Guthrie and his wife Jackie Hyde were married for 43 years until her death due to liver cancer in 2012. All his children—son Abe Guthrie and daughters Annie, Sarah Lee Guthrie, and Cathy Guthrie—are musicians.

In 1991, he purchased the old Trinity Church. He founded the Guthrie Center at the Trinity Church to honor the legacy of his parents. The Guthrie Foundation aims to promote education, preserve culture, and meet the needs of the community. It also provides a wide range of services including support for people living with HIV/AIDS.

From the 1960s to the 1980s, he had followed a strong leftist approach to American politics. He was anti-war and anti-Nixon, and advocated for making nuclear power illegal. In 1984, he campaigned for George McGovern for his Democratic presidential nomination. Arlo was a registered Republican in 2008.

Translate Wiki

to Spanish, French, Hindi, Portuguese

Article Title

- Arlo Guthrie Biography

Author

- Editors, TheFamousPeople.com

Website

- TheFamousPeople.com

URL

-

https://www.thefamouspeople.com/profiles/arlo-guthrie-8056.php

Last Updated

- May 21, 2018

---

---

---