Alexander Woollcott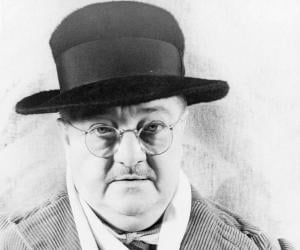 Quick Facts
Birthday: January 19, 1887
Nationality: American
Famous: Writers Journalists
Died At Age: 56
Sun Sign: Capricorn
Born in: Red Bank, New Jersey
Famous as: American critic
Family:
father: Walter Woollcott
mother: Frances Grey Bucklin Woollcott
siblings: Billy Woollcott
Died on: January 23, 1943
place of death: New York City
U.S. State: New Jersey
More Facts
education: Hamilton College
Continue Reading Below
Alexander Humphreys Woollcott was an American critic and commentator of "The New Yorker" magazine. He was also a member of the Algonquin Round Table, a much celebrated group of writers, critics and actors. He started his career as a bank clerk before joining as a reporter at "The New York Times". His poor eyesight and physique restricted him from joining the military service during the World War I. As a renowned drama critic of New York, his usage of bitter wit used to attract or repel the artistic communities of 1920s Manhattan. For a brief period, he also faced a ban from reviewing some Broadway theater shows. He used to write for a number of magazines - "Reader's Digest" was one of those. He faced criticism for his application of ornate and florid writing style. In spite of that, critic Vincent Starrett referred Woollcott's book "While Rome Burns" as one of the fifty-two 'best loved books of the twentieth century'. He also made a successful career in radio. During the World War II, he made several broadcast in England at the behest of the BBC. Woollcott was also the inspiration for the main character in the play 'The Man Who Came to Dinner' by George S. Kaufman and Moss Hart.
Recommended Lists:
Recommended Lists:
Continue Reading Below
Childhood & Early Life
Alexander Woollcott was born in Phalanx in New Jersey. He went through poverty his early childhood. Being a voracious reader, he read almost all the literary creation of Charles Dickens when he was very young.

During his stay in Kansas City, Missouri, he attended Central High School. As a student, Woollcott founded a drama group and was also the editor of the student magazine.

Continue Reading Below

Recommended Lists:

Recommended Lists:

Career

He took several jobs including that of a bank clerk before working as a reporter of "The New York Times" in 1909. Here, he was able to draw the attention of the editor, Carr Van Anda.

While working as a reporter, he covered the sinking of the Titanic before taking up his passion and profession of a drama critic. He served for this paper till 1922.

He served in the First World war for the United States - first as an orderly and then as a sergeant. Along with a number of newspaper men, the intelligence section of the American Expeditionary Forces chose him to create an official newspaper to strengthen troop morale.

As a correspondent of "Stars and Stripes", he reported about the horrors of the Great War from the viewpoint of a common soldier. After the war, he came back to "The New York Times".

In 1922, he served for "The New York Herald". In the following year, he joined "The World" and served there till 1928. From 1929 to 1934, he used to write a column namely "Shouts and Murmurs" for "The New Yorker".

He started his career on radio through a book review program namely "The Early Bookworm" on CBS Radio in October 1929. The program continued till 1933. In the same year, he started another radio program titled "The Town Crier" which lasted till 1938.

Woollcott was also the member of the Algonquin Round Table, a much celebrated group of critics, writers, wits and actors. He was the co-writer of two Broadway shows along with playwright George S. Kaufman.

Continue Reading Below

When the Second World War started, he expressed his willingness to serve in it but due to his poor health, he could not serve in the war. At that time, he visited England to make several radio broadcasts and tour the cities and towns that were damaged by the war.

Apart from that, he also tried his hand at acting. In the later part of 1930s and 1940s, he appeared as cameo in several films. In 1940, he appeared in the travelling production of 'The Man Who Came to Dinner', a comedy in three acts.

In 1943, his last radio program "The People's Platform" was broadcast on the CBS Radio. Before his death, he finished the editorial work of his book "As You Were". It is an anthology of fiction, poetry and nonfiction for the members of the armed forces.

Recommended Lists:

Recommended Lists:

Personal Life & Legacy

He suffered from mumps when he was in his early twenties. This ailment left him impotent to some extent. He remained a bachelor all through his life. But he had a number of female friends among whom the names of Dorothy Parker and Neysa McMein deserves special mention.

He suffered a heart attack during a radio broadcast. After a few hours, on account of a cerebral hemorrhage, he passed away at New York's Roosevelt Hospital at the age of 56.

Trivia

This prominent person was born in an eighty-five room ramshackle building. Known as The Phalanx, this building witnessed a number of social experiments during the middle part of 1880s.

The character of this multi-talented personality was represented by a number of renowned actors. Actor Earl Montgomery in the film 'Act One', actor Jock Livingston in 'Star!' and actor Tom McGowan in 'Mrs. Parker and the Vicious Circle' played the role of this prominent person.

Translate Wiki

to Spanish, French, Hindi, Portuguese

Article Title

- Alexander Woollcott Biography

Author

- Editors, TheFamousPeople.com

Website

- TheFamousPeople.com

URL

-

https://www.thefamouspeople.com/profiles/alexander-woollcott-3305.php

Last Updated

- November 06, 2017

---

---

---