1
MattyB
(Rapper, Singer-songwriter)
Birthdate: January 6, 2003
Sun Sign: Capricorn
Birthplace: Atlanta, Georgia
Birthdate: October 20, 1986
Sun Sign: Libra
Birthplace: Virginia
Birthdate: May 6, 1997
Sun Sign: Taurus
Birthplace: San Juan, Philippines
Ranz Kyle is a Filipino social media personality and dancer. Kyle is best known for posting dance covers alongside his stepsister and popular social media personality, Niana Guerrero. In 2019, Kyle won the Kids Choice Award under the Favorite Pinoy Internet Star category. The following year, he won the CICP Spotlight Award along with Niana Guerrero.
Birthdate: September 13, 1995
Sun Sign: Virgo
Birthplace: Tennessee
Corey Scherer is an American social media personality and dancer. He achieved popularity after posting his dance videos on Vine. After Vine was shut down, Scherer started posting his videos on YouTube and established himself as a popular YouTuber. Corey Scherer has also won several dance competitions across the United States.
Birthdate: July 20, 1995
Sun Sign: Cancer
Birthplace: The Bronx, New York



6
Kyo Quijano
(YouTube Star)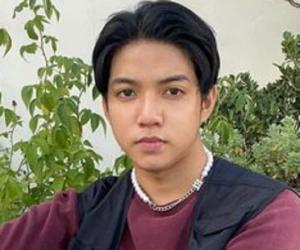 Birthdate: August 17, 1996
Sun Sign: Leo
Birthplace: Philippines
7
JT Church
(American Jazz Dancer and Social Media Personality)
Birthdate: January 17, 2006
Sun Sign: Capricorn
Birthplace: Haymarket, Virginia, United States
JT Church is an American Jazz dancer and social media personality. He came into prominence in 2016, when he competed in the popular reality TV show, So You Think You Can Dance. In 2018, JT Church was also seen in Dancing with the Stars: Juniors. He is also popular on various social media platforms like Twitter and Instagram.
8
Dom Zeglaitis
(Lithuanian-American YouTube Star, Hip Hop Artist and Social Media Influencer)
Birthdate: June 29, 1995
Sun Sign: Cancer
Birthplace: Lithuania
YouTuber Dom Zeglaitis, also known as Durte Dom, is a former member of Vlog Squad. He once used to collaborate with his childhood friend and YouTube superstar David Dobrik to create and share YouTube videos. Dom is a controversial person notorious for his misogynistic and sexist content. He was accused of rape by a woman in 2018.
9
Kaspar Kolk
(Estonian YouTube Star)
Birthdate: March 20, 1998
Sun Sign: Pisces
Birthplace: Tallinn, Estonia
10
Fredy Kosman
(YouTube Dancer)
Birthdate: June 21, 1989
Sun Sign: Gemini
Birthplace: Singapore
Birthdate: October 30, 1996
Sun Sign: Scorpio
Birthplace: Ann Arbor, Michigan
Birthdate: December 7, 1999
Sun Sign: Sagittarius
Birthplace: Democratic Republic of the Congo
Birthdate: August 29, 1999
Sun Sign: Virgo
Birthplace: Ann Arbor, Michigan
Birthdate: July 26, 2001
Sun Sign: Leo
Birthplace: Spokane, Washington, United States