Victoria Coren Mitchell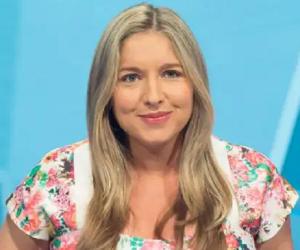 Quick Facts
Nationality: British
Famous: TV Presenters British Women
Age: 46 Years, 46 Year Old Females
Sun Sign: Leo
Also Known As: Victoria Elizabeth Coren Mitchell, Victoria Elizabeth Coren
Born in: Hammersmith, London
Famous as: Television Presenter
Height: 1.60 m
Family:
Spouse/Ex-: David Mitchell (m. 2012)
father: Alan Coren
mother: Anne Kasriel
siblings: Giles Coren
children: Barbara Elizabeth June Mitchell
City: London, England
More Facts
education: St John's College at Oxford University
Continue Reading Below
Victoria Coren Mitchell is a British television presenter, author, and international poker player. She started writing stories and columns at a young age for the Daily Telegraph. She then branched out to broadcasting and began adapting plays for stage. She later joined the BBC, presenting several documentaries and shows on Radio 4. Apart from a career in broadcasting, she is also a professional poker player. Her gambling career has been very successful as she remains the only person who has won two titles in the European Poker tour. Her successful gambling expeditions led her to present 'Late Night Poker' and 'The Poker Nations Cup'. Her career winnings thus far are estimated to be having exceeded £1 million. She is also the co-author of 'Once More with Feeling' and penned her memoir 'For Richer, For Poorer', in 2009. She currently wears many hats as her interests range far and wide. She is a columnist for 'Elle', 'The Observer', The Guardian, and GQ. She presents the quiz show 'Only Connect' and the radio series 'Heresy'. She also makes regular appearances in popular shows like 'Quite Interesting' and 'Have I Got News for You'. She currently lives in London with her husband and children.
Recommended Lists:
Recommended Lists:
Continue Reading Below
Childhood & Early Life
Victoria Coren Mitchell born on 18 August 1972 in Hammersmith, West London to Alan Coren and Anne Kasriel. Her father was a celebrated English writer and TV presenter. She has a brother, Giles Coren, who is also a famed TV presenter and food writer. She spent most of her childhood in Cricklewood, North London.

She did her schooling from St Paul's Girls' School, Hammersmith before attending St John's College at Oxford, from where she graduated with a first class in English in 1994.

As a teenager, she wrote under a pseudonym and got her short story published in 'Just Seventeen' magazine. She also went on to win a local competition at the 'Daily Telegraph' and she was assigned to write a weekly column about her teenage life. Her newspaper articles were compiled and published in 1990.

Recommended Lists:

Recommended Lists:

Career

Immediately after graduating from university, Victoria Coren Mitchell began freelancing as a journalist. She worked for 'The Daily Telegraph' and 'Esquire' magazine. Her reputation earned her a spot at Radio 4 where she went on to present Fourth Column.

In 1999, she worked on the adaptation of John Diamond's newspaper columns to a play titled, 'A Lump in My Throat'. The play was performed at the Grace Theatre, New End Theatre, and The Assembly Room. She subsequently adapted it for TV and BBC picked it up.

In 2002, she began writing a weekly column for 'The Observer' and a bi-monthly column for 'GQ' Magazine. Her articles also appeared in several reputed publications, including 'The Guardian', 'The Independent', 'Independent on Sunday', and 'Esquire'. The topics ranged from poker to crosswords.

She appeared in five episodes of 'Late Night Poker' in 2002, but she didn't make it to the grand finale.

In 2003, she co-wrote the book, 'Once More, with Feeling: How We Tried to Make the Greatest Porn Film Ever' with Charlie Skelton. In the book, the duo had detailed their experience of making a pornographic film of the same name.

Her interest and success in poker tournaments later got her the role of a poker commentator for Channel 4, in 2004.

She subsequently started a dedicated poker column for 'The Guardian'. In 2005, she ventured into broadcasting as well. She was the leading voice in a couple of documentaries on BBC4.

Continue Reading Below

Coren landed the role as the presenter of 'Balderdash and Piffle' on BBC2, in 2006. The show involved seeking the help of its audience in finding the etymology of interesting words and phrases. The show was aired for two seasons.

In 2008, she joined as the presenter for 'Heresy,' a show by Radio 4 that focuses on challenging established ideas with informed arguments. The show is airing its tenth season currently with Victoria as its popular presenter.

Coren's poker career has been equally illustrious. She won the Celebrity Poker Club in 2005; European Poker Tour (EPT) in London in 2006; and the European Poker Tour again in 2014 at San Remo. She became the only individual to have won the EPT twice.

Her prize money after winning the EPT in September 2006 was £500,000. In April 2014, she won €476,100 at the EPT.

As a poker commentator, Victoria is a common sight in the media circuits. She has presented 'Late Night Poker', 'World Poker Tour', and 'The Poker Nations Cup' and has been a commentator for 'William Hill Poker Grand Prix 2', 'Ultimate Poker Challenge', and 'Grosvenor UK Poker Tour'.

In 2008, she and her brother, Giles Coren, compiled their father Alan Coran's best pieces into an anthology titled, 'Chocolate and Cuckoo Clocks' and wrote an introduction. The publication took place in the aftermath of Alan Coren's death.

Deeply affected by her father's death, Victoria looked for a project she could absorb herself into. During this time, she started writing her memoir 'For Richer, For Poorer: A Love Affair with Poker,' which was published in September 2009. The book received positive reviews in many publications.

Continue Reading Below

Her most popular show 'Only Connect' began airing in 2008. The game show by BBC is presented by Victoria and involves teams competing to find connections between unrelated clues. The show is currently in its 13th season and remains as popular.

She is also a regular presenter for 'Have I Got News for You', starring in over 18 episodes as the host. The award-winning show involves quizzing celebrities about the week's events.

She has also been a panelist and guest on many British shows including, 'Would I Lie to You', 'Quite Interesting', 'Live with Gabby', 'Opinionated', 'Question Time', 'The One Show', and 'The Wright Stuff'.

In 2016, her talent in the field of poker was recognized and she was inducted in the Women in Poker Hall of Fame.

Recommended Lists:

Recommended Lists:

Major Works

Victoria's most popular show is 'Only Connect', a British game show that is currently running in its 13th season. Touted as Britain's hardest quiz show, Coren's knowledge, wit and charm is said to have made the show an immense success. The show's popularity has increased considerably since its debut.

Victoria has also written a poker memoir titled, 'For Richer, For Poorer' (2009) which includes her adventures in the field of poker coupled with anecdotes of her childhood. The book was a success with the critics and was widely praised.

Family & Personal Life

Victoria has been married to comedian-actor David Mitchell since November 2012. The couple met each other in 2007 at a film premier but began dating only much later. The duo has often been known as a nerd's 'dream couple' given their intellect. They have a daughter named Barbara Elizabeth June Mitchell.

Trivia

Her nickname is Teacup. She was christened with this at a poker tournament when she drank too much wine and it was replaced by tea. She subsequently sobered up and won the tournament.

As a public prank in 2007, she placed an advertisement in a newspaper for the memorial service of a fictitious 'Sir William Ormerod.'. Her advertisement, as intended, attracted a group of people who would simply attend memorial services claiming that they knew the deceased.

Translate Wiki

to Spanish, French, Hindi, Portuguese

Article Title

- Victoria Coren Mitchell Biography

Author

- Editors, TheFamousPeople.com

Website

- TheFamousPeople.com

URL

-

https://www.thefamouspeople.com/profiles/victoria-coren-mitchell-12916.php

Last Updated

- January 10, 2019

---

---

---