Tom Hiddleston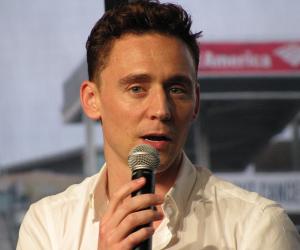 Quick Facts
Birthday: February 9, 1981
Nationality: British
Famous: Actors British Men
Age: 38 Years, 38 Year Old Males
Sun Sign: Aquarius
Also Known As: T Hiddy
Born in: Westminster, United Kingdom
Famous as: Actor
Height: 6'2" (188 cm), 6'2" Males
Family:
father: James Norman Hiddleston
mother: Diana Patricia Hiddleston
siblings: Emma Hiddleston, Sarah Hiddleston
City: London, England
More Facts
education: Dragon School, Eton College, University of Cambridge, Royal Academy of Dramatic Art, Pembroke College
Continue Reading Below
Tom William Hiddleston is a well-known English actor, producer, as well as a musical performer. He came to prominence after his portrayal of the supervillain Loki, brother of the titular character, in the 2011 film 'Thor'. He continued playing the role in the films 'Avengers' 'Thor: The Dark World', and will be seen in the upcoming film 'Thor: Ragnarok', as well. In his early career, he appeared in popular TV shows such as 'The Life and Adventures of Nicholas Nickleby', which was based on the famous novel 'Nicholas Nickleby' by Charles Dickens. He also appeared as Randolph Churchill, son of Winston Churchill, in a biographical TV film 'The Gathering Storm'. Slowly, he started getting more prominent roles, and finally, reached the peak of his career after he played Loki in the movie 'Thor'. Throughout his career, he has won several significant awards including the Laurence Oliver Award for Best Newcomer for his role in the popular play 'Cymbeline', which was originally written by William Shakespeare. Hiddleston is also known for his philanthropic activities. In 2013, he visited Guinea in order to provide assistance to the needy women and children. He also educated the people about issues such as hunger and malnutrition. Hiddleston's name was also mentioned in Debrett's 2017 list of the 'Most Influential People in the UK'.
Recommended Lists:
Recommended Lists:
Continue Reading Below
Childhood & Early Life
Thomas William "Tom" Hiddleston was born on 9 February 1981 in Westminster, London, England. His father, James Normal Hiddleston, worked as a physical chemist, while his mother, Diana Patricia Hiddleston, worked as an arts administrator. His father is of Scottish origin, while his mother is English. Unfortunately, his parents divorced when he was only twelve.

He has two sisters. Emma, his younger sister, became an actress, while his older sister, Sarah, is working as a journalist in India.

He studied at Eton College, and later at Pembroke College. Heavily inspired by his mother's love for acting, he started taking active part in stage productions during his college days. Hiddleston then decided to attend the Royal Academy of Dramatic Art to study acting, from where he graduated in the year 2005.

Recommended Lists:

Recommended Lists:

Career

Tom Hiddleston started acting while he was still a student. He appeared in Stephen Whittaker's TV adaptation of 'Nicholas Nickleby,' in 2001, and later, in 'Conspiracy', the same year. The next year, he played the son of Winston Churchill in the TV film 'The Gathering Storm'.

He made his film debut in the British drama 'Unrelated' in the year 2006. Directed by Joanna Hogg, the film starred him in a main role. The film also included his sister Emma Hiddleston, along with actors Kathryn Worth, Mary Roscoe and David Rintoul. The movie received several awards.

Over the ensuing years, Hiddleston played significant roles in several plays such as 'The Challenging' (2006), 'Cymbeline', (2007), and 'Othello' (2008). His role in 'Cymbeline' was quite appreciated, and eventually he won the 'Laurence Olivier Award for Best Newcomer in a Play' for his remarkable performance.

In 2011, he appeared in the American superhero film 'Thor', which was based on the Marvel Comics character of the same name. The film, which was directed by Kenneth Branagh, portrayed Hiddleston as the supervillian Loki. The movie turned out to be a commercial success, also helped Hiddleston become popular on an international level.

The same year, he also appeared in 'Midnight in Paris', a fantasy comedy movie, directed by Woody Allen, where he played a supporting role. The film turned out to be a commercial success, and also won several awards, including an Oscar.

In 2012, he appeared in 'The Avengers' a superhero film, which was based on a Marvel Comics superhero team of the same name. The film, which was directed by Joss Whedon, saw Hiddleston reprising his role as the supervillain Loki. His character, who is the brother as well as the arch enemy of Thor, is seen in pursuing his dreams of taking over the world. The film was a monumental success commercially and earned nearly $ 1.5 billion worldwide.

Hiddleston reprised his role as Loki once again in 'Thor: The Dark World,' which released in 2013. Directed by Alan Taylor, the film was a commercial success. The same year, he also played the lead role in the play 'Coriolanus', which was originally written by Shakespeare.

Continue Reading Below

Over the years, Hiddleston also played main roles in films such as 'I saw the Light', (2015) and 'Kong: Skull Island' (2017).

Recommended Lists:

Recommended Lists:

Major Works

'Thor,' the 2011 American superhero film, can be considered the first major and significant work of Tom Hiddleston's career. The film, which was directed by Kenneth Branagh, is about Thor, prince of a fictional realm named Asgard, who has been banished to Earth, stripped off of his powers. Hiddleston appears as his brother Loki, who tries to take the throne for himself. The cast of the film also included Chris Hemsworth, Natalie Portman, Stellan Skarsgårrd, and Colm Feore. The film, which earned nearly $450 million worldwide, was also the 15th highest grossing film of the year.

Hiddleston appeared in the 2012 superhero film 'The Avengers', where he reprised his role as the supervillain Loki. The film is another one of his most successful and significant works. Directed by Joss Whedon, the cast also included actors Robert Downer Jr., Chris Evans, Chris Hemsworth, Scarlett Johansson, and Jeremy Renner. The film earned nearly 1.5 billion worldwide, and became the highest grossing film of the year. The film also won several awards and nominations, which also included a nomination for the Oscars.

In 2015, he appeared in 'Crimson Peak', a gothic romance film, which was directed by Guillermo del Toro. The cast included Mia Wasikowska, Jessica Chastain, Tom Hiddleston, Charlie Hunnam and Jim Beaver. It was an average commercial success. Reviews were mostly positive. It also won three Saturn Awards and a Fangoria Chainsaw Award.

'Kong: Skull Island', which was released in February 2017, is the latest work of Hiddleston. He appeared in a lead role in the film, which is about groups of scientists and soldiers in pursuit of a mighty monster named Kong. The film was directed by Jordan Vogt-Roberts and along with Hiddleston, the cast also included Samuel L. Jackson, John Goodman, and Brie Larson. The film was a commercial success, and received positive reviews.

Awards & Achievements

Tom Hiddleston has won several significant awards throughout his career. Some of them are Laurence Olivier Award for Best Newcomer in a Play for his role in 'Cymbeline' in 2008, 'Empire Award for Best Male Newcomer' for his role in the film 'Thor' in 2012, 'MTV Movie Award for Best Villain' for his role in the movie 'Avengers' in 2013, and 'Evening Standard Theatre Award for Best Actor' for his role in the play 'Coriolanus' in 2014.

Personal Life

Tom Hiddleston, who is a bachelor, currently resides in Belsize Park Area of North-West London. He has been known to date British actress Susannah Fielding and later, record executive, Jane Arthy. He dated Taylor Swift in 2016.

He is known for his philanthropic activities, and is involved in several UNICEF projects. He visited Guinea in 2013 in order to help the needy as well as raise awareness about problems like hunger and malnutrition.

Net Worth

He has an estimated net worth of $20 million.

1. The Avengers (2012)

(Sci-Fi, Action)

2. Avengers: Infinity War (2018)

(Action, Sci-Fi, Adventure, Fantasy)

---

3. National Theatre Live: Coriolanus (2014)

(War, Drama, History)

4. Thor (2011)

(Fantasy, Sci-Fi, Action, Adventure)

---

---

5. Thor: The Dark World (2013)

(Fantasy, Action, Sci-Fi, Adventure)

6. Midnight in Paris (2011)

(Romance, Comedy, Fantasy)

---

---

---

7. Kong: Skull Island (2017)

(Action, Sci-Fi, Fantasy, Adventure)

8. Crimson Peak (2015)

(Thriller, Drama, Horror, Romance, Mystery, Fantasy)

---

---

---

---

| | | |
| --- | --- | --- |
| 2017 | Best Performance by an Actor in a Limited Series or Motion Picture Made for Television | The Night Manager (2016) |

| | | |
| --- | --- | --- |
| 2013 | Best Villain | The Avengers (2012) |
| 2013 | Best Fight | The Avengers (2012) |

Translate Wiki

to Spanish, French, Hindi, Portuguese

Article Title

- Tom Hiddleston Biography

Author

- Editors, TheFamousPeople.com

Website

- TheFamousPeople.com

URL

-

https://www.thefamouspeople.com/profiles/tom-hiddleston-14852.php

Last Updated

- June 23, 2017

---

---

---