Thurgood Marshall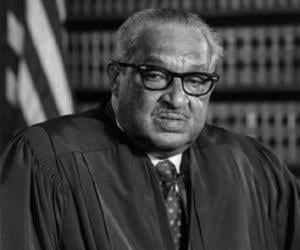 Quick Facts
Nationality: American
Famous: African American Men Judges
Died At Age: 84
Sun Sign: Cancer
Born in: Baltimore
Famous as: Former Associate Justice of the United States Supreme Court
Family:
Spouse/Ex-: Vivien Burey - Cecilia A. Suyat
father: William Marshall
mother: Norma
siblings: William Aubrey Marshall
children: Jr - John, Thurgood Marshall
Died on: January 24, 1993
place of death: Bethesda
City: Baltimore, Maryland
U.S. State: Maryland
More Facts
education: Frederick Douglass High School, Baltimore, MD - Lincoln University Pennsylvania (1930) - Howard University,
Continue Reading Below
An influential lawyer who rose through ranks during his lifetime, Thurgood Marshall went on to become an Associate Justice of the United States Supreme Court, serving for more than two decades. Holding prominent offices such as Solicitor General and Judge of the United States Court of Appeals for the Second Circuit, Thurgood Marshall left an indelible impression on American judicial system. He rose from humble beginnings and through sheer brilliance and hard work; he achieved whatever he aspired for during his lifetime. In a time when racial discrimination was prevalent in American society, he went on to become the first African-American justice, fighting all odds. Apart from being the justice of the United States Supreme Court, he was instrumental in sanctioning a number of actions in the United States viz, polling privileges for African-Americans, justice system in criminal events, public education and equalizing expenditure, thus becoming the first individual to end 'legal segregation'. He has been the proud recipient of a number of awards and certifications for his outstanding contribution to the field of civil rights.
Recommended Lists:
Recommended Lists:
Continue Reading Below
Childhood & Early Life
Thurgood Marshall was born on July 2, 1908 to Norma and William Marshall, in Baltimore, Maryland. His ancestors were slaves who were from the modern-day Democratic Republic of Congo.

He studied at Frederick Douglass High School and was one of the top-achievers in class. He was so good that he graduated a year ahead of his peers in 1925 and was placed in the top three ranks.

As he grew older, he enrolled at Lincoln University and his interest in academics began to diminish. He was even suspended twice for playing pranks on fellow students. In his second term at the university, he slowly became associated in university protests and was involved in a sit-in protest against racial segregation at a movie theater.

At the university, he was a member of the Alpha Phi Alpha guild. He married young and his marriage in 1929, led him to take his studies seriously. He soon graduated with a Bachelor of Arts in humanities, majoring in American literature and philosophy.

He initially wanted to join Maryland School of Law, but he did not because of the institution's segregation policy. He then went on to study law at the Howard University School of Law and graduated from this university in 1933, securing first rank in class.

Continue Reading Below

Recommended Lists:

Recommended Lists:

Career

After his graduation, he set up private practice in Baltimore and began working with the National Association for the Advancement of Colored People (NAACP), in 1936.

In 1936, the same year of opening private practice, he managed to successfully represent his client filing suit against the University of Maryland Law School for its racial policy, ending the racial segregation policy in the process.

In 1940, he won his first U.S. Supreme Court 'Chambers v. Florida' case at the age of 32. He was also appointed as the Chief Counsel for the NAACP the same year.

The 1940s was an extremely crucial period for Marshall as he fought a number of cases, winning most of them including the 'Smith v. Allwright' case in 1944. Four years later, he also won the 'Shelly v. Kraemer' case.

In 1950, he successful argued two civil rights cases before the Supreme Court including the 'McLaurin v. Oklahoma State Regents' case and the 'Sweatt v. Painter' case.

In 1951, he travelled to South Korea and Japan to examine charges of racism in the U.S. Armed Forces.

He earned his breakthrough as a lawyer when he fought the 'Brown v. Board of Education' case at Topeka, in 1954. This totaled the 29 out of 32 cases that he won before the Supreme Court.

Continue Reading Below

In 1957, he became the president-director of the NAACP Legal Defense and Educational Fund, Inc., an independent firm from the NAACP.

In 1961, he was appointed by President John F. Kennedy to the United States Court of Appeals for the Second Circuit. He remained in this court for the next four years, until President Lyndon B. Johnson appointed him to become the first African-American to hold the office of United States Solicitor General.

On June 13, 1967, he was nominated to the Supreme Court after the retirement of Tom C. Clark by President Lyndon B. Johnson. He was confirmed his place as the Associate Justice on August 30th the same year, becoming the first African-American to hold this office.

He served this post for the next twenty-four years, during which he made several amendments in the justice system of America. In 1987, he gave a contentious speech at the bicentennial revelries of the Constitution of the United States.

He retired from the Supreme Court in 1991. He was replaced by Clarence Thomas, who was nominated by the-then President George H.W. Bush.

Recommended Lists:

Recommended Lists:

Major Works

Thurgood Marshall is best remembered for his jurisprudence in the arena of civil rights and criminal proceedings. During his time as the Justice of the Supreme Court, he accumulated a liberal record that involved strong backing for Constitutional protection of individual rights, especially the rights of criminal suspects. He was also instrumental in changing the laws, pertaining to 'segregation' and other liberal interpretations of controversial social issues. One of his major works today is his decision to support the right to abortion in the landmark 1973 case, 'Roe v. Wade', among many others.

Awards & Achievements

He received the U.S. Senator John Heinz Award for 'Greatest Public Service by an Elected or Appointed Official', in 1992.

He received the Liberty Medal for 'protecting individual rights' under the Constitution, in 1992.

He received the Presidential Medal of Freedom, posthumously, in 1993.

Personal Life & Legacy

He married Vivien 'Buster' Burey, in 1929. The couple did not have any children.

After his first wife's death, he married Cecilia Suyat in December, 1955. The couple had two sons together; one of whom was aide to President Bill Clinton and the other, a former United States Marshals Service Director.

He passed away due to heart failure on January 24, 1993 in Maryland at the age of 84.

After his death, a number of memorials were built in his honor, including the one that stands at Lawyers Mall. The Thurgood Marshall Center, the Thurgood Marshall Law Library and the Baltimore-Washington International Thurgood Marshall Airport are some of the centers/places named after him.

In 2006, the one-man play 'Thurgood' was written by George Stevens, Jr.

Trivia

When this African-American jurist was in school, he shortened his name which as was initially Thoroughgood, because he hated to spell his name.

Translate Wiki

to Spanish, French, Hindi, Portuguese

Article Title

- Thurgood Marshall Biography

Author

- Editors, TheFamousPeople.com

Website

- TheFamousPeople.com

URL

-

https://www.thefamouspeople.com/profiles/thurgood-marshall-3040.php

Last Updated

- October 05, 2017

---

---

---