Thomas Rolfe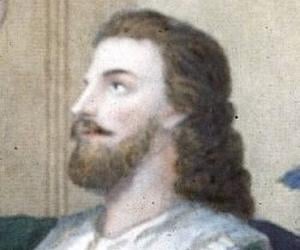 Quick Facts
Birthday: January 30, 1615
Nationality: American
Famous: American Men Aquarius Men
Died At Age: 64
Sun Sign: Aquarius
Born in: Varina Farms, Virginia
Famous as: Pocahontas' Son
Family:
Spouse/Ex-: Jane Poythress
father: John Rolfe
mother: Pocahontas
children: Jane Rolfe (1650–76)
Died on: 1680
place of death: Kippax Plantation, Virginia
U.S. State: Virginia
Continue Reading Below
Thomas Rolfe was a half-native American and half-English child of Pocahontas, the first Native American woman who married an English man, John Rolfe, a rich planter. Thomas' birth established peace between the English and Powhatan people and this was marked as the beginning of a new bloodline, which is now seven generations old. Thomas spent early years of his life in care of his uncle, Henry Rolfe, after both his parents died. He remained in London until he turned 21. His uncle, however, confiscated some of his father's property and as a result of this Thomas returned to Virginia, in order to re-establish his connections with his roots. After coming to America Thomas had to build the plantation business from the scratch, from the lands he received from both his parents' sides and also took care of his mother's lineage. Thomas married twice in his life and most records of his marriages are still unclear. He died in 1680 in Virginia due to unknown reasons.
Childhood & Early Life
Pocahontas, a Native American, was captured by the English people in 1613, where she somehow managed to safeguard herself by turning to Christianity and even adopting a Christian name Rebecca. She married an ace tobacco businessman and planter, John Rolfe, and gave birth to a son, Thomas Rolfe, on January 30, 1615 in Varina Farms, Virginia. He was named after Virginian governor Thomas Dale and the family made a move to England while Thomas was one year old. At that time, the mortality rate in infants was quite high and a boat ride to the UK was a risky step.

Pocahontas was a woman who was highly respected among the British and they lived in Kent. The Native Americans were known as savages who had no sense of decency and Pocahontas broke that general illusion. Her son Thomas also grew up learning the English ways but unfortunately she died when Thomas was just a kid. Thomas was destroyed emotionally and his father became a distant man post his wife's death. He made a move to Virginia all alone, leaving Thomas behind in England. Thomas was living in Plymouth by that time in the care of Sir Lewis Stuckly, a close associate of his father.

His guardianship was then transferred to his uncle, Henry Rolfe, and thereafter he never saw his father ever again. Sometime later, his father died due to unknown reasons but by them, Thomas was 21 and old enough to inherit his father's vast empire, on which his uncle had his eyes since very long. His uncle, being a cunning man, managed to acquire almost half of John's property, which belonged to Thomas and as a result Thomas returned to Virginia in 1635.

Back to the Roots

Thomas wanted to find his roots; he wanted to know about his mother's side and when he met the natives, he tried reconnecting with them, and be a part of them. From the lands he got from his father's and mother's side, he started engaging in the business of planting in the USA and slowly became richer, and at the same time, he gained the trust of natives.

In 1640, Thomas became the owner of a large chunk of land inherited from his father, which lied beside the James River in Virginia. In June 1654, he got a large chunk of land, which was located near Jamestown. It was later rumored that the land was gifted to James by the Indian King in order to thank him for taking good care of his heritage.

The ongoing war between the British and Indians was turning nasty, and it was a tough choice for Thomas to take sides. When the colony was attacked by the natives in 1945, Thomas fought against his very own people taking the British side. Four forts were built to safeguard the frontiers against the Indians and Thomas was given the charge of one of them. He had to fight against Powhatan, with just six men at his side. Once the war was over, Thomas was given the difficult duty of building a fort at Moysenac and for that, he was given a whopping 400 acres of land.

Personal Life & Family

Thomas married twice in his life and fathered several children, but their details are not documented. His first marriage took place with Elizabeth Washington, a British lady in 1632 at St James's Church in London and the marriage resulted in a baby girl named Anne Rolfe in the very next year. Elizabeth later gave birth to a boy. The details about his family are not widely known and after his death, many people came ahead claiming to be the descendants of Thomas Rolfe. Elizabeth died shortly after giving birth to the second child.

Thomas then went on to marry Jane Poythress, who happened to be the daughter of a rich land owner in Virginia. This match was beneficial for both the families and the marriage resulted in birth of a daughter named Jane. Years later, John Bolling, Jane Jr.'s son, came ahead claiming his share in the lands owned by his grandfather. He claimed that his father Robert Bolling married Jane, Thomas and Jane's daughter, which was then proven in the court. This ensured that the bloodline that Thomas had started was expanding and most of the descendants remained unknown after that as they moved to different places in America and Europe.

Later Life & Legacy

Thomas Rolfe's life was majorly unrecorded and the very last event of his life which has been documented properly in the papers to some extent was in form of a land deed, dated September 16, 1658. There are many sources which confidently say that he died in the year 1680, while some recent and more reliable sources claim that the exact time and year of his death hasn't been known yet. Some reports do claim that Thomas died in his dearest James City plantation located in Virginia and while it can be believed that this may be true, the lack of documentation is keeping his death a mystery. And if there were any, they would have been destroyed in the fire in 1685.

Many non-native people in USA claim to be the descendants of Pocahontas and likewise, in the UK, there are many claims made by the people about their family history related to Pocahontas. This is partly due to the fact that Thomas and Elizabeth, both happen to be the most common names in Britain and those people must be thinking of another Thomas Rolfe and Elizabeth Washington as their ancestors.

In the popular media, Thomas Wolfe is seen in the works based upon his mother, Pocahontas. One mention has been made in the 2005 film 'The New World', where Thomas is seen as a baby and then a toddler as son of the most famous Native American woman in the history. However, in the Disney's animated film 'Pocahontas II: Journey to a New Word', there was no mention of Pocahontas' marriage to John Rolfe, so it's very natural that Thomas Rolfe too in not mentioned there.

Translate Wiki

to Spanish, French, Hindi, Portuguese

Article Title

- Thomas Rolfe Biography

Author

- Editors, TheFamousPeople.com

Website

- TheFamousPeople.com

URL

-

https://www.thefamouspeople.com/profiles/thomas-rolfe-33671.php

Last Updated

- August 29, 2017

---

---

---