Terry Crews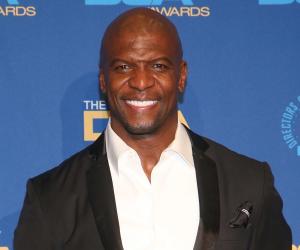 Quick Facts
Nationality: American
Famous: Actors American Football Players
Age: 50 Years, 50 Year Old Males
Sun Sign: Leo
Also Known As: Terry Alan Crews
Born in: Flint
Famous as: Actor, American Football Player
Height: 1.91 m
Family:
Spouse/Ex-: Rebecca King-Crews (m. 1990)
father: Terry Crews, Sr.
mother: Patricia Crews
children: Azriel Crews, Isaiah Crews, Naomi Burton-Crews, Tera Crews, Wynfrey Crews
U.S. State: Michigan
Continue Reading Below
Terry Crews is a former American footballer player turned actor who became well-known for his roles in several popular television sitcoms and game shows besides films. Crews played in the 'National Football League' as a defensive end and linebacker. He ended his rather mediocre career in football to pursue an acting career that proved more profitable. He made his debut in the early 2000s and followed it up with quite a few other appearances that got him public attention and recognition. He also appeared in a number of television shows, including a highly-popular reality show and his own reality series starring his entire family. As a model in television commercials for a popular brand of aftershave, he won the hearts of a lot of people. Crews has emerged as a vocal supporter for women's rights and is an activist against sexual atrocities, striking an emotional chord with his audience by sharing the experience of abuse that his family suffered at the hands of his violent father. The 'Time' magazine included him in the list of people named 'Person of the Year' in 2017 for his courage in sharing with the public his experience of sexual assault.
Recommended Lists:
Recommended Lists:
Continue Reading Below
Childhood & Early Life
Terry Alan Crews was born on July 30, 1968, to Patricia and Terry Crews, Sr. in Flint, Michigan. He was brought up in a strict Christian family, largely by his mother as his father was alcoholic.

He attended the Flint Southwestern school, from where he obtained his high school diploma. A good student, he went on to attend the prestigious Interlochen Center for the Arts in Interlochen, Michigan and received an art scholarship from the 'Chrysler Corporation'.

Earning an 'Art Excellence' scholarship and as well as a full athletic scholarship for football, he attended the Western Michigan University (WMU) in Kalamazoo, Michigan to major in art.

He was selected as a defensive end for the 'WMU Broncos' and earned an all-conference honors helping his team to win the 'Mid-American Conference Championship' in 1988.

Recommended Lists:

Recommended Lists:

American Football Career

While playing for the Western Michigan University, Terry Crews football skills got noticed, and he was asked by the 'Los Angeles Rams' to join their team in the 11th round of the 'NFL' draft in 1991.

Terry Crews played for two seasons with the 'Rams' before he joined the 'San Diego Chargers' as a journeyman in 1993 and also played for them the following year.

In 1995, he was with the 'Washington Redskins' and switched to 'Philadelphia Eagles', the next year. He also played for the German team, 'Rhein Fire' in the 'World League of American Football'.

During the period 1991 to 1995, he played a total of 32 games. While he was reasonably good at American football, he realized that his football career was not going anywhere special so he quit professional football in 1997. Having studied art for a number of years, he used both his talent and the knowledge of the game to create a series of NFL-licensed lithographs at the behest of a reputed company dealing in sports memorabilia.

Recommended Lists:

Recommended Lists:

Acting Career

In 1996, he co-wrote and co-produced 'Young boys Incorporated', an independent film with an anti-drug message that was shot in Detroit. While the film drew on his own, as well as that of his family's and friends' observations and experiences, Crews admitted later that it was a "horrible" film. However, the experience of producing the film only served to whet his appetite.

While earlier Crews always wanted to be involved in some way in the film industry, he moved to Los Angeles to pursue a career in acting. In 1999, he obtained his first acting role after he successfully auditioned for the part of an athlete in 'Battle Dome', a syndicated game show.

The process of auditioning and winning the role after competing with other actor-athletes and his experience of performing in front of an audience playing the character of urban warrior 'T-Money' was addictive and Crews realized that he wanted to only act for the rest of his life.

Continue Reading Below

Terry Crews got his first film role in 2000 when he landed a part in 'The Sixth Day', an American science fiction action film starring Arnold Schwarzenegger; the film flopped at the box office.

After his first role, Crews went jobless for the next couple of years but thereafter, got a steady stream of roles in films, music videos, and television commercials.

His first big break came in 2002 when he got the opportunity of acting in 'Friday After Next' alongside Ice Cube, for whom Crews had previously worked as a bodyguard on the film sets.

His performance in the 2004 film 'White Chicks' was noticed by Adam Sandler who reworked a role in the 2005 film, 'The Longest Yard' to suit Crews after he has auditioned for another role in the same film.

He got good reviews and widespread public recognition for playing the role of Julius Rock in 'Everybody Hates Chris', a UPN/CW sitcom that had a successful run between 2005 and 2009.

In 2010, Crews starred along with his family in 'The Family Crews', a reality series about his life and family on 'BET'. The show had its second season in 2011.

He lent his voice to animation films like 'American Dad!', and 'Cloudy with a Chance of Meatballs 2'.

Continue Reading Below

He played the character of Nick Persons in 'Are We There Yet?', a 'TBS' sitcom that ran from 2010 to 2013.

He played the character of 'NYPD' Sergeant 'Terry Jeffords' in the sitcom 'Brooklyn Nine-Nine' that featured an ensemble cast and had a very successful five-season run by 'Fox' after its premiere in 2013; in 2018, the series switched to 'NBC'.

From 2014 to 2015, he was the host of 'Who Wants to Be a Millionaire', a syndicated game show.

In 2017, he was cast as an American host for 'Ultimate Beastmaster', a Netflix original show and also cast in 'Sorry to Bother You, 'a science fiction comedy film scheduled for release in 2018. He appeared in 'Deadpool 2', the superhero film, playing the character of 'Bedlam'.

Major Works

'Everybody Hates Chris', a period sitcom set in the 1980s that is based on comedian Chris Rock's troubled teenage experiences.

'Brooklyn Nine-Nine', an American police television sitcom on the escapades of a talented but immature 'NYPD' detective in Brooklyn's 99th Precinct.

Personal Life & Legacy

Terry Crews married Rebecca, a Christian recording artist and former beauty queen, on July 29, 1990; the couple has five children: daughters Azriel, Tera, Wynfrey and Naomi Burton, and son Isaiah.

Crews released his autobiography, 'Manhood: How to Be a Better Man or Just Live with One' in 2014. In it, he made startling disclosures about his addiction to pornography that had seriously affected his life and marriage and how he was able to overcome it after entering rehab in 2009 and 2010

On October 10, 2017, Crews disclosed how he had been sexually assaulted in February 2016 by a top Hollywood executive but had not made it public for fear of retaliation. In November 2017, he filed a case against Adam Venit, the head of the talent company William Morris Endeavor's motion picture department but was unsuccessful due to the statute of limitations coming into effect.

For bringing the details of his sexual assault into the public domain, 'Time' magazine named him as one of the 'Silence Breakers', the group nominated for the 'Person of the Year Award'.

Translate Wiki

to Spanish, French, Hindi, Portuguese

Article Title

- Terry Crews Biography

Author

- Editors, TheFamousPeople.com

Website

- TheFamousPeople.com

URL

-

https://www.thefamouspeople.com/profiles/terry-crews-40299.php

Last Updated

- July 27, 2018

---

---

---