Ted Cruz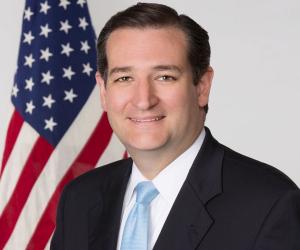 Quick Facts
Birthday: December 22, 1970
Nationality: American
Famous: Political Leaders American Men
Age: 48 Years, 48 Year Old Males
Sun Sign: Sagittarius
Also Known As: Rafael Edward
Born in: Calgary
Famous as: Politician
Height: 1.78 m
political ideology: Political party - Republican
Family:
Spouse/Ex-: Heidi Nelson Cruz
father: Rafael Cruz
mother: Eleanor Darragh
children: Caroline Camille Cruz, Catherine Christiane Cruz
religion: Southern Baptist Convention
Net worth: $3.5 million as of Aug 23, 2016
More Facts
education: Princeton University, Harvard University, Harvard Law School
Continue Reading Below
Ted Cruz is an American politician who is campaigning for the Republican presidential nomination in the 2016 presidential election. Currently, he is the United States Senator from Texas. Cruz was born in Canada but soon moved to the U.S. with his parents. He grew up to be an intelligent and ambitious young man who graduated cum laude from Princeton University with a Bachelor of Arts in Public Policy. Blessed with great oratory skills, he won several prestigious debate competitions as a college student and was named U.S. National Speaker of the Year in 1992. He proceeded to attend Harvard Law School and received his Juris Doctor degree. A brilliant student, he became a founding editor of the Harvard Latino Law Review and was a John M. Olin Fellow in Law and Economics. He soon ventured into a legal career and entered politics as well. He was elected as the 34th U.S. Senator from Texas, in 2012, following which his political career received a big boost. A Republican, he gained much prominence for his powerful speeches, especially his 21-hour speech against President Barack Obama's healthcare plan. The ambitious politician announced his candidacy for the post of the U.S. president, in 2015.
Recommended Lists:
Recommended Lists:
Continue Reading Below
Childhood & Early Life
Rafael Edward "Ted" Cruz was born on December 22, 1970, in Calgary, Canada, to Eleanor Elizabeth Wilson and Rafael Bienvenido Cruz. At the time of his birth, his parents were working in the oil business. The family eventually moved to the United States. He had two older half-sisters from his father's previous marriage.

He graduated from Second Baptist High School in Houston, as valedictorian in 1988. He then attended Woodrow Wilson School of Public and International Affairs, Princeton University, and graduated cum laude with a Bachelor of Arts in Public Policy in 1992. He won several prestigious debate competitions as a college student.

He proceeded to study law from the Harvard Law School, graduating magna cum laude in 1995 with a Juris Doctor degree. There he was a primary editor of the Harvard Law Review, and executive editor of the Harvard Journal of Law and Public Policy, and a founding editor of the Harvard Latino Law Review.

Recommended Lists:

Recommended Lists:

Career

Ted Cruz embarked on a legal career and served as a law clerk to J. Michael Luttig of the United States Court of Appeals for the Fourth Circuit and William Rehnquist, Chief Justice of the United States.

He worked with Cooper, Carvin & Rosenthal, now known as Cooper & Kirk, LLC, from 1997 to 1998. During this period he helped to prepare testimony for the impeachment proceedings against President Clinton.

In 1999, he joined the George W. Bush presidential campaign as a domestic policy adviser and advised Bush on issues relating to policy and legal matters, including civil justice, criminal justice, constitutional law, immigration, and government reform. He also recruited future Chief Justice John Roberts and noted attorney Mike Carvin to the Bush legal team.

He was appointed to the office of Solicitor General of Texas by Texas Attorney General Greg Abbott in 2003, serving in this post till 2008. In this position he was involved in several high profile cases and argued before the Supreme Court nine times, winning five cases and losing four. A highly successful lawyer, he has authored 70 United States Supreme Court briefs and presented 43 oral arguments.

He returned to private practice after leaving the Solicitor General position in 2008. He worked in a private law firm, Morgan, Lewis & Bockius LLP, often representing corporate clients. There he led the firm's U.S. Supreme Court and national appellate litigation practice. Cruz also defended two record-setting $54 million personal injury awards in New Mexico at the appellate level.

In 2011, U.S. Senator from Texas, Kay Bailey Hutchison said she would not seek re-election. Cruz announced his candidacy and earned the support of leading figures like Sarah Palin and Rand Paul, who campaigned for him. Initially considered an underdog, he surprised everyone by winning the election in 2012. He assumed office as the United States Senator from Texas in January 2013.

As the senator he serves on several committees including the Committee on Commerce, Science, and Transportation; the Committee on Armed Services; the Committee on the Judiciary; the Joint Economic Committee; and the Committee on Rules and Administration. A powerful speaker, he also gained some criticism for his use of harsh words for fellow politicians including President Obama.

He is strongly pro-life, and opposes both same-sex marriage and civil unions. He is a gun-rights supporter and a strong critic of the Patient Protection and Affordable Care Act (the ACA or "Obamacare"). In March 2015, he announced his candidacy for the President of the United States in the 2016 presidential election.

Recommended Lists:

Recommended Lists:

Major Works

As the Texas Solicitor General, he drafted the amicus brief signed by the attorneys general of 31 states in the landmark case of District of Columbia v. Heller. He also successfully defended the constitutionality of the Ten Commandments monument on the Texas State Capitol grounds before the Fifth Circuit and the U.S. Supreme Court, and was involved in the high-profile case, Elk Grove Unified School District v. Newdow.

Awards & Achievements

Ted Cruz was named "2013 Man of the Year" by conservative publications 'The Blaze', 'Front Page Magazine' and 'The American Spectator', and "2013 Conservative of the Year" by Townhall.com.

Personal Life & Legacy

Ted Cruz married Heidi Nelson in 2001. His wife previously worked in the White House for Condoleezza Rice and in New York as an investment banker. The couple has two daughters.

Net Worth

Ted Cruz has an estimated net worth of $3.5 million.

Translate Wiki

to Spanish, French, Hindi, Portuguese

Article Title

- Ted Cruz Biography

Author

- Editors, TheFamousPeople.com

Website

- TheFamousPeople.com

URL

-

https://www.thefamouspeople.com/profiles/ted-cruz-6969.php

Last Updated

- July 20, 2017

---

---

---