Pete Buttigieg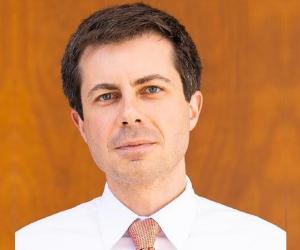 Quick Facts
Birthday: January 19, 1982
Nationality: American
Famous: Political Leaders American Men
Age: 37 Years, 37 Year Old Males
Sun Sign: Capricorn
Also Known As: Peter Paul Montgomery Buttigieg
Born in: South Bend, Indiana, United States
Famous as: Mayor of South Bend, Indiana
Family:
father: Joseph A. Buttigieg
mother: Jennifer Anne Montgomery
U.S. State: Indiana
More Facts
education: St. Joseph High School, Harvard College, University of Oxford, Harvard University
Continue Reading Below
Pete Buttigieg is an American politician who is the current mayor of South Bend, Indiana. Interested in politics from a young age, he was honored by members of President Kennedy's family during his senior year of high school for a remarkable essay he wrote. Soon he was selected as an Indiana delegate to the United States Senate Youth Program. He then attended the Harvard College from where he graduated with a BA in Literature and History. During this time he also worked for Jill Long Thompson's congressional campaign. After his graduation, he started working for William Cohen, former U.S. Secretary of Defense. He was also involved with John Kerry's 2004 presidential campaign. Shortly after, Buttigieg was commissioned as a naval intelligence officer in the Naval Reserves. He was deployed for several months in the Middle East where he was a veteran of the war in Afghanistan. After being elected the Mayor of South Bend in November 2011, he assumed office the next year, thus becoming the youngest Mayor of a U.S. city with at least 100,000 residents. Buttigieg is also a possible candidate for the President of the United States in the next 2020 Presidential elections.
Recommended Lists:
Recommended Lists:
Continue Reading Below
Childhood & Early Life
Peter Paul Montgomery Buttigieg was born on 19th January 1982 in South Bend, Indiana, to Joseph A Buttigieg and Jennifer Ann Montgomery.

He studied at St. Joseph school, where during his senior year he was honored by former President JF Kennedy's family members for a prize-winning essay he wrote, at the JFK Profiles in Courage Essay Contest. He was also selected as an Indiana delegate to the United States Senate Youth Program. He graduated in the year 2000.

He later went to Harvard University where he was elected the president of the Harvard Institute of Politics Student Advisory Committee. He got his BA in Literature and History in 2004. He also received a first class Honors degree in Philosophy, Politics and Economics from the University of Oxford in 2007.

Recommended Lists:

Recommended Lists:

Career

After his graduation, Pete Buttigieg started working at WMAQ-TV as an investigative intern. He had also worked as an intern for Jill Long Thompson's 2002 congressional campaign and served as an adviser on her 2008 gubernatorial campaign. From 2004 to 2005, he worked as a conference director for the international strategic consulting firm of William Cohen, former US Secretary of Defense.

He then worked as a consultant at McKinsey and Company, a management strategy consulting firm, from 2007 to 2010. He was a candidate from the Democratic Party in 2010 for the State Treasurer of Indiana.

Buttigieg also served in the military for a few years, after being commissioned in 2009 as a Naval Intelligence Officer in the Naval Reserves. He was deployed in Afghanistan in 2013 for seven months, after which he returned to South Bend.

He was elected Mayor of South Bend on 8th November 2011. He assumed office the following year on 1st January, becoming the youngest Mayor of any US city with at least 100,000 residents.

He is known for making redevelopment a top priority during his administration. One of his signature programs is the '1000 Properties in 1000 Days.' It was a project to repair or demolish targeted properties across the cities. The goal was eventually completed by the scheduled end date. During the time he served in Afghanistan as a lieutenant in the Navy Reserves, Deputy Mayor Mark Neal took over his responsibilities.

Pete Buttigieg was named Mayor of the Year by GovFresh.com in 2013. The following year, he was named 'The Most Interesting Mayor You've Never Heard Of'. The New York Times also published an article praising his work, and wondering if he would ever be elected as America's first gay president.

In November 2014, he announced that he would seek a second term as mayor. After winning over 80% of the votes, he was elected as the Mayor of South Bend once again, on 3rd November 2015.

Recommended Lists:

Recommended Lists:

Controversies & Scandals

Buttigieg first kindled a controversy after he demoted Darryl Boykins, the first African American police chief of South Bend, along with police communications director Karen DePaepe, as they were found to be involved in a case of tapped telephone conversations between four white police officers which supposedly contained racist content.

In 2016, his handling of a civil rights case gained national attention. The case involved three police officers of South Bend assaulting an African American teen for a crime the latter did not commit. Though Buttigieg's administration offered the boy's family an amount of $15,000 for settlement, the family rejected the offer. The case went to trial, where the officers were found guilty by the jury.

His 'Smart Streets project' also gained controversy after the death of a young 11-year-old boy named Tristan Moore in an accident; he had been hit by a car while going to school. Buttigieg, however, denied that the project had anything to do with the accident.

Awards & Achievements

Pete Buttigieg was named Mayor of the year by GovFresh.com in 2013.

He was named a Rodel Fellow of the Aspen Institute in 2014.

In 2015, Buttigieg became a recipient of the John F Kennedy New Frontier Fenn Award.

Personal Life

Pete Buttigieg is homosexual. In June 2015, he publicly announced his sexual orientation through an essay. He is also the first executive in Indiana to be openly gay.

He is a Christian and attends Sunday services at the Episcopal Church.

He had given a TEDx talk on urban innovation in South Bend, which was quite appreciated.

He is also a possible candidate for President of the United States in the 2020 US Presidential Election. If elected, he would be the first American President to be openly gay.

Translate Wiki

to Spanish, French, Hindi, Portuguese

Article Title

- Pete Buttigieg Biography

Author

- Editors, TheFamousPeople.com

Website

- TheFamousPeople.com

URL

-

https://www.thefamouspeople.com/profiles/pete-buttigieg-34920.php

Last Updated

- December 21, 2017

---

---

---