Sinead O'Connor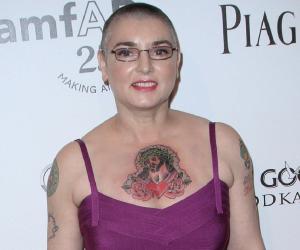 Continue Reading Below
Sinéad O'Connor is an Irish singer-songwriter, who is famous worldwide as much for her music as for the many controversies that she has been a part of. With her debut album in the late 1980s, she got her first shot at fame but it was not before the early years of 1990s that she became a sensation worldwide. Her signature bald look, her powerful music, and her bold moves made sure that she remained in the news constantly. From tearing up the Pope's picture on national television to speaking her mind on war and child abuse, O'Connor has never been afraid to express herself in front of the world. This has created two hugely different groups of people - one that admires her boldness and the other which criticizes it fiercely. Despite all the controversies, her music speaks for itself, and in that, she has millions of admirers around the world. She mostly does solo albums, but she has been known to sing for films, collaborate with other singers and even appear at charity concerts.
Recommended Lists:
Recommended Lists:
Continue Reading Below
Childhood & Early Life
Sinéad Marie Bernadette O'Connor was born on December 8, 1966, to Sean O'Connor and Marie O'Connor, in Dublin, Ireland. His father was an engineer turned barrister who became the Chairperson of the Divorce Action Group in Ireland and his mother, a housewife. She has four siblings; three brothers—Joseph, John and Eoin—and one sister, Eimear. Her eldest brother Joseph is a famous novelist and broadcaster.

Sinéad had a troubled childhood. Her parents separated when she was eight and the custody of the three eldest children was given to her mother. Her father fought bitterly for their custody, eventually securing it when she was 13. When she was with her mother, Sinéad claims that she and her siblings were subjected to violence and physical abuse. There began her lifelong battle against childhood abuse, a cause she has been fighting and advocating against her whole life.

When she was 15, she was sent to a reform institute called the Grianan Training Centre after she was caught shoplifting. She spent 18 months there and in some ways, it can be said that her writing and musical acumen began there. She was spotted there by Paul Byrne, drummer of the popular Irish band, In Tua Nua, with whom she recorded her first song, 'Take My Hand'.

After getting out of the Grianan, she was sent to Newtown School in Waterford, where with the help of her Irish teacher, she recorded a demo comprising four songs.

Recommended Lists:

Recommended Lists:

Career

In 1984, while he was a student at the Newtown School, O'Connor was recruited as a member of a band, 'Ton Ton Macoute'. While singing there, she caught the attention of Ensign Records, a successful music company of the time. She also hired Fachtna O' Ceallaigh, an experienced manager who had previously worked with the famous band, U2.

With the help of O' Caellaigh, who persuaded the music company to produce her first album, 'The Lion and the Cobra', which came into being in 1987. The album was an instant success and won a Grammy nomination.

In 1990, she came out with her second album, 'I Do Not Want What I Haven't Got'. This album gave her global recognition as well as many awards and nominations, including four Grammy nominations.

In the time that followed, Sinéad was involved in many projects. She was a part of Roger Water's 'The Wall' performance in Berlin and Red Hot Organization's 'Red Hot+Blue' album in 1990. The following year, she sang Elton John's 'Sacrifice' in the tribute album 'Two Rooms: Celebrating the Songs of Elton John & Bernie Taupin.'

In 1990, she also flared up a major controversy when she refused to perform if the US national anthem was played before her concerts. Her statement drew some serious flak from around the world, including the legendary American singer Frank Sinatra who was quite vocal against her statement.

O'Connor's next major work was her 1992 album 'Am I Not Your Girl?', which was neither a commercial nor a critical success. She also collaborated with other artists for singles and film soundtracks, such as 'Blood of Eden', 'You Made Me Thief of Your Heart', during this period.

Her 1994 album, 'Universal Mother', while securing two Grammy nominations, wasn't a hit either. It marked a low in her career and she faltered professionally for the better part of the decade. The problem was compounded by her personal issues and the many controversies that arose surrounding her. Apart from her single 'Gospel Oak' and a small part in Neil Jordan's 'The Butcher Boy' in 1997, she did not have much else during that time.

Continue Reading Below

O'Connor came out with a new album, 'Faith and Courage', in the wake of the new century. In 2002, she released an unconventional version of traditional Irish folk songs in an album named 'Sean-Nós Nua'.

In 2003, after releasing her double album, 'She Who Dwells in the Secret Place of the Most High Shall Abide Under the Shadow of the Almighty', she announced her retirement. The retirement did not last long and her next album 'Throw Down Your Arms' was released in 2005, followed by 'Theology' in 2007.

In the next few years, O'Connor came up with a number of well-performed songs despite her disturbed personal life. Her 'Lay Your Head Down' won the nomination for Best Original Song at the Golden Globe. Her other albums of the period, such as 'How About I Be Me', I'm Not Bossy. I'm the Boss' and 'The Vishnu Room' were quite well-received.

Recommended Lists:

Recommended Lists:

Awards and Achievements

O'Connor has won a number of awards in her career spanning over two decades. She won the Grammy for her 'I Do Not Want What I Haven't Got' in 1990. She has also been nominated for seven other Grammys and one Golden Globe awards.

Recommended Lists:

Recommended Lists:

Personal Life & Legacy

O'Connor's personal life has always been eventful and controversial. She has married four times and has as many children. Her first husband was John Reynolds, with whom she had her first son, Jake. In 1995, she gave birth to her first daughter, Roisin, with an Irish journalist John Waters.

She married for the second time in 2001 with Nick Sommerlad. In 2004, soon after her marriage ended with Nick she had her third child, Shane Lunny, with Donal Lunny. She had her fourth child with Frank Bonadio in 2006. They named him Yeshua Francis Neil Bonadio.

Her next marriage was in 2010 with Steve Cooney and it ended in 2011. Later the same year, she married Barry Herridge, an Irish therapist but the marriage lasted a mere 18 days.

She became a grandmother in 2015 when her son, Jake and his girlfriend, Lia, gave birth to her first grandson.

Recommended Lists:

Recommended Lists:

Net Worth

O'Connor's personal net worth is estimated to be around six million US Dollars.