Savannah Soutas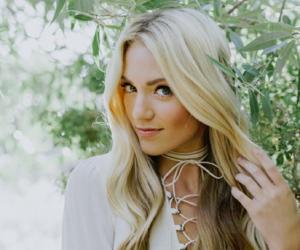 Quick Facts
Nationality: American
Age: 25 Years, 25 Year Old Females
Sun Sign: Pisces
Born in: Orange County, California, United States
Famous as: TikTok (Musical.ly) Star, Fashion Blogger
Height: 1.65 m
Family:
Spouse/Ex-: Cole LaBrant
mother: Deborah Soutas
siblings: Chantelle
U.S. State: California
Net worth: $0.45 million as of 2016
Continue Reading Below
Savannah Soutas is a trending American fashion blogger, social media celebrity and professional photographer. Her love for photography made her famous on 'Instagram' where she has a bustling 1.6 million followers. The young mother and entrepreneur was named the number one 'Muser' of 2016 after topping the 'Musical.ly' app with 7 million followers beating popular Musers like Jacob Sartorius and Baby Ariel in the bargain. Her 'Instagram' pictures and 'Musicl.ly' videos went viral on 'Facebook' cooking up a fan following of over 410,000. Among the various brands that she endorses, Savannah vouches for the classy jewelry of 'Taudrey' with a personal overwhelming affinity for the "Mommy and Me" jewelry sets. She launched an 'Instagram' account for her daughter Everleigh and her friend Ava called 'Forever and Forava' wherein her daughter models for various brands and products and sets new style trends for little girls. Savannah began dating actor and celebrated 'Vine' star, Cole LaBrant, in 2016 and created a 'YouTube' channel with him called 'Cole&Sav'. She has 1.7 million subscribers on their channel and has over 151 million views until now. She married Cole LaBrant in 2017.
Recommended Lists:
Recommended Lists:
Continue Reading Below
The Meteoric Rise to Stardom
Savannah was born a gifted child. She took to dancing at the age of two and pursued her elementary education through home schooling. Savannah loved clicking pictures and had worked as a model in her teens, thus it wasn't difficult for her to begin a career in photography. She would often take pictures of her daughter and post them online.

Recommended Lists:

Recommended Lists:

Savannah later launched her own website called 'littleredrosephotography'. People began following her posts in hundreds and then millions. She instantly took to the uniqueness of the lip-syncing 'Musical.ly' app and uploaded several videos along with her three-year-old daughter, daily. In 2016 she gained huge number of followers owing to Everleigh's adorable presence and her creativity, and became the most viewed and followed 'Muser' that year. The same year she began blogging about fashion and eventually created a 'YouTube' account with her fiancé Cole.

Recommended Lists:

Recommended Lists:

Savannah partnered with Michelle Foley and her four year old daughter, Ava Foley, to create an 'Instagram' account for Ava and Everleigh called 'Forever and Forava' where the two little girls create their own fashion statements. The account is monitored by Michelle and Savannah and is only a few thousands short of a million followers.

Recommended Lists:

Recommended Lists:

Continue Reading Below

What Makes Savannah Soutas So Special

Apart from her beautiful blonde locks, dreamy eyes and gorgeous features, Savannah is also a wonderful mother. She may have landed a pregnancy in her late teens but has no regrets for it. She believes that being a single mother has helped her become a more responsible individual. She hopes to imbibe the best of values in her daughter and is raising Everleigh to be a humble person. In an interview with 'Taudrey', she stated that she disapproves of her daughter being 'famous' and would rather have Everleigh understand that she is more recognized than other children.

Recommended Lists:

Recommended Lists:

She is happy that she receives so much support from followers and family and is giving her best to secure her daughter's future.

She also added that education is her first priority and will always encourage her daughter to put education before popularity.

Beyond Fame

Savannah loves taking pictures and travelling. As a child she loved dancing as well and has thus enrolled her daughter into dance lessons and gymnastics. Savannah juggles life in the gym, signs photography assignments, creates fresh vlogs and content for her channel as well as takes her daughter to playschool. However, even with a packed schedule she finds time to eat healthy and look stunningly beautiful. She considers makeup an art and is enthusiastic about dressing up her daughter. She would opt for a day at the beach at any given time and when it comes to jewelry the pretty mother leans towards gold over all other metals.

Behind The Curtains

Savannah Rose Soutas was born on 2nd March 1993 in Orange County, California into a Christian family. Her mother, Deborah Soutashad, always encouraged her to live her dreams.

She has an elder sister, Chantelle Paige, who is a well-known pop-singer and a vocalist of the R&B girl band 'Flipsyde'.

Savannah dropped her education after the birth of her daughter when she was nineteen. She has never mentioned who the father of her daughter is, but stated that he is the same age as her.

She is currently pursuing a bachelor's degree in University and is working full-time as a photographer and fashion blogger. Savannah became successful after the birth of her daughter and by the time her daughter was two, life began to fall into place for her.

She met Cole LaBrant, the prominent Vine star from the group/ collaborative channel 'Dem White Boyz' in 2016 and the couple got engaged shortly afterwards on 22nd January, 2017. They got married in 2017.

Last Updated : December 29, 2017

Translate Wiki

to Spanish, French, Hindi, Portuguese

---

---

---

Savannah Soutas Fans Also Viewed