Cole LaBrant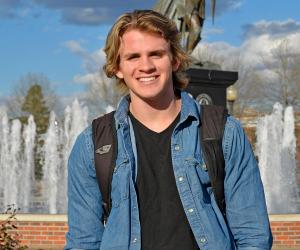 Quick Facts
Nationality: American
Age: 22 Years, 22 Year Old Males
Sun Sign: Leo
Also Known As: thesupercole
Born in: Troy, Alabama
Famous as: Viner
Height: 1.85 m
Family:
father: Ken LaBrant
mother: Sheri
siblings: Clay LaBrant, Jack LaBrant, LaBrant, Luke LaBrant, Tate LaBrant.
U.S. State: Alabama
Net worth: $2.5 million as of Dec 21, 2016
Continue Reading Below
Cole LaBrant is a popular Vine content creator. He works on a number of themes; he explores these through his videos. His work is a snapshot of the daily life and concerns of his immediate social circle, family and friends. It gives us a glimpse into his personality and the world he lives in. Cole LaBrant is very confident, and has strong convictions. His manner of expression is very clear, heartfelt and ardent. He is not afraid of trying new things or venturing out of his comfort zone. Cole LaBrant is quite humorous and sometimes makes himself a part of the joke.
Recommended Lists:
Recommended Lists:
Continue Reading Below
The Meteoric Rise to Stardom
Cole LaBrant has worked collaboratively from the very beginning of his career as a Vine content creator. He is a part of the Vine collaboration channel Dem White Boyz which is very popular and growing fast. He regularly takes part in contests aired on social media, often with partners like Baylor Barnes and John Stephen Grice. He competed in 'The Amazing Race 28' together with his mother. He sometimes collaborates with his brother Clay LaBrant in his videos. Cole LaBrant is also interested in modeling and signed a contract withWater Bluff clothing in 2013 together with his collaborators Baylor Barnes and John Grice from Dem White Boyz. He is an avid traveler and often features travel videos on his social media channels.

Recommended Lists:

Recommended Lists:

Continue Reading Below

What Makes Cole LaBrant So Special

Cole LaBrant has a youthful charm and an ability to reach out to his viewers. He makes his viewers a part of his life and relationships. He is very motivational in his statements and has a very warm and engaging nature. Cole LaBrant is active across a variety of media, and keeps up with his fans and viewers very regularly. His confidence and his sincerity are appealing to viewers. His youth and strong focus on human relationships and an understated but deep sense of conviction make him a very attractive social media personality. There is an elegance to his articulations and persona that brings out another side of the daily life of the youth. He brings a unique energy and confidence to whatever content he creates.

Recommended Lists:

Recommended Lists:

Beyond Fame

Cole LaBrant is a very motivational communicator on social media. He has a very active social life. He also has a range of interests including photography. He claims to love Jesus but hate religion.

Behind the Curtains

He has five siblings, a sister Lily and four brothers, Luke, Jack, Clay and Tate. He sometimes features his siblings in his videos. He began dating Savannah Soutas in 2016.

Last Updated : August 17, 2018

Translate Wiki

to Spanish, French, Hindi, Portuguese

---

---

---

Cole LaBrant Fans Also Viewed