Romeo Crennel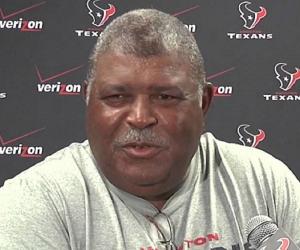 Quick Facts
Nationality: American
Famous: Coaches American Men
Age: 72 Years, 72 Year Old Males
Sun Sign: Gemini
Born Country: United States
Born in: Lynchburg, Virginia, United States
Famous as: American Football Coach
Family:
Spouse/Ex-: Rosemary Crennel
father: Joseph Crennel
mother: Mary Crennel
siblings: Carl, Juliet
children: Kristin Cullinane, Lisa Tulley, Tiffany Stokes
U.S. State: Virginia
More Facts
education: Western Kentucky University, Fort Knox High School
Continue Reading Below
Romeo Crennel is currently the defensive coordinator and assistant head coach for the NFL team 'Houston Texans'. In his sterling career, he has also worked as the head coach for the 'Cleveland Browns' and 'Kansas City Chiefs'. He started his football career playing as a defensive lineman for the 'Western Kentucky Hilltoppers'. But after switching to a career in coaching, he never looked back. As an African-American coach in the USA, he was also subjected to a lot of racism early in his career. He was able to survive racist attacks and carve a legacy for himself. Romeo Crennel is known for his "old school 3-4: huge middle linebackers and huge outside linebackers", defensive strategy. His defensive strategies have gained him both admiration and criticism. Yet, what cannot be denied is that he has been successful. He has been an assistant defensive coach for a number of immensely successful 'NFL' teams. These include the 'New York Giants', 'New England Patriots', 'New York Jets', and 'Kansas City Chiefs', etc. Besides being named the 'NFL Assistant Coach of the Year' by 'PFW', he also holds five 'Super Bowl' rings.
Recommended Lists:
Recommended Lists:
Continue Reading Below
Childhood & Early Life
Romeo Crennel was born in Lynchburg, Virginia, USA, on June 18, 1947, to Joseph Crennel and Mary Crennel. His father was a U.S. Army sergeant. He has a brother named Carl and a sister named Juliet. His brother is retired pro-football player

He played both football and baseball at the 'Fort Knox High School' in Kentucky. He repeated the same in 'Central High School', Amherst, Virginia. Crennel then played college football as a defensive lineman for the 'Western Kentucky Hilltoppers'.

At 'Western Kentucky University', he not only became the team captain, but also the 'MVP', as an offensive lineman. The switch to offence stopped him from being drafted in the 'NFL'. He earned his Master's degree in Physical Education from the university in 1970.

Recommended Lists:

Recommended Lists:

Career

Romeo Crennel's professional coaching career began when he became the assistant coach for the 'Western Kentucky Hilltoppers' at 'WKU' (1970 – 1974). He was then appointed the defensive assistant at 'Texas Tech University'. He worked alongside his longtime mentor Bill Parcels, from 1975 until 1977.

In 1978, Crennel joined the 'Ole Miss Rebels' at the 'University of Mississippi'. He only worked with them for one year until 1979. This was the result of multiple racist life-threatening attacks, including one that landed his wife in the hospital.

In 1980, he joined as the defensive line coach for the 'Georgia Tech Yellow Jackets'. This was his last stint as a college football coach.

He made his 'NFL' debut in 1981 as the "Special Teams/Defensive Assistant" for the 'New York Giants'. He served in that role from 1981 until 1989. 'New York Giants' won the 'Super Bowl XXI' in 1986. From 1990 until 1992, Romeo Crennel served as the defensive line coach for the 'New York Giants'.

He then went on to serve as the defensive line coach for the 'New England Patriots' from 1993 until 1996. He was reunited with head coach Bill Parcells. In 1996, Crennel was instrumental in the 'New England Patriots' reaching the 'Super Bowl'. However, they lost to the 'Green Bay Packers'.

From 1997 until 1999, he worked alongside head coach Bill Parcels again as the defensive line coach for the 'New York Jets'. During his tenure, the team registered a 29 – 19 win-loss record.

In 2000, he joined the 'Cleveland Browns' as their defensive coordinator. However, his stint was unsuccessful and he was let go after a year.

Continue Reading Below

From 2001 until 2004, he served as the defensive coordinator for the 'New England Patriots', under old friend Bill Belichick. During his tenure, the team went on to win three 'Super Bowls' in 2001, 2003, and 2004.

Romeo Crennel became the head coach of the struggling 'Cleveland Browns' in 2005. During his first season (2005), the team registered a 6 – 10 win-loss record. In the second season (2006), it was 4 – 12.

The 'Cleveland Browns' improved to a 10 – 6 win-loss record in the third season (2007) under Crennel. However, a disappointing last season (2008), led to his termination from the role.

He served as the defensive coordinator for 'Kansas City Chiefs' from 2010 until 2011. He was appointed the interim head coach on December 18, 2011.

On January 9, 2012, Romeo Crennel was appointed the full-time head coach of the 'Kansas City Chiefs'. However, he was fired on December 31, 2012, after a dreadful 2 – 14 win-loss record.

He assumed the position of defensive coordinator for the 'Houston Texans' from 2014 until 2016. He led the team to two consecutive state championships in 2015 and 2016.

His immense success with the 'Houston Texans' led to him becoming the assistant head coach in January 2017. Since January 20, 2018, Crennel has been serving as the defensive coordinator for the team. He has led the team to an 'AFC South' crown in 2018.

Family & Personal Life

Romeo Crennel has been married to Rosemary for close to five decades. The couple has three daughters, Tiffany Stokes, Lisa Tulley, and Kristin Cullinane.

Translate Wiki

to Spanish, French, Hindi, Portuguese

Article Title

- Romeo Crennel Biography

Author

- Editors, TheFamousPeople.com

Website

- TheFamousPeople.com

URL

-

https://www.thefamouspeople.com/profiles/romeo-crennel-48511.php

Last Updated

- October 04, 2019

---

---

---