Deion Sanders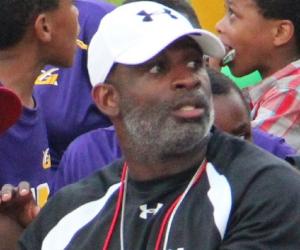 Quick Facts
Nick Name: Prime Time, Neon Deion
Nationality: American
Famous: African American Men African American Baseball Players
Age: 51 Years, 51 Year Old Males
Sun Sign: Leo
Also Known As: Deion Luywnn Sanders Sr.
Born in: Fort Myers
Height: 6'1" (185 cm), 6'1" Males
Family:
Spouse/Ex-: Pilar Sanders (m. 1999), Carolyn Chambers (m. 1989–1998)
mother: N
children: Deion Sanders Jr., Deiondra Sanders, Shedeur Sanders, Shelomi Sanders, Shilo Sanders
U.S. State: Florida
More Facts
education: Florida State University, North Fort Myers High School
awards: 1991 - Pro Bowl
1992 - Pro Bowl
1993 - Pro Bowl

1994 - Pro Bowl
1996 - Pro Bowl
1997 - Pro Bowl
1999 - Pro Bowl
1994 - AP NFL Defensive Player of the Year
1993 - NFC Defensive Player of the Year
1994 - NFC Defensive Player of the Year
1998 - Co-NFL Alumni Special Teams Player of the Year
1988 - Jim Thorpe Award
2011 Pro Football Hall of Fame Inductee
2011 College Football Hall of Fame Inductee

Continue Reading Below
Deion Sanders is not just an athlete; he is a super athlete! A sportsman possessing immense physical strength and stamina, he was someone who played both football and baseball at the professional level during the same time period. He holds the honour of being the only sportsman to have ever participated in both the World Series and a Super Bowl. While at college, he used to play three sports: football, basketball, and baseball and was an all-state honoree in all the three. In 1989 he turned professional in two of the three sports he excelled at—football and baseball. He was drafted by the Atlanta Falcons in the NFL draft and shortly afterwards he also signed a contract to play baseball with the New York Yankees. Simultaneously he played for both the teams and became the first ever sportsman to hit a major league home run and get a touchdown within a week. He also holds the glorious honour of being the only individual to have competed in the football World Series and the baseball Super Bowl. He has since retired from plating active sports and founded the Prime Prep Academy Charter School where he offers coaching. Currently he works as an NFL Network analyst.
Recommended Lists:
Recommended Lists:
Continue Reading Below
Childhood & Early Life
Deion Sanders is the son of Mims Sanders and Connie Knight. His mother later married Willie Knight who proved to be a very positive influence on young Deion.

He went to the North Fort Myers High School in Florida where he started playing a number of sports including football, basketball and baseball. He was named in the Florida High School Association All-Century Team in 1985.

He attended the Florida State University where he became the All-American Comeback twice in 1987 and 1988 and won the Jim Thorpe award.

Continue Reading Below

Recommended Lists:

Recommended Lists:

Career

His professional career started in 1989. He was drafted by the New York Yankees first and later went on to play for the Atlanta Braves. During the 1989 season he hit a major league run. The same year he also started his professional football career.

In football, he was drafted with the Atlanta Falcons in the 1989 NFL Draft. He played with the team till 1993. While playing for the team he achieved 24 passes on which he returned three for touchdowns. He also reached the end zone ten times during this period which included three defensives.

During the 1991 MLB Season in baseball, he hit a key three-run homer to score a comeback win against the Pittsburgh Pirates in July while playing with the Braves.

The 1992 season was his most productive one in baseball. He hit 304 for the team and stole 26 bases and scored 14 triplets in 97 matches. In spite of his amazing performance, his team ultimately lost to the Toronto Blue Jays.

He signed to play football for one season with the San Francisco 49ers in 1993-94. This proved to be his best season in this sport and he recorded six interceptions, 303 yards and three touchdowns. He was voted the 1994 NFL Defensive Player of the Year.

After the 1997 season he left baseball for three years. During that season he finished 2nd in the NL and stole 56 bases in 115 games.

He signed a contract with the Dallas Cowboys football club in 1995 for a whooping $35 million for seven years. He helped the Cowboys in winning their third Super Bowl title in four years in Super Bowl XXX. He continued with the team for four more seasons.

Continue Reading Below

He returned to play baseball for the Cincinnati Reds in 2001. As he had been playing both baseball and football simultaneously, he had to quit any one sport in order to focus on the other. He retired from baseball that year.

He continued playing football for another season and played with the Washington Redskins before retiring. He came out of his retirement in 2004 and returned to football by joining the Baltimore Ravens.

He scored an interception return touchdown, his ninth in all, during the Buffalo Bills in 2004. After playing for two seasons he retired in 2006 and became an analyst for the NFL Network.

Recommended Lists:

Recommended Lists:

Awards & Achievements

He won the Jim Thorpe Award, a prestigious college football award, in 1988.

He became the NFL Pro Bowler eight times between 1991 and 1999 and was adjudged the NFL Defensive Player of the Year in 1994.

He is the only sportsman in history to have played in both the Super Bowl and the World Series.